Two years ago, in the midst of a coaching change at North Carolina, Chazz Surratt made a bold and rare decision to switch from quarterback to linebacker, a move that has positioned him to realize his NFL dreams.
By Chase Goodbread | March 26, 2021
Chazz Surratt admits it now. He could've beaten his younger brother, Sage, by more conventional and certainly more merciful means.
Chazz is a year older, and one year can be a big advantage when you learn to play chess just a few years after you learn to walk. Anyway, simply notching a victory wasn't enough, so anytime Sage made the mistake of leaving an open path for his brother to advance a pawn to the back row of the board, Chazz pounced. Known in chess as "promotion," it is the checkers equivalent of being "kinged." The player can exchange the pawn, the game's least valuable piece, for a queen, its most valuable, and from there, usually destroy the opponent in embarrassing fashion.
"I wanted to blow him out," Chazz said. "And that's the way you do it."
Surratt's time at the University of North Carolina began with the promise and potential of a record-setting high school passer. But just as chess pawns face all sorts of peril at the front line of the conflict, Surratt's career as a college quarterback was imperiled as well: attacked by injuries, blocked by competition, left behind by suspension.
But in the fall of 2018, while sidelined for the season with torn wrist ligaments, Surratt began to see the board in an entirely different way.
And with his NFL dream slipping away, he made his own break for the back row: a race to transform from quarterback to inside linebacker. With three of his five years of college eligibility already exhausted, it was viewed by outsiders as a desperation move. And for good reason: Quarterbacks rarely change positions, and when they do, it's almost always to running back or wide receiver. Quarterback to linebacker? Practically unheard of, and a complete restart where his evaluation by NFL scouts was concerned.
Now in his second season on the other side of the ball, scouts agree Surratt is far better equipped for the NFL as a linebacker than he ever was as a quarterback. The speed he used as a dual-threat passer for the Tar Heels in 2017 is now what he utilizes to chase down sweeps and blanket receivers on third down. He's using a quarterback's understanding of offensive football to help him anticipate play calls and make plays at linebacker.
He's a different piece now, one that can roam and strike and change games in ways he never did as a quarterback.
And just as his little brother once learned, opposing teams are paying the price.
Surratt opens with a full acknowledgement that, while he's no longer competing in chess tournaments, it's still his game, even now at age 23.
"I've been watching The Queen's Gambit," he says of the popular Netflix miniseries about a chess wunderkind. "It's really good."
Surratt believes the first advanced concept he learned in the game -- to see the board not for how it looks in the moment, but for how it will likely look after the next two or three exchanges of moves -- helped him take mental snapshots of defensive formations, blitzes and coverages in football and anticipate where to throw the ball as a quarterback. In switching to linebacker, he turned the board around and "played the blacks" -- a chess term for the side that always moves second, reacting in defense of the opening move -- to develop similar anticipation as a defender.
"Probably in first, maybe second grade, he was already starting to analyze the board a couple moves ahead," said Kevin Surratt, his father.
It was Kevin who taught chess basics to his sons shortly after each of the boys turned four years old. Chazz and Sage were enrolled at Park Road Montessori, a public magnet school in Charlotte with a chess club that was open to children as young as kindergarten age. Both quickly took to the game.
"I thought it would help them with whatever they wanted to do. Thinking about the moves they make and what the consequences might be before you make the move, I figured that would help them in life, period, no matter what they wanted to do," Kevin said. "And football is all about pieces, just like chess."
The brothers held state rankings at one point and traveled to the U.S. Chess Federation's National Elementary School Championships, taking them as far away as Denver to compete. One of Chazz's tallest trophies as a youngster came not from sports but from earning a top-30 national finish in chess, as a fourth-grader, at the Denver tournament. The boys' online profiles as competitive players are still accessible at uschess.org; Chazz reached 25 rated tournament wins shortly after his ninth birthday and cracked the 900-rating threshold before he turned 10. When the boys played head to head at home, losses weren't well-accepted, especially if Sage beat his older brother.
"Pieces would fly across the room sometimes," said their mother, Brandi Surratt. "I still have all their old boards. There are missing pieces, broken pieces, all that. Neither of them liked to lose, but Chazz especially."
Surratt stopped playing competitively around the sixth grade, but through his high school years when there was a break in class, he was known to break out a tablet with a friend and play a computerized version.
Meanwhile, on the football field, he flashed a photographic memory for play designs. In amassing a North Carolina state high school-record 229 career touchdowns, he always played two steps ahead of the defense. Many of those TD passes were caught by Sage, who is all over the state's high school record book himself and is also considered a prized prospect for the 2021 NFL Draft as a wide receiver from Wake Forest.
As an unbeatable combination, the brothers led East Lincoln High to a 2014 state championship.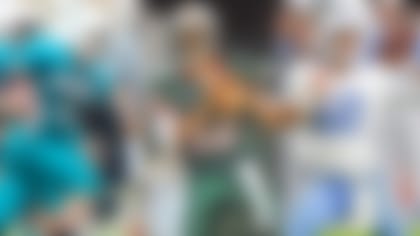 As a quarterback, Surratt took his last look at the board on Sept. 27, 2018.
Trailing host Miami 38-10 on the opening play of the fourth quarter, he took a fourth-and-7 shotgun snap from an empty formation, looked left, and fired a pass to Anthony Ratliff-Williams on a short dig route. Hurricanes linebacker Romeo Finley cut in front of the receiver for an interception -- Surratt's third pick in only 10 passes on the night -- and returned it for a touchdown. Adding injury to insult, he tore ligaments in his right wrist on a failed attempt at a diving tackle around the UNC 40-yard line.
It was his final pass in a game.
He had just rejoined the team after being suspended four games for selling school-issued sneakers -- a dozen teammates had also received suspensions of varying lengths for the same reason -- and now the wrist injury had put him out for the rest of the season after one miserable game.
"Definitely, that was the lowest point of my career," Surratt said.
For the balance of the season, he mulled his options. Transferring -- what college quarterbacks normally do in a similar situation -- wasn't one of them. He had always wanted to play for North Carolina, even more than he wanted to play quarterback.
"He considers North Carolina part of his identity, so he wasn't going to leave there without proving he was who he always said he was -- a winner," said Brandi Surratt.
For the next nine weeks, he watched from the Tar Heels' sideline, giving more and more thought to his boldest move yet. It happened over a long series of discussions, mostly with his father, about switching to linebacker. Nine weeks might sound like a slow and calculated decision, but in the context of appealing to the NFL at a new position halfway through his college career, the clock was ticking awfully fast.
Sage got an early hint a few weeks before Chazz finalized the plan.
"I was in my dorm room and he called me one day and just said, 'I think I might go over to defense, play linebacker,'" Sage said. "It wasn't real dramatic, and I didn't question it. Having grown up with him, I knew what he was capable of. I could see it 100 percent, so I just said, 'Go do it.'"
The day before winter break began in December, rumors that coach Larry Fedora might be fired compelled Chazz to make up his mind for certain. From his off-campus house, he called his father to finally settle on the jump.
"We thought he'd have a chance in the NFL at linebacker if he just put some size on, which he did," Kevin said. "He always just wanted to be a professional player, no matter what the position. We never heard him say, 'I have to play quarterback.'"
Surratt then went straight to campus to meet with the one assistant coach he knew would embrace the idea -- Tommy Thigpen, who was in charge of the linebackers. But it wasn't until weeks later, after the team had returned for the spring semester, that he knew for sure he'd reached the back row.