Three years after Trevor Lawrence left Cartersville for Clemson, the small Georgia town that helped nurture his vast talents remains the quarterback's bedrock of support and a respite from his rock-star status.
By Chase Goodbread | March 10, 2021
CARTERSVILLE, Ga. – It's 8 a.m. and already there's a butt on every stool.
Granted, only nine stools fit inside tiny Capri restaurant, plus three booths, where Trevor Lawrence prefers to sit with a plate of pancakes. But in a building even smaller than Cartersville High's concession stand across the street, a full house at the local breakfast favorite means a breakneck pace for owner Darrell Givens.
Through a window opening to the rear kitchen barely big enough to do so, Givens hands heavily loaded plates to the server -- the Capri Special of two eggs, bacon, hash browns, grits and a house-made biscuit runs just $5.95. At one end of the counter, a couple dozen coffee liners prepped with the necessary morning grinds await their date with the caffeine machine. Givens had hoped to break away long enough to discuss Lawrence, Clemson's star quarterback, but with the drive-thru window beginning to back up, he defers to a next-day phone call.
He pops out the backdoor to the rear parking lot and raises a finger to offer at least a quick exchange, because one point, if none other, should be made in person.
"When Trevor interacts with children," Givens says, "he will get on one knee or sit in a chair so he's on the same eye level with them."
That's what Givens wants to get across, before anything about Lawrence leading the Cartersville Purple Hurricanes to back-to-back state championships, or the 13,902 passing yards that knocked Deshaun Watson off the top of the Georgia high school record book.
For NFL general managers evaluating a first-round draft talent, things like Lawrence's passing accuracy, mobility and arm strength define what he can do. But for Givens, Lawrence leveling his 6-foot-6 frame to engage with a child defines who he is. In full disclosure, Givens readily acknowledges personally benefitting from The Lawrence Factor. Before the quarterback prodigy entered CHS as a ninth-grader, Givens might have cracked nine or 10 dozen eggs on a normal Friday. On home-game Fridays during the Lawrence era?
Sixteen dozen, with extended hours.
His business spiked so much, he gave some thought to changing the paint on the building from barn red to CHS's purple, but the landlord discouraged it for fear it might turn away fans of rival high schools.
Lawrence hasn't lived here for three years since moving on to Clemson and becoming college football's best quarterback and the presumptive No. 1 overall pick of the 2021 NFL Draft. But his impact on it is still felt -- from the residual popularity it left on Capri to the kids who play behind the bleachers at CHS games wearing No. 16 jerseys. And this small town, in turn, offers Lawrence a quiet respite from the burden of celebrity. He's revered here, to be sure, but there's a modicum of respect for his time and space that he might never again enjoy anywhere else.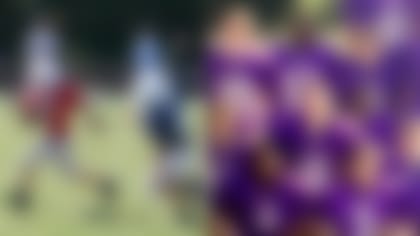 Garrett Geros wasn't sure it would ever come down. The soaring spiral seemed suspended, majestically spinning under the sky, like slow-motion B-roll from HBO's Hard Knocks, before finally hitting him squarely in the chest. He also wasn't sure what it meant, until his father explained it to him in no uncertain terms. But for one football practice at least, he brushed it off with an unyielding determination to quarterback the 2007 Cartersville Bulldogs youth team.
He was an early arrival that day at Dellinger Park, a public recreation facility in Cartersville, because kids of coaches have no choice but to be early. Tossing a football with teammate Trevor Lawrence, he'd just thrown one over his partner's head, and the first bounce jumped away from Lawrence like a lucky punt, hopping, tumbling and finally rolling to a gentle stop. It doubled the distance between the young boys, by the estimate of the only adult witness, to about 35 yards. Lawrence picked up the ball and tested himself from where he stood rather than running it back to where he'd been. He dipped his right shoulder, summoned all he had, and launched a 35-yard missile.
"Oh, my God," thought Dave Geros, Garrett's father and coach.
To that point, Dave had been grooming his son to compete for the team's quarterback job. But based on one throw from Lawrence, he confronted Garrett with a reality too harsh for his age:
You'll never play quarterback in this town as long as that kid's living here.
"That throw told me that for Garrett, quarterback was out," Dave Geros said.
Seven years after Lawrence's arm re-routed Garrett Geros' path, it was Miller Forristall's turn. The incumbent starting quarterback at CHS was good enough to be recruited by colleges, yet just four games into his junior year, he yielded the starting job to a freshman, Lawrence, and switched to tight end. It worked out fine -- Forristall is now a starting tight end at Alabama, and letters from the Las Vegas Raiders asking for background info on both hit the Cartersville High football mailbox on the same November day. But it was a tough pill for a college recruit to be forced by a freshman to switch positions as a junior.
At Clemson, things were no different. Kelly Bryant led a 12-2 Clemson team to an ACC title and a College Football Playoff bid in 2017. The next year Bryant lasted four games as the starter -- the same number as Forristall -- before the freshman Lawrence took over.
But nobody can attest to how far-reaching the impact of Lawrence's gift for the game can be like Garrett Geros. He laughs about it now but admits Lawrence's talent pushed him out of not one but two positions.
When his father told him competing with Lawrence at quarterback wasn't the right play, he suggested Garrett move to wide receiver and "reap the benefits." Geros did just that and was one of Lawrence's top receivers for years. But as Lawrence's legend grew, highly talented wide receivers followed, and gathered. Two who played youth ball with Lawrence now play at Georgia Tech. Another, Anthony Seigler, was a 2018 first-round pick of the New York Yankees. By the time Geros reached high school, he could no longer keep up with the ever-increasing receiver competition.
"We had kids from all over come in -- so many transfers," said Geros, who lost part of his left leg in a 2016 car accident and went on to become a member of the 2019-20 U.S. Paralympic snowboarding team. "I had to work harder and harder just to keep up. But by the ninth grade, I couldn't compete with them anymore. They were all too good."