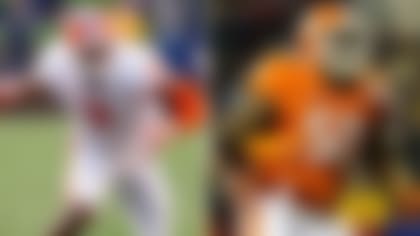 This is the fourth in a series looking at the best positional tandems in college football in each conference, taking into account both college production and pro potential. Today it is the best pair of defensive linemen.
Clemson: DE Vic Beasley and DT Grady Jarrett. Florida State has the league's best line, but this is the league's best duo. Beasley led the ACC and was tied for third nationally with 13 sacks last season. Beasley (6-foot-2, 235 pounds) had eight sacks as a reserve in 2012, and his career total of 21 is eighth in school history; he needs eight more as a senior this fall to become Clemson's career leader (Gaines Adams and Michael Dean Perry each had 28). Look for him to play some outside linebacker, too, as he readies for a position change at the next level. Jarrett (6-1, 295), is a squatty senior who makes a ton of tackles (83 last season) for an interior lineman; he had nine tackles for loss and 14 quarterback hurries last fall, and is a stout presence in the middle against the run.
Ohio State: DT Michael Bennett and DE Joey Bosa. You could replace Bosa with fellow DE Noah Spence, and that would be fine, too. Bennett (6-2, 288), a senior, never stops working; he makes plays against the run and as a pass rusher, and might be the best senior defensive tackle in the nation. Bosa (6-5, 285) was magnificent as a true freshman last season. His dad (John Bosa) and uncle (Eric Kumerow) were first-round picks, but Joey has more talent than both. He proved tough against the run and also had 7.5 sacks last fall; like Bennett, Bosa has a great motor, but Bosa also is extremely athletic for a 285-pounder, and once he truly understands the nuances of the position he is going to be a monster. Spence (6-3, 252), a junior, is a big-time pass rusher. The conundrum for opposing offensive coordinators: Do you double Bosa or Spence -- and how do you handle Bennett?
Texas: DE Cedric Reed and DT Malcom Brown. The Longhorns might have struggled against the run last season, but this pair did their job for the most part in 2013. Reed (6-5, 260) thought about declaring for the draft, but decided to return to school after racking up 10 sacks and 19 tackles for loss. On the inside, Brown (6-3, 320) is a stout presence who certainly passes the eyeball test and knows how to handle double teams. The latter is just a junior, but has shown plenty of promise after starting every game last year.
UCLA: DT Ellis McCarthy and DT Eddie Vanderdoes. There are a ton of stars along the defensive line in the Pac-12, but the Bruins' duo has a chance to be the most feared in the league. Vanderdoes (6-4, 310) had a terrific first season in Westwood and was quickly named a Freshman All-American following a disruptive campaign. McCarthy (6-5, 330) has battled injury issues, but is a force to be reckoned with when healthy and was a Pac-12 Honorable Mention pick despite starting just eight games. The big defensive tackle really came on for the Bruins late in the year and has plenty of potential as a future NFL draft pick.
College football's top trios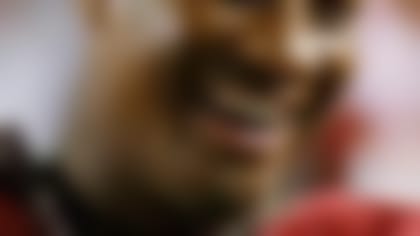 Arkansas: DE Trey Flowers and DT Darius Philon. Flowers will be counted on to anchor the Razorbacks' pass rush at least as effectively as Jacksonville Jaguars draftee Chris Smith did a year ago. Flowers (6-4, 265) made five sacks, 13.5 tackles for loss, and forced a team-high three fumbles last season. He was solid against the run, as well. Philon flashed star potential as a freshman last year, making 46 stops and nine TFLs from an interior position. Philon can also shrink the pocket as an inside pass rusher, which will make things easier for Flowers on the edge. Both will be improved and more productive in 2014, and 15 sacks between them is a realistic projection. Other SEC tandems to watch: Kentucky's Za'Darius Smith and Bud Dupree; Ole Miss' Robert Nkemdiche and C.J. Johnson.
AAC: Memphis (DE Martin Ifedi and DT Terry Redding).
Conference USA: Marshall (DT James Rouse and DE Ra'Shawde Myers).
MAC: Ohio (DE Tarell Basham and DT Antwan Crutcher).
MWC: Wyoming (DT Patrick Mertens and DE Eddie Yarbrough).
Sun Belt: Idaho (DT Quayshawne Buckley and DE Maxx Forde).