With the sun shining down on a warm, humid August afternoon in Canton, Ohio, two pre-teens waged virtual gridiron war.
A nail-biter was unfolding on a flat-screen television set up outside EA Sports' new promotional vehicle, a reimagined Madden Cruiser -- customized with exterior gaming terminals, a full content-creation suite and exhibits highlighting the life of late, legendary football coach John Madden -- parked at the Pro Football Hall of Fame directly across from the original bus Madden rode around the country.
As Cincinnati RB Joe Mixon sliced his way through Tampa Bay's defense in the game's final two minutes, the Buccaneers clung to a 7-6 lead, surrendering field position with the hopes a turnover might preserve their chances of victory over the Bengals. The result -- and bragging rights -- hung in the balance of this battle between boys.
Neither player noticed Roger Goodell standing just a few feet away.
The NFL Commissioner was at the Hall in advance of the Class of 2023's enshrinement, and he'd stopped by to check out the graphic-wrapped bus. Moments later, as Goodell took his first steps inside, and a collection of cameras followed, Bengals quarterback Joe Burrow kept the ball on a read option, fooling the Buccaneers defense and walking into the end zone for the go-ahead touchdown.
"That boy good!" an onlooking EA Sports staffer exclaimed.
"I didn't even mean to run that play!" the boy controlling the Bengals replied, beaming with delight as the sun's rays gleamed off his Sauce Gardner Jets jersey.
The game that had so engrossed the two was Madden NFL 23, widely regarded as the best-playing Madden in years. It represented a big step forward for its maker, EA Sports. But the company also encountered a number of technical issues that plagued the first half of Madden NFL 23's release cycle.
Madden NFL 24 is set to launch on Friday. How it improves, whether it incorporate the lessons the company learned and whether the game can avoid similar issues that befell Madden NFL 23 will be crucial to the trajectory of the franchise, and to EA Sports' ability to fulfill its ultimate goal: creating the best sports game in the world.
---
---
Passion is undoubtedly what fuels the creation of Madden. Look no further than Kenneth Boatright for proof.
The former NFL edge rusher, who earned a ring as a member of the Seattle Seahawks in 2013 (though he was on injured reserve), is in his first year as a game designer with EA Sports, a job he happily pursued as both a way to stay close to the sport and to fulfill a dream of working on the game closest to his heart.
"I love this game, man," Boatright told me in a phone interview in late July. "I love the sport itself, but the history I have with the game, of playing it with my family, my brothers, since I was a little kid -- I played this game way back in the day when you could go on AOL and play online at EA.com. Everywhere I could, I would play this game."
At a private playtest event at EA's Redwood City, California, studios in early June, Boatright stepped to the front of a room filled with content creators and journalists, welcoming them into his film session.
Instead of breaking down game tape, as he'd done for years as a player, Boatright was there to showcase the improvements that stand as the latest innovations for Madden. First up: Footage of Madden NFL 24's improved A.I. tracking system.
In Madden NFL 23, the franchise introduced FieldSENSE, a gameplay system meant to incorporate elements of foundational football. In Year 2, FieldSENSE will impact more areas of the game than it did in Year 1. For example, the Hit Everything technology that first debuted on the defensive side of the ball in Madden NFL 23 has been expanded into blocking.
In Madden NFL 24, instead of wandering around aimlessly after either engaging with or missing their initial assignments -- as was often the case in previous iterations of Madden -- blockers are keeping their eyes peeled for their next targets. The change is producing major moments at the second level of the defense and beyond.
Boatright's background as a football player rose to the surface as he stood in front of a video screen, pointing out players to spotlight while running clips to demonstrate these leaps. A virtual Trent Williams chipped off a double team and advanced to the second level, where he pancaked two defenders in succession, drawing oohs and ahs from those in attendance. Boatright was quick to inject his knowledge via an underlying warning: Speed-focused defensive packages will suffer when bigger blockers are lined up against them.
"With the A.I. changes that we've made, elite blockers are going to stick out even more," Boatright explained. "They're going to dominate even more when they're going up against smaller defenders. So if you're using packages like nickel or dime against elite run blockers, you're going to have some trouble."
This change, which is powered in part by individual blockers relying on a visual "threat area," means screen plays, which have not been effective in the last few iterations of the franchise, will once again be viable. And the running game is more enjoyable than ever.
Boatright detailed a new pre-snap assignment system based on five core running schemes that will instantly update targets, no matter what an opponent does before the snap. The results were visible, with players changing their landmarks and executing, producing positive gains that were impossible in previous versions of Madden.
For fans of offensive-line play, the demonstration was a fever dream.
"No matter where he goes in the box, we're gonna know where he's at, and we're going to get him blocked," Boatright explained in regards to an opposing defender. "Even if you're pulling in guys from the secondary -- any of that cheesy stuff -- we got you."
As a former player who knows the intricacies of the battle in the trenches better than most game designers, Boatright's satisfaction was evident.
"I played the sport for a long time," Boatright told me in August. "On one end, I don't have the same experience, clearly, as some of these guys have in the technical portion of the job. But on the other end, I've been playing this game amongst other games for a long time, as well as playing the actual sport at a high level.
"I can honestly say, having been on the outside -- I'm one of those fans that's like, 'I want the game to be like this and that' -- getting in here and seeing how much these guys really want the game to be as good as it can be, I feel like the environment here has really pushed this game to have some of the best gameplay that it's had in a long time. I genuinely feel like the gameplay in this year's Madden is really fun."
---
---
Annual sports titles are scrutinized on how much they pack into the back-of-the-box details. And for a period last decade, Madden didn't have much to offer from year to year.
Madden NFL 24, however, is loaded with additions, and nearly all of them came as a result of player feedback.
In addition to the improvements in blocking, Year 2 of FieldSENSE will bring new tackle styles, which take into account size mismatches. There is also the much-requested addition of a momentum-based running catch, in which it is possible to keep a pass-catcher from slowing down or breaking stride. Diving catches are also back in a big way, allowing players to haul in previously uncatchable throws.
EA Sports art director Terrance Newell has overseen a complete overhaul of player models that will debut in Madden NFL 24 and extend beyond the players on the field -- and even beyond the company's football titles entirely. It's known as SAPIEN, a new system that starts with a rebuilt character skeleton and variation of body styles to bring more authenticity to the visual presentation of Madden's virtual players. Aaron Rodgers will look more like the quarterback fans tune in to see each week, and less like a stock quarterback. The discrepancy between Colts guard Quenton Nelson's actual body and his Madden player model has long fueled memes, but in Madden NFL 24, Nelson will look much more like his real-life self. SAPIEN is even visible in the depiction of in-game officials, who return to the virtual field for the first time in years and will include both male and female characters.
An implementation of read steps will allow computer-controlled defensive backs to read and react more realistically to pass attempts and drive down quicker on intended targets, creating new possibilities for pass break-ups and forced fumbles after the catch. A.I. defenders will need to visually track the ball to be able to make a play on it, meaning computer-controlled players will no longer behave as if they have eyes in the backs of their helmets. Defenses will adjust to human tendencies, too, increasing the level of difficulty as the game progresses. Gone are the days of running the same stretch play left and right and tearing through an opposing defense.
Computer-controlled ball-carriers will also benefit from improved A.I. logic, operating with an improved understanding of the paths ahead of them and increasing the difficulty of making tackles in the open field. Computer-controlled quarterbacks will attempt a variety of risky or safe passes, depending on their traits; Kirk Cousins will check down more often than Josh Allen, for example.
And EA dove into the physics of loose balls, rebuilding onside kicks to create more variety. The same applies to fumbles, where players will now react contextually based on the situation (i.e., a fumble near a crowd of players versus a fumble in open space).
Madden's beloved mini-games -- an annual subject of social-media content, usually highlighting Madden NFL 2004's Rushing Attack -- are back, the result of a two-year process to build out a deeper, more engaging suite of drills available to play from the main menu. Franchise players can use these drills to progress their guys, meaning player development is no longer just a matter of a few menu-button clicks.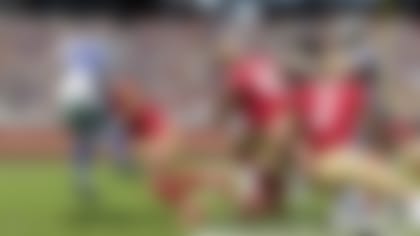 Speaking of franchise, the developers have heard the cries of Madden fans. Contract restructures are now available, and trade options have been expanded with the increased total of asset slots from three to six. Blockbuster trades mirroring those constructed by real-life NFL dealmakers are possible. And those looking to pull off their best Goodell impression will find more power at their hands with the introduction of new commissioner tools, allowing managers to customize their online league experiences.
Superstar, Madden's popular career-focused mode of years past, takes the place of the narrative-driven Face of the Franchise -- a mode that isn't dead, but on hiatus this year -- in Madden NFL 24. Players can launch their careers at the NFL Scouting Combine, customize their superstar's archetype, play style and appearance, and even take their character into Superstar Showdown, a spiritual successor to Madden's 3-on-3 The Yard mode.
Although it won't be available in franchise at launch, crossplay -- a buzzword in today's interconnected gaming world -- is also arriving to Madden NFL 24 in most modes, allowing players to face off across different platforms. And in-game presentation has been revamped, most closely mirroring the broadcast package seen on ESPN's Monday Night Football, furthering authenticity and increasing familiarity to gamers who follow real-world NFL action.
"We want to continue to blur the lines between our game and the real-life game," gameplay producer Clint Oldenburg told me in July, "with the end goal being allowing our players to experience what it's like to play in the NFL."
---
---
Pride emanated from the game's developers at the June preview event.
"The presentation that we gave, at least from my perspective, Boat's going on, it was like watching a coach go through film," Madden NFL 24 creative director Connor Dougan told me in Redwood City. "And he was going for a while. And I'm just thinking to myself, Wow, this is a lot of good, good stuff. I wish every Madden player could get that presentation to really understand these are the type of people that are building this thing. And there's a lot of great stuff in this game."
The changes coming to Madden NFL 24 are plentiful. But Madden players aren't solely going to buy the title because of those changes.
EA Sports responded to its blunder by offering 50 percent off Madden NFL 24 for those affected, plus an invitation to the company's closed beta test, which concluded in June.
The company hopes it's enough to make amends for a mistake that wiped out the progress earned by a relatively sizable portion of the player base. Developers are confident similar incidents won't happen again.
"When players invest a ton of time in these things, they deserve better," Dougan said, when asked about the league-deletion issue. "We're trying to make that better. We just want them to get their hands on it."
As senior producer Michael Mahar told me in June, EA Sports wants Madden "to be the best sports game on the market." The quality of the product won't truly be tested until launch. But there is no doubt the makers of the game have worked to give anyone looking to get on board with Madden NFL 24 a surplus of reasons.
"We've built on the best, most well-received aspects of Madden 23, first and foremost, around core gameplay and authenticity," Mahar said. "We've foundationally looked at the key pieces of feedback, the holes in that strategy, [with] blocking, how players move, how they react, SAPIEN technology, we've fixed that. Then we've added depth in every way you could possibly play the game.
"I think that if they get on the sticks and they play it, they'll see that it's absolutely worth their money and their time."
Want to follow these storylines and more? NFL+ gives you the freedom to watch live out-of-market preseason games, daily coverage on NFL Network, the best NFL programming on-demand and much more! Plus, NFL RedZone is now part of NFL+ Premium! Learn more about NFL+.