Women are rising up the ranks throughout professional football, earning positions of power in a space that for too long was ruled almost exclusively by men. We're seeing more and more women breaking barriers in the sport, but what are the stories beyond the headlines? Who are the women shaping and influencing the NFL today? Answering those questions is the aim of the Next Woman Up series. While the conversational Q&As are edited and condensed for clarity, this is a forum for impactful women to share experiences in their own words. Without further ado, we introduce:
Kelsey Henderson
Position: Fourth-year student at Meharry Medical College who recently completed a month-long clinical rotation with the Tennessee Titans medical staff through the NFL Diversity in Sports Medicine Pipeline Initiative
It happened very quickly. I heard about it in April when Meharry announced that the NFL was partnering with four Historically Black Colleges and University medical schools for a program that is going to help increase diversity within sports medicine in the professional setting. Part of that is exposing medical students very early in their careers to that experience.
I was a third-year at the time and a lot of us didn't realize the program was for the 2022 NFL season, so we were actually congratulating the second-years and encouraging them to apply and take advantage of the opportunity before residency. Then I received an email that said, "We know you're applying for orthopedic surgery residencies this year. We are interviewing applicants to be part of the pilot program. Let us know if you're interested." That was a great surprise.
I was a Kinesiology major at the University of Tennessee, Knoxville, so I always say I learned medicine through the language of sports and human movement, so this opportunity was very much at home for me. I wanted to get this experience to learn about sports medicine from a physician standpoint.
I was paired with the Tennessee Titans, so it was about a four-month process from the time I found out about the program to my first day with the Titans.
What were some of things you did and/or learned during the month-long rotation?
I spent time with the team-affiliated physicians, including Dr. Thomas Byrd and Dr. Damon Petty. I knew Dr. Byrd worked with the team before I started the rotation. He's a titan in our industry, so I was very intimidated but excited when I learned he would be one of the physicians I would get to work with. In addition to them, I worked with the training staff -- physical therapy, athletic training, nutrition, etc. -- so I was able to see and learn about all the different disciplines of the Titans' staff.
A typical day was split between time with Dr. Byrd's or Dr. Petty's practice with the Tennessee Orthopaedic Alliance in addition to their work with the Titans. We would see their patients, including players, from 7 a.m. until the Titans started practice at the facility. We attended practice and got experience with contact injuries, and we watched the athletic training staff work at practice and helped them a little bit. After practice, injured players were evaluated in the doctor's office and then we'd help with treatments for players on the injury or recovery list.
So this was a real hands-on experience then?
Yes, absolutely. I was able to see what the physicians did on a daily basis, and the training team was very welcoming. In medical school, we were referred to physical therapy but I didn't get to see what the physical therapist actually did once I had that referral. With the Titans, they showed me exactly how they approach the treatment plan and establish timelines, including the difference of what that looks like for a patient that is returning to work or professional player returning to the field. They allowed me be very hands-on with this experience by learning what every department does and how it contributes to the health of the players.
I got to go to the Colts-Titans game on my last day of the rotation. It was bittersweet because we won but it was the end of my rotation, so I was battling a lot of emotions. The game is a lot different than the day-to-day work because the staff is often assessing someone immediately. Typically, physicians see a patient the day after the injury. On game day, you actually get to see the mechanism of the impact and the injury itself, so you get the perspective of the player but also you have the visual cue as the physician to know what caused the injury and what the injury might be before you evaluate the player. It was very interesting to be there and observe everything that was happening around me. There is so much intensity from a medical standpoint, and you have to be able to hone your skills while fans are screaming and cheerleaders off to your left. It's an amazing environment that you're in, but at the same time, the seriousness of the job and being attentive comes first.
No one had to be carted off thankfully. I was observing during the game, but let's say there was a player who was injured during the first half. That person was evaluated at halftime, and we would get imaging of everyone that had something that seemed less than a soft tissue injury. When the adrenaline wears off, there are sometimes players who realize their arm hurts or something, and we evaluate them after the game. I was able to help with some of these things.
What a great last day for you. What was your favorite moment from the rotation?
Game day. I knew it would be exciting, and it was rewarding to see players who were injured when I started the rotation now playing in the game. I saw them doing their therapy and conditioning to then being healthy and able to play, so it came full circle. The training staff is so quick to attend to the needs of the players.
I also met NFL commissioner Roger Goodell and NFL chief medical officer Allen Sills, and they wanted to know about my experience and ways they could improve it. It was great to see that kind of investment into making this pipeline worthwhile.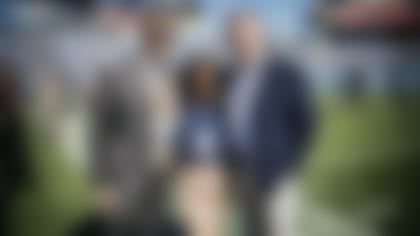 That's great. And what was your biggest takeaway from the last month?
This program just emphasizes how important exposure is when it comes to sub-specialties like orthopedics. I got that early exposure as a first-year medical student, so it really helped me plan out my timeline on how to be a competitive applicant for residency. Now getting exposure to not only sports medicine but professional sports in my fourth year really gave me what you don't get from traditional medical school training.
Also, making connections and seeing the culture of what it's like to work in professional sports, it's a really specific environment but everyone was so welcoming and eager for me to be there and learn. That was something that really excited me. Everyone with the Titans was very serious about their work, but the culture was one of the most comprehensive and engaging working environments that I have seen. There is a lot of respect between people and departments, people used each other as sound boards for their expertise, and there was a lot of humility. I love the team approach and it was great to see that kind of approach exists at a professional level. It also taught me that this is the type of culture I expect in a residency program, so they set the bar really high. When you love what you do and the players know the medical staff is truly invested in their well-being, it makes a great environment for everyone to be in.
Before this rotation, did you consider working in professional sports a career option for orthopedics?
I knew this was a career path, but I didn't know it was possible for me to get into. There wasn't like an exclusive path for people interested in working for a professional sports team. I was exposed to this possibility of working in sports during my undergrad. I had an adjunct professor at UT who invited me to shadow his family medicine practice at the hospital, and he also worked for the Knoxville Bears hockey team. That was my first experience seeing sports medicine up close, and I was able to tour the training and rehab facilities. I thought it was really cool, but it never dawned on me that it was something I could do, too.
Now that I've gone through this experience, I've really reconnected with all of the disciplines in sports medicine and look at them in the realm of a career in orthopedic surgery. I'm pretty much hooked on this being a career path now, especially after seeing how Dr. Petty and Dr. Byrd are able to help both professional athletes and people who simply want to do daily activities. They cover a wide range of people but it's all related to quality of life.
Do you have any mentors? And what advice have you received from them?
Meharry doesn't have a home program for orthopedics, so I've had to rely on a lot of physicians who went through our program. Dr. Wayne Johnson has given me perspective on what I'm doing or should be doing to prepare for residency. Dr. Joe Minchew at Duke has given me perspective as a first-generation medical student and has helped me learn what goes into being a great physician outside of what I've learned in the classroom. Dr. Tonya Dixon, Dr. Nichelle Enata, Dr. Kirsten Ross are other mentors of mine.
They are my toolbox of people who support and guide me. The most common piece of advice they give me is to not lose myself -- like my intuition and things that make me unique that allow me to connect to my patients -- in the application process. They've also encouraged me to be humble enough to ask for help, and as you can tell by the number of people I've mentioned, I've taken that to heart.
I really believe you should have mentors at each level because having a resident, fellow, attending or someone in different scopes of practice who can give you different perspectives can help you make some informed decisions.
I read that you co-founded the Meharry Mentoring Program. How did that come to be?
One of the goals of our student government association was to have an overarching formal mentorship program. A lot of organizations have their own aspects of mentorship, and our school attempted it several times but it fizzled. But during the pandemic, people became more available so students were able to engage virtually with people in the workforce. We've matched over 200 students to mentors within the first year and a half of the program. I've actually stepped down from being the head of the program because this year has been busy, but being a chairperson has still been fulfilling.