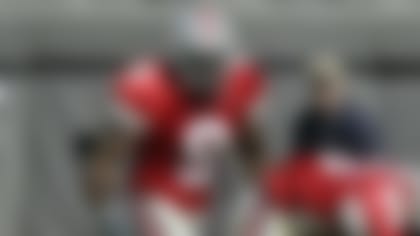 Last year, College Football 24/7 tackled the question of which college program, from an NFL draft perspective, is truly the best producer of top talent at a given position. The distinction of Wide Receiver U, for instance, went to the Miami Hurricanes. The criteria is simply a full examination of a school's NFL draft success over a 25-year period, so that a school's tradition at the position is well-represented. This year, just a week after separate Internet videos declared Florida and LSU each as "Defensive Back U," we're taking a look at that position. And as it turned out, neither the Gators nor the Tigers finished on top.
First-round picks last 25 years: 2
Top three rounds:11
Total drafted:24
The skinny:Ten years separated Virginia Tech's two first-round picks: DeAngelo Hall (2004) and Kyle Fuller (2014). In the time between those two picks, however, the Hokies handed the NFL the biggest draft steal of any listed here: safety Kam Chancellor as a fifth-round pick in 2010.
First-round picks last 25 years: 4
Top three rounds:11
Total drafted:18
The skinny:The last Volunteers defensive back drafted was Eric Berry, a first-rounder in 2010, a fine player and an inspiration all at once. But five drafts is a long stretch for any school in search of the DB U label to go without a player being chosen. Dale Carter (1992 first-rounder) was one of the NFL's top defensive backs for a long time. If the criteria were tied to college play only, the Vols would rate higher, as a number of outstanding SEC players never made much of a pro impact (Terry Fair, Dwayne Goodrich, Jason Allen). Solid second-rounder: Deon Grant, who intercepted 30 passes and broke up 90 over 12 seasons.
First-round picks last 25 years: 4
Top three rounds:8
Total drafted:22
The skinny:The prize among the first-rounders? Joe Haden, who has worked out very well for the Cleveland Browns and has piled up 40 pass breakups over the last two seasons. Lito Sheppard, a 2002 first-rounder, averaged about nine starts per season over seven years with the Philadelphia Eagles, making 18 interceptions. Among other Gator defensive backs drafted, there are plenty who didn't deliver much in the pros, including Tony George, Keiwan Ratliff and Guss Scott.
First-round picks last 25 years: 4
Top three rounds:14
Total drafted:20
The skinny:All four of LSU's first-round picks have come since 2007, so the Tigers' mettle as DB U is high on recent impact but short on history. Arizona Cardinals star Patrick Peterson is arguably the best cornerback in the NFL today. Meanwhile, Morris Claibornehasn't worked out nearly as well for the Dallas Cowboys. After a slow start to his career, 2005 second-rounder Corey Webster ended up with 20 interceptions and 98 pass breakups over nine years with the Giants.
First-round picks last 25 years: 8
Top three rounds:13
Total drafted:21
The skinny:The oldest of the Longhorns' eight first-rounders, Stanley Richard, was a regular starter for eight seasons and picked off 21 career passes. The youngest is Kenny Vaccaro, who broke into the Saints' lineup as a rookie starter in 2013. Between those two is Seattle Seahawks star safety Earl Thomas.
Check out the top 10 players from Alabama to play in the NFL.
First-round picks last 25 years: 8
Top three rounds:13
Total drafted:25
The skinny:Alabama has produced five first-rounders in the eight-year Nick Saban era alone, but surprisingly, the biggest pro impact of that group has come from the first among them: Kareem Jackson. Ha Ha Clinton-Dix's career is off to a promising start for the Green Bay Packers, while Landon Collins just missed the first round earlier this month as the top pick of the second round (New York Giants). From the way-back machine comes Antonio Langham and George Teague, both first-round picks. The best draft value of them all? Perhaps Deshea Townsend, a 1998 fourth-round pick of the Steelers whose career in Pittsburgh got off to a slow start but eventually lasted 12 seasons.
First-round picks last 25 years: 6
Top three rounds:16
Total drafted:26
The skinny:FSU's tradition at the position can be traced back to Deion Sanders, but Prime didn't qualify within the 25-year criteria. The Seminoles' top first-round picks in that span have been cornerbacks Antonio Cromartie (2006) and Terrell Buckley (1992), while safety Derrick Gibson (2001 first-round pick of the Oakland Raiders) was a bust. Where FSU really stands out, however, is in the string of quality pros not drafted in the first round. That group includes Samari Rolle, Chris Hope and Corey Fuller. As for recent impact, the 'Noles have placed four defensive backs as top-100 picks in the last two drafts.
Check out the Top 10 all-time NFL players from Miami (Fla.)
First-round picks last 25 years: 10
Top three rounds:13
Total drafted:22
The skinny:Although Miami's 10 first-round picks lead all schools, the well has been dry of late -- the last 'Canes defensive back to go in Round 1 was Kenny Phillips in 2008. Still, the depth of the secondary talent UM has put into the pro ranks is prolific: Sean Taylor, Ed Reed, Antrel Rolle, Duane Starks and Brandon Meriweather, to name a few. The high point? How about three first-rounders in the same draft (2002: Reed, Phillip Buchanan, Mike Rumph). A solid second-rounder: Ryan McNeil, who had 31 interceptions over 11 seasons, beginning with the Detroit Lions. Nearly half of Miami's drafted defensive backs over the 25-year span were picked in the first round, so the 'Canes score high on a per-player basis.
First-round picks last 25 years: 9
Top three rounds:17
Total drafted: 33
The skinny: Although Miami has delivered one more first-round pick to the NFL draft over the last quarter century, none listed here have had as many picked in the first three rounds, or drafted altogether, as the Buckeyes. Among the first-round successes are Donte Whitner, Antoine Winfield, Chris Gamble, Nate Clements and Shawn Springs. And there are plenty others. Want a middle-round pick that turned out well? Try Will Allen (2004 Buccaneers fourth-rounder), who is now a 12-year veteran.