When I initially heard the name Laurent Duvernay-Tardif, I thought he could be an artist. (He is a woodworker.) Or a chef. (He is a baker.) Perhaps a scientist. (He is a medical doctor.) Or maybe a ship captain. (He is an expert sailor.)
The last occupation I associated his name with? Professional football player. After all, Laurent Duvernay-Tardif isn't exactly Dick Butkus. Perhaps that's why his Kansas City Chiefs teammates call the Super Bowl-winning right guard "Larry."
But Duvernay-Tardif, who grew up in Montreal and played football at McGill University, might be the most eclectic man in the NFL.
He has that certain je ne sais quoi. (For those who do not parlez français that loosely translates to: an appealing quality that can't be adequately described or expressed.) Ever since I first met Duvernay-Tardif back in 2018, I've been fascinated by what drives this man who refuses to be defined by any one of his myriad passions.
He's not driven by money. In becoming the first NFL player to opt out of the 2020 season, he deferred his salary of $2.75 million so that he could work a few days a week at a long-term care facility, doing whatever needed to be done, from inserting urinary catheters to feeding patients to changing bed linens. But what he learned while spending four months in the spring working at the Gertrude-Lafrance center outside Montreal was priceless.
"I realized that those elderly patients, they were not going to go back home, either from COVID or something else," Duvernay-Tardif said. "What really mattered? It's not the treatment, it's the caring. Making sure that your patients are comfortable, that they preserve their dignity. It's important to take the time to connect with these people. And I think that, down the road, is going to for sure make me a better physician."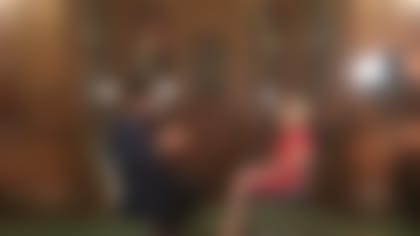 As an offensive lineman accustomed to toiling in anonymity, he's not driven by publicity or attention. He's equal parts proud and embarrassed by the honors and accolades he's received because, as a medical doctor, he couldn't justify playing football during a global pandemic: "I gotta be able to look at myself 10 years from now when I'm going to be a physician and be like, 'I made the right decision.' "
"I really reconsider what it means for me to be a hero," Duvernay-Tardif said. "It's easy to be a hero when you have the spotlight and thousands of people are there to pat you on the back. But for all of those people who are working in the dark right now, making all those sacrifices, I feel like I'm almost like shy to accept those awards. And, for sure, I gotta accept it also in their names."
Perhaps Duvernay-Tardif's most endearing quality is that he is so genuine. When I spent several days with him in Montreal, he took us to his family's bakery. While we were sitting there talking, business picked up and he excused himself to go behind the counter to help out. If not for his hulking 6-foot-5, 321-pound frame, you'd never suspect he's an NFL player ... or a medical doctor. (By the way, if you ever find yourself at the Boulangerie le Pain dans les Voiles in Montreal, you must try the Muffuletta sandwich. Magnifique!)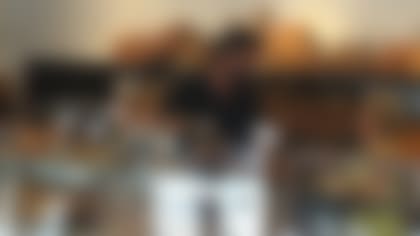 What I think I have learned about Duvernay-Tardif is that he approaches everything he does with a joie de vivre, a product of his unconventional life experiences. They started when he was a kid who spent two separate years sailing around the world with his parents and two sisters. As an athlete growing up, not only did he not play the national sport of hockey, but he actually played badminton in high school. Perhaps what has always stunned me the most, though, is that the native French speaker learned English when he was studying medicine at McGill. That's how he became proficient in his second language.
So what drives the most interesting man in the NFL?
"I'm just a curious person," Duvernay-Tardif said. "I want to discover new things. I want to be known as somebody who's driven and passionate about everything that he does."