As Vince Lombardi once proclaimed, "Football is a game of inches" -- and when there are just inches to go, the easiest way to move the chains is via a straight line.
The Philadelphia Eagles have embraced this simple geometry on their road to Super Bowl LVII, extending drives with one of the surest play calls in sports: the quarterback sneak. The Eagles have gained 31 first downs on quarterback sneaks in the 2022 season, including in the playoffs, per Pro Football Focus. To put that in perspective, no other offense has cleared 20 first downs on quarterback sneaks in a season over the last decade-and-a-half.
The Eagles are certainly an outlier in how much they have used quarterback sneaks this season, but they do represent an overall trend. League-wide usage of the short-yardage designer play has exploded over the past two seasons.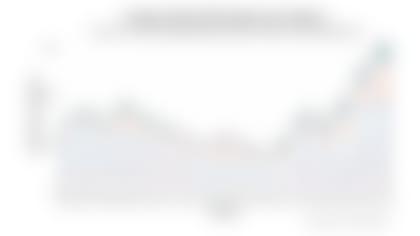 This perfect storm of roster construction and organizational philosophy has helped propel the Eagles to the forefront of the league's recent embrace of quarterback sneaks. The immediate impact of this strategy is obvious: keeping drives alive, extending opportunities to score, dominating time of possession and tiring out the defense. Few things are more demoralizing to a defense than to stop an offense short of the sticks on third down, only to fail to get off the field on fourth-and-short.
Beyond the tangible benefits of an effective quarterback-sneak package are the second-order effects. Without the pressure to convert on third down to keep a drive alive, the playbook opens to attack the areas short of the sticks and to set up an easy conversion on fourth-and-short. The Eagles called a designed run this season on a league-high 32 percent of third-and-medium plays (3-to-6 yards), gaining a first down on over half of those runs (12 of 23). On the 11 such plays where the Eagles did not convert on third down, they kept the offense on the field eight times and picked up six first downs. That translates to a ridiculous 78 percent series conversion rate when they called a run play on third-and-medium -- the same conversion rate that quarterback sneaks have enjoyed league-wide over the last decade-and-a-half.
Philadelphia's success on quarterback sneaks also forces opposing defensive coaching staffs to devote valuable time in their game preparation to trying to stop the unstoppable. Cowboys defensive coordinator Dan Quinn even went so far as to consult with a professional rugby coach about ways he could translate rugby scrum techniques to defending against the sneak. It did not work.
As defenses devote more resources to halt the quarterback sneak, they open themselves up to counter moves attacking the vacated space. We've already seen this in the playoffs with former Eagles head coach Doug Pederson, now leading the Jaguars.
The Super Bowl is prime time for tendency breakers, so the Chiefs will have to be on red alert if and when Jalen Hurts aligns under center in short-yardage situations on Sunday. The game projects to be a close matchup, and both teams will want to exploit every edge available to them.
When it comes to quarterback sneaks, Philadelphia has the clear advantage. When on offense, the Eagles should be able to keep up their success -- the Chiefs' defense has allowed a first down on 14 of 15 quarterback sneaks this season, per Pro Football Focus. On the flip side, Patrick Mahomes has not attempted a quarterback sneak since he suffered an injury on one in Week 7 of 2019 and was forced to miss two games. The Chiefs have only called six quarterback sneaks since then (compared to 70 attempts by the Eagles), and all of them featured tight end Blake Bell or Noah Gray motioning under center to run the play.
If the Eagles can salvage an extra couple of drives and minimize the amount of time Mahomes has the ball in his hands, they will have a good chance of raising their second Lombardi Trophy on Sunday.