Seven pupils from Little Ealing Primary School have returned to their classrooms after the trip of a lifetime representing Team UK in the International NFL Flag Championship at Pro Bowl in Las Vegas. The team, made up of two girls and 5 boys, were tested over three days of competition in Nevada before enjoying the Pro Bowl festivities at Allegiant Stadium.
The first stop for Team UK was Heritage Park, where they, along with 1,500 other players, undertook a series of skills challenges and physical tests. Following this, they attended a special welcome event at Allegiant Stadium, home of the Pro Bowl Games 2023, and watched the 98th East-West Shrine Bowl, a college all-star game as guests of honour.
Tournament play got underway on Friday, with three qualifying games before finals day on Saturday. Facing a very tough draw including tournament favourites Canada, Mexico and Ghana, Team UK battled through and produced an excellent performance in their final game against eventual finalist Mexico, securing them a tie against China on finals day. The team were treated to an evenings' entertainment at TopGolf Las Vegas before an early night in preparation for Saturdays finals day. The team by now had befriended children from across the globe, and all eight participating nations had a fantastic time together relaxing after a hard days competition.
Finals day on Saturday saw Team UK bow out of the competition, a length of the field interception return not being enough to beat an excellent Team China. The team were in good spirits, however, and competed against Germany and then Japan in friendly games as those nations were also eliminated at the quarter final stage. Charlie ended the tournament as Team UKs MVP with 17 catches and 2 touchdowns.
Team Canada came back from 14-0 down to defeat Mexico 21-14 in the final, with Ghana and Australia finishing joint third as losing semi-finalists.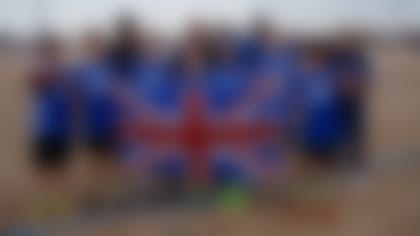 All of the international teams were treated to a party at Dave and Busters on Saturday night, before attending the Pro Bowl Games at Allegiant Stadium on Sunday. The teams watched from pitchside before joining the players on field for the half time concert, then returned to their seats to watch a thrilling climax as the NFC came back to beat the AFC. Watching some of the game's greatest playing flag was a real inspiration and a fantastic way to end the week. Team UK return to school this week rightly proud of their achievements.
Entry for 2023 district and regional tournaments is now open, contact your regional lead to secure your team's place and it could be your pupils representing the UK next Pro Bowl Games.