When the stakes soar and victory is on the line, having a big-play-generating, instant-offense-producing wideout on the field can make all the difference.
MINNEAPOLIS -- Jerry Sullivan stood at the corner of the LSU practice football fields and watched the lanky teenager stroll into the team facility with his parents trailing behind him. It was the start of Tigers training camp, a time when optimism swelled and incoming freshmen like wide receiver Justin Jefferson were preparing to grind. Sullivan was there as a favor to then-LSU head football coach Ed Orgeron, who had coaxed the longtime NFL receivers coach into working as a team analyst during that 2017 season. Sullivan didn't know anybody on the roster, but he sensed something different about Jefferson immediately.
If you look back at the 2021 season, the four teams that played in the conference championship games all had a receiver who earned first- or second-team All-Pro honors at some point in their respective careers: Hill with the Chiefs, Cooper Kupp (who won league Offensive Player of the Year in 2021 in helping the Rams win Super Bowl LVI), Ja'Marr Chase (who was the Offensive Rookie of the Year for the AFC champion Bengals) and San Francisco's Deebo Samuel.
Scoring in the NFL may have been down this season, but the need to generate big plays in the passing game remains imperative as the postseason begins. That is what receivers like Jefferson offer, and he's been thrilled by all the dynamic playmakers who've proliferated across the league.
"I always enjoy studying the great receivers," Jefferson said in a midseason interview. "Watching those different guys go off every week, I love that and finding different ways to learn. Whatever they see from defenses, I'll probably see it, too. So, watching film on those guys or on TV and seeing the catches they make against different defenses, it definitely helps me."
---
---
The Bills learned plenty about Jefferson when he made one of the best grabs in league history in that contest -- a soaring, one-handed snatch of a desperation heave by quarterback Kirk Cousins on a late fourth-and-18 play. The reception was most stunning because of Jefferson's ability to control the ball with one hand while falling to the ground and battling Buffalo safety Cam Lewis for possession. The play was so amazing that the Pro Football Hall of Fame honored it with space in their building, using Jefferson's gloves and arm sleeve as part of the commemoration display. It also told you that Jefferson -- who compiled 37 yards on two catches in the decisive overtime drive -- rarely can be contained.
It was a statement game from a 23-year-old player who came into this season openly proclaiming he wanted to be recognized as the league's top receiver. Jefferson has the numbers to back that up thus far -- he finished the regular season with 128 receptions, 1,809 receiving yards (both league highs) and eight receiving touchdowns -- but his overall impact on Minnesota's offense is immeasurable. The Vikings have other Pro Bowl-caliber skill players like running back Dalvin Cook and tight end T.J. Hockenson, whom they acquired in a midseason trade with Detroit. Jefferson takes that offense to another level, though, because he can torment a defense from anywhere on the field.
When asked during a midseason interview about the way wideouts like Jefferson can dominate in today's league, Vikings receivers coach Keenan McCardell said, "You're never out of a game with those players. Those guys can make that big play to bring you back into a game or they can do something that puts you way out of front." Added Vikings head coach Kevin O'Connell: "If you have that No. 1 receiver, it makes it easier to get the other guys going on your offense. It takes the gymnastics out of scheming, because the other players are going to get single-covered, and you can get them more involved. We go through a lot of game-planning each week, but when we get to the games, we see schemes that are totally different. That has everything to do with Justin."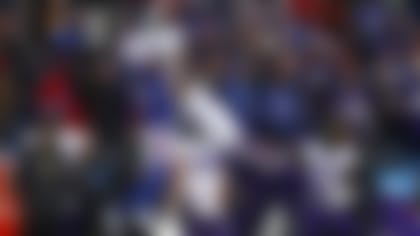 The necessity of a Justin Jefferson in this particular season can't be denied. The one thing many NFL defensive coordinators learned over the last few years -- when offenses were exploding under the leadership of young star quarterbacks like Kansas City's Patrick Mahomes, Buffalo's Josh Allen and Cincinnati's Joe Burrow -- was that it was often futile to continually blitz and challenge opponents with man coverage. The deployment of two safeties sitting at the back of the defense became more commonplace as a result. The idea was to eliminate the big plays and force passing attacks to earn every yard they got.
It's made it harder for a lot of teams, because defenses are willing to give up checkdowns and shorter completions to mitigate the explosive plays. As Chase said in December, "I know I've been seeing it more. Just the way defensive backs are handling it and the safeties are aligning. If I'm lined up near the other team's sideline, the coaches are yelling at their players about how to play me."
Added Jefferson: "Every week, we have to find new ways to move people around. The Detroit game (a 28-24 win in Week 3) was the first time where they switched up a lot of stuff on me. They ran double-teams, a lot of two-man, corner trailing and safety over the top and even three guys on me in the red zone. You never really know what you're going to get until you get on the field."
On the other hand, a great receiver can't be limited too much by such tactics. If anything, the presence of that player can open the imaginations of any aggressive offensive mind. Dolphins head coach Mike McDaniel clearly remembers the moment when Hill displayed the speed and quickness that has become so critical to Miami's offensive maturation. It was during OTA sessions in the spring, when McDaniel watched Hill run a route the coach had created, a deep, out-breaking pattern.
"You better have a guy like Justin (Jefferson) in this league. You can have complementary pieces, but you need a horse." -- Jerry Sullivan
McDaniel, who is in his first season at the helm in Miami, said only a few receivers could make that route work, given that one must have the speed and ability to complete it before the quarterback's protection typically runs out. Hill ran the pattern so smoothly and adeptly that the coach couldn't believe his eyes. "I've been fortunate to be around Andre Johnson in his prime, Julio Jones in his prime, Josh Gordon, Pierre Garcon, (guys) leading the league in receiving," McDaniel told local reporters earlier this season. "All these great, great players, and he is different. We knew then in OTAs that yeah, this is a different deal."
Eagles head coach Nick Sirianni had a similar reaction the first time he saw Jefferson on tape, when Jefferson was a junior on LSU's national championship team. Sirianni, the Indianapolis Colts' offensive coordinator at the time, had studied several receivers with NFL potential before watching LSU play Clemson in that year's title game. The minute Jefferson stuck his foot in the turf and exploded up the field for a big play -- on a night when he had nine receptions for 106 yards -- Sirianni was sold. "It was like, OK, he's exactly what I thought," Sirianni said during a press conference back in September. "He does have all that quickness. That close-up view really helped me learn that. I've always admired his game and respected his game. He poses a lot of problems."
"My play style is what separates me," said Jefferson. "The way I play and just going up and making those big plays one after another. The main thing about being in the league is just being consistent. I feel like that's my best attribute, being consistent week in and week out and having those big games."
---
---
The incredible part of Jefferson's rise to rock star is that his career started humbly. He grew up in a football family -- his older brothers, Jordan and Rickey, also played football at LSU -- but he was considered only a two-star recruit out of high school. Part of the issue was bad grades. The other was his slight build and an underwhelming 4.88-second 40-yard dash he once produced at a high school football camp.
Jefferson's lineage helped Orgeron believe the young receiver was worthy of a scholarship. Jefferson's brothers helped by giving Justin the early guidance that molded him into a player who understood what hard work and commitment meant to success. Justin spent his high school years hanging out at LSU games watching his brothers compete.
Jordan was a quarterback who started 32 games for the school from 2008 to 2011. Instead of encouraging him to follow in his footsteps, Jordan advised Justin to give up his dreams of being a quarterback and focus on learning the intricacies of wide receiver when Justin was playing at Destrehan High School in Louisiana. When Justin wasn't practicing with the team in those days, he did extra training with Jordan at home. They worked tirelessly on releases, out-breaks and the nuances of various coverages.
"By the time he got to college, and other receivers were learning the language of the position, he already understood a lot of it," Jordan said.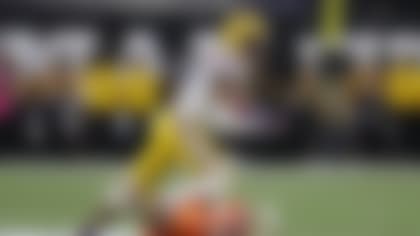 That foundation became the secret sauce for Jefferson. It didn't matter that he wasn't a five-star recruit. He worked hard enough to make the travel team as a freshman. He worked even harder in his sophomore year, when he led the team in receptions (54) and benefitted from Sullivan moving into a full-time assistant position as passing game coordinator. Then came his junior season, when both he and Chase became primary targets for Burrow in one of the most dynamic offenses in college football history.
Jefferson again led the Tigers in receptions with 111 for 1,504 yards and 18 touchdowns (while Chase produced 1,780 yards and 20 scores). When Jefferson looks back at how his college career played out, he said, "It was a blessing. For those guys to show up in my life in college when they did, it was huge. Jerry (Sullivan) was a guru, coaching so many different guys all around the league; he turned me into a great receiver. Then (former LSU offensive coordinator) Joe Brady came in and gave us that NFL-style play-action pass game. We went crazy with that offense. Being more spread out, more RPOs. That whole transition with the coaches and Joe (Burrow) coming to the team played a part."
Jefferson found more good fortune when he entered the 2020 NFL Draft after that junior season. The Buffalo Bills were looking for a No. 1 receiver who could help Josh Allen mature, and the Vikings liked the idea of trading Stefon Diggs in a deal that would earn them a first-round pick in return. The Vikings knew what they were losing in Diggs, who would eventually produce career highs in receptions (127) and yards (1,535) in his first year in Buffalo. Minnesota also loved the potential of Jefferson, who combined productivity and speed that had improved so much that he ran the 40 in 4.43 seconds at the 2020 NFL Scouting Combine.
In March of that year, Diggs was shipped to Buffalo in exchange for a collection of draft picks that included No. 22 overall. In April, the Vikings used that choice on Jefferson, who quickly proved they wouldn't miss Diggs. Jefferson broke the NFL rookie record with 1,400 receiving yards. (Chase surpassed that mark a year later, with 1,455.)
"It was a great thing for him to go to Minnesota, because they traded a receiver who'd had big numbers in order to make room for him," said Jordan, who now works as an agent and represents his younger brother. "We all said Justin was going into a situation where he was going to have opportunities. So as soon as we got drafted, we set a minimum goal. He had to have at least 1,200 yards in that first year."
---
---
Jefferson's explosion came at a time when a number of teams in the league were trying to find top receivers. The Arizona Cardinals acquired DeAndre Hopkins in a trade with Houston in the same offseason that Buffalo made the deal for Diggs. Hopkins produced 115 receptions in that first season with second-year quarterback Kyler Murray. A year later, Chase's arrival in Cincinnati sparked one of the greatest franchise turnarounds in recent history.
The Bengals won all of six games in the first two years of head coach Zac Taylor's tenure. They won the AFC North and the conference championship after Chase became the fifth overall pick in the 2021 NFL Draft. Chase and Jefferson remain extremely close -- "We talk almost every day, and when we play against the same teams, we call each other to ask what we need to look for," Jefferson said. But Jefferson isn't motivated by the need to keep pace with everyone else's numbers. He long ago decided he wanted to be the one all his peers are chasing.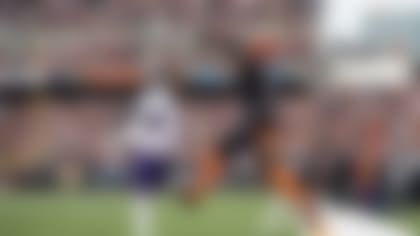 McCardell could see that drive when he became the Vikings' receivers coach prior to Jefferson's second season. The first trait that stood out to McCardell during those early offseason practices was Jefferson's competitiveness. He didn't want to miss a rep. He ran routes as if a playoff win hung in the balance. When then-head coach Mike Zimmer walked up to McCardell one day and asked if the assistant liked his young receiver, McCardell told his boss, "I like everything about him. He's the ultimate competitor."
"He didn't have that mindset that he just wanted to get through practice," said McCardell, who played receiver for 17 seasons in the NFL. "Some guys just want to show up on Sunday. He showed up Monday, Wednesday, Thursday and Friday. He looked at it like if he had to do it on Sunday, he might as well do it during the week. With that skill set and that edge, you knew that was going to push him to another level."
Hill has brought a similar attitude to the Dolphins. McDaniel has talked openly about the urgency that his star receiver displays every day, how Hill literally taught a young team the necessary energy it takes to practice at a championship-caliber level. As an example, McDaniel told local reporters about an offseason team meeting when coaches revealed which players ran the fastest recorded times that day (the team was tracking the players through GPS technology). It wasn't lost on Hill, a player reputed for his breathtaking speed, that he ranked fifth in that particular accounting.
It took one practice for Hill to change the narrative about that conversation. "That (next) practice, he ran the fastest ever recorded (time) in practice here, or that I've seen," said McDaniel that day. "It was something absurd, like 23.48 (miles per hour) or something like that. So, I was like, 'OK, yeah, you're different.' "
"There are a lot of guys out there, but he's a special player." -- Jonathan Gannon, on Justin Jefferson
It says plenty that Jefferson keeps raising the bar on his own performances. McCardell sees it as evidence of his talent and commitment -- and of the way O'Connell has utilized him in the same offense that helped Kupp dominate last season in Los Angeles (when O'Connell was the Rams' offensive coordinator). "He's moved around a lot more, just to get the matchups we want," McCardell said. "He's also understanding that how your coordinator thinks is important. He's seeing why he's moving and what we're trying to do. He's understanding not just what Kevin wants to do but also how defenses are playing him. Once you start doing that as a receiver, you start to see where the holes are and where you get that great mismatch. That's when your play gets even faster."
Jefferson set the tone for this season in Week 1. He lit up the Green Bay Packers in that opener, going for 184 yards and two touchdowns on nine receptions in that 23-7 win. The Eagles and Lions were able to contain Jefferson after that game -- as he only produced 62 total receiving yards in those two contests -- but then O'Connell made even more of an effort to feed his young star. Jefferson ripped off five 100-yard efforts over the next six games after that, with the lone outlier being a 98-yard outing in a win over Arizona. During Minnesota's stunning comeback against the Colts in Week 15 (the biggest comeback in NFL history), Jefferson contributed 106 yards and a score over nine receptions in the second half and overtime, including a 13-yard catch-and-run to set up the winning field goal.
If that wasn't enough, Jefferson has broken a number of team records this year, logging the most yards in a game by a Viking (223, in Week 14) and displacing Cris Carter and Randy Moss atop the single-season franchise leader boards in receptions and receiving yards, respectively. And on Sunday, he'll make his playoff debut at U.S. Bank Stadium against the visiting New York Giants, a team he cooked for 133 yards and a touchdown in a Week 16 win.
Jefferson essentially is teaching people that all the fun-loving aspects of his game -- he's the first NFL player to become a character on the video game Fortnite, and he helped turn "The Griddy" into a nationwide craze by performing it as a touchdown celebration dance -- shouldn't create confusion about his maturity. This dude is all ball. His parents still live in the same house he grew up in, and the only splurging he's really done since entering the NFL involved buying his mother a Range Rover. "We're working on a Hall of Fame campaign with him," said Jordan. "He wants to play a long time and be in the same category as a Randy Moss or Cris Carter when he's done."
That mindset is why you could've found Jefferson working out with Sullivan at the Vikings' facility a week before training camp. Jefferson asked his old friend to come up to fine-tune all aspects of his game while most of his teammates were still enjoying their final days away from the upcoming grind. Jefferson and Sullivan worked on a variety of skills -- such as making crisp speed turns on in-routes, deftly selling a nod of the head before changing direction and using a subtle forearm extension to create space when hand-fighting with cornerbacks on 50-50 balls. Sullivan said Jefferson even practiced making the kind of impossible catch that caught the Hall of Fame's eye.
The way Sullivan explained it, there isn't anything Jefferson is doing on the field today that isn't the product of dedication and effort. Jefferson is simply showcasing the same gifts that Sullivan saw in him years ago, before the player even knew what he could become. The league now is witnessing that brilliance, and, with the extension window opening for Jefferson after his third pro season, he's positioning himself for a massive contract similar to what players like Hill ($30 million average annual salary), Brown ($25 million) and the Raiders' Davante Adams ($28 million) received last offseason. As Eagles defensive coordinator Jonathan Gannon said earlier this year, "There are a lot of guys out there, but he's a special player."
"It's important for Justin to be great at what he does," Sullivan said. "He loves football and he wants to excel. That's why I told him at the start of the season that he just has to be himself. My advice to him was to go out and have a great year. The rest will take care of itself."
Editors: Ali Bhanpuri, Tom Blair, Gennaro Filice
Illustration by: Albert Lee