How an unprecedented wave of first-round picks helped accelerate NFL teams' never-ending hunt for quarterback talent.
Phil Simms still remembers the goal that was posted on a board at the start of his rookie season for the New York Giants in 1979.
Completion percentage: 52 percent.
"I was thinking, Boy, I hope I can complete 50 percent," Simms said recently. "The game was centered around the running back and running. Everybody was in split backs, offset back, tight end, two wide receivers. Our third-down package? There was no such thing.
"In 1980 or '81, we were practicing shotgun in camp, and I was thinking, 'We're space-age.' "
"It changed pretty quick," Simms said.
It changed -- dramatically, permanently -- in large part because of the quarterbacks who were drafted in the first round four years after Simms. That group of quarterbacks -- six in all -- is so storied, so accomplished, that five months after Dan Marino retired in 2000, the Miami Dolphins feted him in a sold-out stadium packed with thousands of his jersey-wearing fans, dozens of his former teammates, his former coach (Don Shula), his favorite band (Hootie & the Blowfish) and a rather extraordinary clutch of contemporaries: the five QBs selected ahead of Marino in 1983. It was, somewhat remarkably, the first time John Elway (drafted No. 1 overall by the Colts, then traded to the Broncos), Todd Blackledge (No. 7 by the Chiefs), Jim Kelly (No. 14 by the Bills), Tony Eason (No. 15 by the Patriots), Ken O'Brien (No. 24 by the Jets) and Marino (No. 27 by the Dolphins) all gathered together. With their wives, they dined and danced the night away.
To each of the six, the Dolphins presented a painting of all of them in action, memorializing on canvas what the ensuing years have made even more vivid: 1983 was arguably the most impactful class at any position in NFL history.
It was noteworthy not just for the quarterbacks' individual achievements -- two Super Bowls won (Elway), nine total Super Bowl appearances between four of them (Elway, Marino, Kelly, Eason), three inductions into the Hall of Fame (Elway, Kelly, Marino), a mountain of passing records shattered (largely by Marino) -- but for how they accomplished them. Because so many quarterbacks embarked on successful careers at once, they fundamentally and rapidly shaped what football looked like, accelerating a transformation that led to the game we watch today.
Their impact will be visible once again in the 2023 season, 40 years since that class made its entry into the league, as the latest wave in a seemingly endless stream of highly drafted rookie QBs takes the field.
"Franchises understand that you have to have someone there that can be special." -- Dan Marino
"In 1984, we were spreading out," said Simms, who did, indeed, eclipse a completion rate of 52 percent in 12 of his seasons, getting over 60 percent in his final two. "We threw for over 4,000 yards. That's a pretty quick transition in four years, to go from whatever we did to (former NFL coach) Ron Erhardt creating three-wide receiver plays that are used by every single team in this league to this day, almost identical."
At its broadest level, the 1983 class highlighted, every Sunday for several years, the concept that who won and who lost depended on who the quarterback was. The first round of 1983 was replete with other standout players -- running back Eric Dickerson, tackle Jimbo Covert, guard Bruce Matthews and defensive back Darrell Green all went from rookies that season to the Hall of Fame, too. But as dominant as they were at their respective positions, there was no mistaking that it was the quarterbacks who were the linchpins of their teams. Football had already overtaken baseball as America's favorite pastime, and the quarterback became the equivalent of a baseball team's pitching ace.
"We felt like we were making a difference in how the game was played," Marino said. "All of us as a group, the quarterbacks -- even Troy Aikman and Warren Moon, guys like that who weren't in our class but right around the same time -- the way we played the game was making a big difference in how I think franchises perceived the future and what they need to be successful."
In 1983, Moon was playing his sixth and final season in the Canadian Football League. His success there launched a bidding war for his services in the NFL, eventually won by the Houston Oilers in 1984. His proficiency operating Houston's run-and-shoot offense was a critical piece of the explosion of the downfield attack that the 1983 class also helped proliferate. But Moon, who would eventually become the first Black quarterback inducted into the Pro Football Hall of Fame, was part of an even more profound revolution that was not represented in the 1983 class, and which was still decades from full flower.
Today, close to half of the regular starting quarterbacks in the NFL are Black. In 1983, none of the regular starters were.
"That's the one [thing] more important to me than changing the way the game was played -- our success, mine, Doug Williams, Randall Cunningham -- what we did on the field changed the mentality and thinking of general managers. These guys can play at a high level," Moon said. "Next thing you know, they started drafting more African American quarterbacks in the first round. Michael Vick. Cam Newton. It changed the way we were perceived. When you look at the game today, so much progress has been made at that position."
Moon also notes how different quarterbacks played then compared to how they play now.
"We were not only throwing the football all over the lot, we were getting hit like football players," Moon said.
The future of offense began to look very different after the 1983 class arrived, and the rules changes that would follow -- offering greater protection to quarterbacks and wide receivers -- would only exacerbate the influence of the best passers.
From the start of the Super Bowl era in 1966 to 1982, over a span of 17 seasons, a quarterback passed for at least 4,000 yards in a single season just five times: Dan Fouts did it three times; Brian Sipe did it once; Joe Namath did it once in the AFL. In the 17 seasons starting in 1983 and ending in 1999, Marino's final year, there were 33 4,000-yard seasons by a quarterback. And in the 23 seasons since 2000, which was the first season after all the 1983 quarterbacks retired, there have been 179 4,000-yard seasons. In 2016 alone, there were 13 different 4,000-yard passers, an all-time high.
The league-wide run-to-pass ratio also flipped, representing the shift from the ground-based offenses that tended to throw only on third down to the more wide-open passing attacks we know today.
From 1970, when the AFL and NFL merged, to 1982, teams rushed 34.1 times per game and passed an average of 27.4 times per game. Since 1983, teams have rushed 27.9 times per game, a drop of 6.2 rushes per game. And they have passed 33.2 times per game, an increase of 5.8 per game. Rushing yardage in those spans has dropped 21.3 yards per game, from 135.8 to 114.5, while passing yardage has jumped 48.8 yards per game, from 166.4 to 215.2. Scoring, too, has inched up, from 19.5 points per team per game to 21.5.
Another way to look at it: Through the 1982 season, the NFL's all-time leader in career passing yards was Fran Tarkenton, who amassed 47,003 yards. By the end of the 1999 season, the final year of Marino's career, Tarkenton had dropped to fourth, behind Marino (61,361), Elway (51,475) and Moon (49,117). In Marino's career span, he had raised the bar of the NFL's all-time passing leader by more than 14,000 yards, an astonishing leap.
How deeply has the shift to passing settled in? Marino, who played 17 seasons, has since been passed by seven quarterbacks on the all-time yardage list, and an eighth -- Aaron Rodgers, who is about to begin his 16th season as a starter -- is almost certain to pass him this season.
The K-Gun, the offense unveiled by the Buffalo Bills in the middle of the 1990 season, had a profound impact on the speed with which offenses play. The Bills regularly used three receivers and a single running back, with Kelly lined up in the shotgun. Kelly called the plays, and the offense skipped the huddle -- not just in the fourth quarter, when opponents might have expected such a tactic from a team mounting a comeback, but also in the first, second or third quarters, when defenses were unprepared for it. Because the conditioning of opposing defenses was predicated on a slower pace, they were worn down by the Bills' tempo.
The strategy is used to this day when teams want to force opponents to limit defensive substitutions, ultimately blunting the speed of premier pass rushers. In 2022, the 32 NFL teams combined for 3,541 no-huddle snaps, according to Pro Football Focus. For the Bills in 2022, 76.8 percent of their no-huddle plays occurred in the first three quarters of games. The other 31 teams used 62.8 percent of their no-huddle snaps in the first three quarters.
The K-Gun also borrowed the deep passing attack from the run-and-shoot offense.
"If you look at our run-and-shoot offense, everything they are doing today we were doing then," Moon said. "Everybody thought it was a gimmick then because nobody was doing it. But now, back-shoulder fade throws -- we were doing that in 1990. All these route combinations, reading on the run, we were doing that back then. They thought it was a gimmick until they saw nobody could stop it."
That is the part of that era's game that resonates most with one of the best deep-ball passers of today, current Bills quarterback Josh Allen.
"This wasn't dink-and-dunk stuff," said the 27-year-old Allen, whose physical skills and style often draw comparisons to Elway, but who was too young to see Elway and his cohorts play. It was Kelly who tutored Allen on how to successfully live and work in Buffalo, but Allen watched Brett Favre, Aaron Rodgers and Tom Brady as models of the vertical passer he has become. "It was seam balls, go balls, the deep posts, they were all putting it out there for those guys to catch. People started adopting that play style. You don't see the West Coach dink-and-dunk too much anymore. It's a vertical passing league and you have to be able to push the ball downfield and stretch those defenses out."
The emphasis on passing and the deployment of receiver-heavy sets have altered roster construction well beyond the quarterback himself. A premium is also placed on finding players at positions that support or foil quarterbacks: left tackles, wide receivers and pass rushers. Hybrid tight ends who can line up as wide receivers but are also capable blockers, like Travis Kelce and George Kittle, are a direct response, Moon believes, to a run-and-shoot weakness: It was difficult to run because offenses couldn't put two tight ends on the field to block. The devaluing of the running back and the nearly complete disappearance of the fullback are directly tied to the ascendance of the quarterback and everything that buttresses the passing game.
Indianapolis Colts owner Jim Irsay's team, then owned by his father, Robert, was eschewed by Elway, who ended up in Denver despite being drafted by the Colts, the saga serving as an early indication of the power quarterbacks would come to wield. The impact of the class is not lost on Jim.
"No question that draft woke a lot of people up to the fact we were becoming more of a forward passing game," Jim Irsay said. "The rules started to change to protect quarterbacks, cornerbacks couldn't grab at the line of scrimmage, the game now is designed to keep quarterbacks safe and allow them to throw. There is a real feel how that changed the game. It made people think more than ever about going to get that quarterback. In 1967, (defensive end) Bubba Smith was the first pick, not (quarterback) Steve Spurrier."
There were, of course, dominant, game-altering quarterbacks before 1983. Joe Montana came into the league in 1979, and there are still iterations of the West Coast offense he and Bill Walsh perfected in San Francisco in the game today -- the Dallas Cowboys are switching to Mike McCarthy's version of it this season. Marv Levy, who went on to coach Jim Kelly and take the Buffalo Bills to four straight Super Bowls, was an assistant to George Allen in Los Angeles and Washington in the early 1970s, and remembers quarterbacks were, even then, Allen's priority.
"It's like the pitcher in Major League Baseball," Levy said. "You can have great players, but if you don't have a quarterback who is top-notch, you can't succeed."
"Offensively, college was a running back-driven sport. Now, college football is a quarterback-driven sport." -- Todd Blackledge
And when Ernie Accorsi first joined the Baltimore Colts in 1970 as the public relations director, the quarterback for the team was Johnny Unitas. As is the case today, the emphasis on the quarterback was underscored by the economics of the franchise. In 1971, as the defending Super Bowl champions, the team payroll was $1 million. Unitas -- who, as a 38-year-old, started just seven games that season, including the playoffs -- was making $100,000, basically twice as much as any other player on the team, Accorsi said.
"That made it clear to me from the first day how important that position was," Accorsi said. "Since the T-formation became universal in 1950, it's been the quarterback who was the most important player in all but a few championship teams and, in most cases, the highest-paid player. Most successful club operators in the last 74 years have realized it, paid them more than any other player on their team and have spent their careers trying to find the one man who can lead them to the promised land. It's just the epic quarterback figures of today make it seem like it's a new concept, but it's always been that way, just on a different scale.
"The increasing emphasis on passing and with the NFL becoming more and more of a passing league, the critical importance and some would say the indispensability of having a franchise quarterback to win a championship has driven the salaries of the position higher and higher."
Accorsi said that from the day he first saw Unitas, he realized the importance of finding a championship quarterback. Somewhat ironically, in his first stint as a general manager, with the Colts (1982-83), he was not able to land Elway. Then, in 2004, when he was working as GM of the New York Giants, Accorsi secured the services of Eli Manning in a trade with the San Diego Chargers, who had made Manning the first overall selection, echoing what transpired with Elway 21 years prior.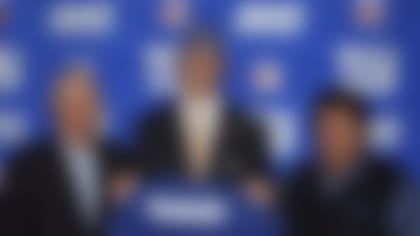 The 2004 class of first-round quarterbacks is the only one that is even mentioned in the same breath with the 1983 class. Four quarterbacks were taken in the first round. Manning won two Super Bowls with the Giants. Philip Rivers (drafted No. 4 overall) went to the playoffs seven times for the Chargers and Colts. Ben Roethlisberger (No. 11) won two of the three Super Bowls he played in for the Pittsburgh Steelers. All three may eventually be inducted into the Pro Football Hall of Fame. Only J.P. Losman, who was the 22nd overall pick in that class, did not enjoy that kind of playing success.
Blackledge spent seven seasons in the NFL, but he is better known now as a top college football analyst. He believes the greatest impact of his draft class was not on the NFL, but on the college game. The NFL had always valued quarterbacks, if not quite as much as it has since 1983, Blackledge reasons. But college football did not. The trickle-down effect of the NFL's emphasis on the quarterback is the metamorphosis of college football.
"Offensively, college was a running back-driven sport," Blackledge said. "Now, college football is a quarterback-driven sport. Look at what's happening in the transfer portal. You see it in the trickle down to how quarterbacks are developed nowadays, with quarterback coaches, personal trainers, going back to when they are 12, 13, 14 years old. So much of the game is done at the line of scrimmage, so quarterbacks are training better and coming to college better prepared."
Quarterbacks who have been schooled in spread offenses since youth games have been a boon for the NFL. But the 1983 class may have also spawned a trend teams would rather not think about.
"In my memory, it was the first draft where, given the value of the quarterbacks, there was over-drafting that so many went," said Bill Polian, the former Bills, Panthers and Colts general manager. "People recognized that the game had changed pretty dramatically and was going to continue to change."
Since then, the rush to grab a quarterback has been obvious. In 2011, Jake Locker (No. 8 overall) and Blaine Gabbert (No. 10), who quickly fizzled out as starters, were both selected before J.J. Watt (No. 11), who went on to win Defensive Player of the Year three times. In 2018, four quarterbacks were selected in the top 10. Only Josh Allen, the seventh overall pick by the Buffalo Bills that season and the third quarterback off the board, remains with the team that drafted him, becoming one of the most dominant quarterbacks in the game and elevating the Bills into perennial contenders.
There has been a steady rise in the number of first-round quarterbacks taken, and, in the post-1983 era, a rise in how high quarterbacks are pushed up the board. From 1967, when the common-draft era began, to 1982 -- a total of 16 drafts -- there were 28 quarterbacks selected in the first round (an average of 1.75 quarterbacks per year), 17 in the top 10 and just three with the first overall pick. From 1983 to 1999, 33 quarterbacks were taken in the first round (1.94 average), with 20 in the top 10 and seven first overall. Since 2000, there have been 69 quarterbacks taken in the first round (2.875 average), with 43 in the top 10 and 17 first overall. This year, a record 12 quarterbacks were selected in the draft's first five rounds, with signal-callers making up three of the first four picks.
"You can have great players, but if you don't have a quarterback who is top-notch, you can't succeed." -- Marv Levy
"Franchises understand that you have to have someone there that can be special," Marino said. "That's why guys trade up. They're making franchise-shaping decisions."
What makes the 1983 class stand out is that five of the six (Blackledge being the exception) had at least decently successful NFL seasons, going to playoff games and making a substantial impact on their franchises. That hit rate is unusual. When the Colts were preparing for this year's draft, Irsay said, they looked at the last 24 quarterbacks selected in the first round. Only eight, by their estimation, had already been successful: Patrick Mahomes, Deshaun Watson, Josh Allen, Lamar Jackson, Joe Burrow, Tua Tagovailoa, Justin Herbert and Trevor Lawrence.
You can quibble with the Colts' assessment of the individuals, but a 33 percent success rate for first-round quarterbacks is what keeps general managers and coaches up at night. Of course, it didn't dissuade Indianapolis from using a high pick (No. 4 overall) on Anthony Richardson after the Panthers took Bryce Young at No. 1 and the Texans took C.J. Stroud second.
One player's 1983 draft spot stands out especially: Marino fell to the 27th overall pick, making him the final quarterback taken in the first round. This came after a senior season at Pitt that was weaker than his junior season. Unsubstantiated rumors of drug use in college also circulated, though it's not clear if those impacted his draft fate; Marino's agent, Marvin Demoff, told Bleacher Report for a story in 2015 that he "never heard" a team mention the rumors to him in the run-up to the draft.
Marino is arguably the greatest pure passer in league history, and his 1984 season, in which he threw for 5,084 yards and 48 touchdowns (NFL records at the time), remains a marvel. It took 20 years for Peyton Manning to top Marino's single-season touchdown mark. The single-season passing yards record stood even longer, until Tom Brady and Drew Brees topped it in 2011.
Polian said the mistakes teams made in letting Marino fall were instructive.
"I think we learned from it -- we saw in Marino a guy with incredible arm strength and production," said Polian, who was working as director of player personnel for the CFL's Winnipeg Blue Bombers in 1983 but became the Bills' GM in 1986 -- the initial year that Kelly, who chose to spend his first couple pro seasons in the USFL, played for Buffalo. "The thing we learned was to try to make sure to look at the whole picture and not one part. In Kelly's case, we saw a guy who had sustained a serious injury, and there were questions whether his career would progress. We learned that guys can overcome injury."
Not that teams have stopped making mistakes. In 2017, nine other players were drafted before Patrick Mahomes, who has since become a superstar. Lamar Jackson -- whom Polian initially dismissed as an NFL quarterback before eventually owning up to his misjudgment -- wasn't drafted until the end of Round 1 in 2018, then won NFL MVP in 2019 while setting a rushing record for QBs. Jalen Hurts, who helped carry the Eagles to the Super Bowl this past season, lasted until the second round in 2020. Last week, the San Francisco 49ers traded quarterback Trey Lance, who had dropped to third on their depth chart, to Dallas for a fourth-round pick. In 2021, the 49ers traded three first-rounders to get into position to draft Lance.
Marino and Kelly, neither of whom ever won a Super Bowl, taught evaluators something more. You didn't just need a quarterback to hoist the Lombardi Trophy -- you needed one to even be in the title race. Marino took the Dolphins to the playoffs 10 times in his 17-year career. The Bills went to the playoffs eight times in Kelly's 11 seasons, making four straight Super Bowls in the process. Ken O'Brien played nine seasons for the Jets, going to the playoffs in three of them. The only other quarterback in franchise history to go to the playoffs that often was Chad Pennington. Tony Eason played just six full seasons for the Patriots, but he took the team to the first Super Bowl in franchise history in 1985. Elway took the Broncos to the playoffs in 10 seasons, losing his first three Super Bowls before finally winning the last two.
"Runners up are pretty damn close, too," Polian said. "If you want to go to the conference championship, you better have a quarterback that is playing an elite level. If you want to go to the promised land, you better have that guy. The league has expanded and that has diluted rosters. The value of that guy, in addition to the explosion of the full-field passing game, has made that guy all the more valuable."
Irsay, who saw up close how transformational a franchise quarterback is when the Colts had Manning, admits ruefully that, given the failure rate of finding quarterbacks, there is little expectation there will ever again be a class like 1983, one that spawned so much success and influence. And so much lore.
"My wife got to know a lot of these guys, and one day, we were in Canton and Jim Kelly crept up behind her and asked, 'Who's your favorite quarterback?' " Levy said. "She said, 'Dan Marino.' "
Editors: Ali Bhanpuri, Tom Blair, Gennaro Filice, Dan Parr
Illustration by: Robin Zibelli
Illustration photos courtesy of: The Associated Press