Talent or team fit? In a draft loaded with top QBs, the answer to that question could determine the fates of several teams over the next decade.
By Jeffri Chadiha | April 21, 2021
Ryan Tannehill calmly trotted onto the field inside Nissan Stadium, knowing full well he was facing the type of challenge that could redefine his career. It was Week 10 of the 2019 NFL season, late in a game against a Kansas City team that would go on to win Super Bowl LIV. The Tennessee Titans quarterback had thrown all of 15 passes to this point in the game, and now, with his team trailing 32-27 with 81 seconds left, he could no longer rely on the legs of all-pro running back Derrick Henry to save the day.
Tannehill started the possession at his own 39-yard line by scampering away from a fierce Chiefs pass rush and gaining 18 yards. Two plays later, he rifled a pass to tight end Anthony Firkser for another 20 yards. Next play, with 30 seconds left, he hit Adam Humphries just as the receiver raced past cornerback Rashad Fenton, and Humphries sprinted into the end zone for the go-ahead score. No timeouts, 60 yards to go and Tannehill needed only four plays to put his team in position for an eventual 35-32 win.
That victory meant plenty for a Titans team that would go from being a middling midseason squad to an AFC Championship Game participant.
"We were able to win a lot of close games in the last seconds," Tannehill recalled in a recent conversation, "and it was enormous to have that belief in each other."
It also was huge for Tennessee to have a quarterback who understood he only had to deliver when necessary, instead of carrying a team for an entire game. That moment perfectly exemplified just how much a signal-caller's success is tied to whether he's in the best environment in the first place.
Nobody would argue that quarterback is the most heavily debated and examined position in all of sports. What's harder to grasp is why some players thrive in the NFL and others never come close to meeting expectations.
At this time each year, we spend countless days celebrating the potential of future first-round picks in the draft. This year's class includes one quarterback considered a generational talent (Clemson's Trevor Lawrence), two others who have watched their stock skyrocket over the past four months (BYU's Zach Wilson, Alabama's Mac Jones) and another pair who, like Lawrence, can devastate opponents with their arms and legs (Ohio State's Justin Fields, North Dakota State's Trey Lance). In a week, we'll all know where they're heading once the draft ensues. It will be far longer before we'll be able to say whether they landed in great situations.
It's also around this time of year that we wonder when certain teams are going to give up on players they projected as franchise pillars or if others -- like Tannehill -- will ever be able to turn around their beleaguered careers.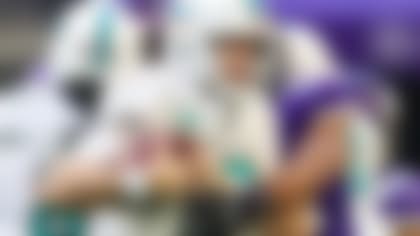 The simple view of the quarterback position is that many players fail simply because they aren't good enough. There's a stronger argument to be made that team fit might be the most essential component of all these days.
"It plays a big role," said Tannehill, the eighth overall pick in the 2012 draft who never quite found his footing in Miami before discovering success in Tennessee the last two seasons. "First and foremost, the guys around you, the people you lean on to make plays have a big part in (a quarterback's success). The staff, the system, the organization -- it all goes hand in hand. When you're in a place that realizes your skill set and takes advantage of it in an offense that shows what you can do, it's huge. When you're in a place where you have that, it's a lot of fun."
As much as we talk about which quarterbacks are elite -- or who deserves to have nine-figure contracts heaped upon them -- most signal-callers in this league need plenty of help to succeed. The last two offseasons have provided ample evidence of that, as increasingly more teams are doing whatever it takes to create that ideal union between player and club.
We've seen top-five draft picks being traded by their respective franchises (Jared Goff, Carson Wentz, Sam Darnold), aging veterans struggling to find their footing in new places (Cam Newton) and formerly inconsistent signal-callers hitting their stride after coaching changes (Baker Mayfield, Derek Carr). The overwhelming takeaway from all these situations: Chemistry, comfort and continuity mean a hell of a lot more than sheer ability for those lining up under center.
It's worth wondering if Buffalo's Josh Allen would've gone from a raw talent to an MVP candidate in only three years if he hadn't landed with a Bills team that knew exactly how to develop his blend of athleticism and arm strength. Seattle's Russell Wilson became a star early in his career by leading a team that relied heavily on a strong run game and a staunch defense, while Baltimore's Lamar Jackson and Arizona's Kyler Murray had spread offensive schemes tailored to fit their playmaking potential. Carolina also has an enlightened view of how best to use Darnold, the third overall pick in the 2018 draft, after acquiring him in a recent trade from the New York Jets, with Panthers head coach Matt Rhule saying, "One man can't do it alone."
"My opinion is that quarterback play is about leadership, decision-making and accuracy," said Titans general manager Jon Robinson. "Arm strength is in there to a degree because they have to be able to push the ball down the field and throw with enough velocity to the get the ball into tight windows. But you have to have some pretty good players around them. You saw that last year with Tampa. Tom (Brady) is Tom but you put him with (wide receivers) Mike Evans and Chris Godwin and those other guys and he's pretty potent."
Brady's first-year success with the Buccaneers -- he joined the team last March after leaving New England and led them to a 31-9 victory over Kansas City in Super Bowl LV -- didn't just happen because of great skill players or an imposing defense that battered the Chiefs' prolific offense. He dealt with his own struggles earlier in the season, when the Buccaneers ran an offense that didn't feature some of the traits that helped him flourish with the Patriots. Once Tampa Bay utilized more pre-snap motion (to give Brady a better opportunity to analyze defenses) and shorter, timing-based pass patterns (instead of longer developing plays), that offense exploded. The Buccaneers scored at least 30 points in seven of their last eight games while topping the 40-point mark twice.
There are plenty of teams trying to find a similar chemistry as they address their own quarterback issues. When Ron Rivera recently was asked how he'd like to go about finding the ideal quarterback, the Washington head coach said, "I've always thought if you could do it the other way, where you put all the other pieces around them and then go get your QB, that could be good."
Wide receiver Sammy Watkins echoed that sentiment earlier this month after signing with the Ravens and facing questions about what it would take for Jackson to become a deadlier passer.
"It takes guys getting open to be great and look great and be the Patrick Mahomes of the world and be Tom Brady and all these other top quarterbacks," Watkins told reporters. "You've got to have that No. 1 receiver, that No. 2 and that No. 3 nowadays to go out there and be successful and literally throw the ball with your eyes closed and be unconscious."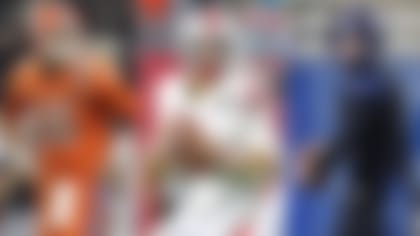 The challenge facing teams drafting high in this year's draft is how best to create supportive environments for young signal-callers. As talented as Lawrence is, Jaguars head coach Urban Meyer must prove his offense can be as effective in the NFL as it was in college once that franchise makes Lawrence the top overall pick. The Jets are no different. If they do what's expected and take Wilson with the second overall selection, they'll have to put more around him than they did Darnold, who never had one offensive teammate make the Pro Bowl during his four-year tenure with that franchise.
"The one thing I've learned during the time I've done this is that people can be entirely wrong about a quarterback when they only talk about traits," said an AFC personnel executive. "For example, (Ohio State's) Justin Fields is one of the top quarterbacks in this year's draft, but some people say he doesn't come off his first read as quickly as he needs to. Well, then what does that mean when you start putting a team together around him? Some teams just aren't good at figuring that part out. When a team is accepting of a quarterback's flaws and strengths, and works with that, there's a greater chance of success.
"The problem happens when a team isn't on board with the player's skill set from the beginning, and then it doesn't go well. That's when people start focusing on the player's negatives. The bottom line is that all these guys have talent. It's really about what you do with them."
That's a situation Tannehill can relate to quite well. He spent six seasons with the Dolphins before being traded to Tennessee. The numbers he generated were solid -- he enjoyed his best year in 2015 when he threw 27 touchdown passes and 12 interceptions -- but he also battled through a torn ACL in his sixth year and only enjoyed one winning campaign during his tenure. Tannehill ultimately wound up as a backup to Marcus Mariota in Tennessee, after Miami traded him in March 2019.
He sat on the bench for the first six weeks of that first year with the Titans until head coach Mike Vrabel inserted him in favor of Mariota, who was struggling. Tannehill quickly learned that playing quarterback in Tennessee was much easier than in Miami for one simple reason: The Titans knew exactly what they needed from him.
"We knew we had an identity," said Tannehill, who finished that season with 22 touchdown passes, six interceptions and the NFL Comeback Player of the Year award. "Coach Vrabel laid it out from the beginning, the pillars of the program. We were going to be a physical football team. It's very powerful when you have a group of guys buying into playing a certain type of football."
"With Ryan, we threw in a lot of stuff to accentuate what he does," Robinson added. "He's a good athlete so we try to play to his strengths. We run the ball and do a lot of play-action. But we still put the ball in his hands to win games."
Robinson makes the Titans' approach to handling Tannehill -- who also led the Titans to an AFC South title last year after signing a four-year, $118 million extension -- sound logical. Unfortunately, some teams in the league haven't always been so wise when it comes to producing effective quarterback play. That issue largely has stemmed from the collective mindset surrounding the position, that it's a "quarterback-driven league" and the teams that end up winning championships generally do so primarily because they have quarterbacks with Hall of Fame ability. That thought process has produced a long-running belief that teams have to strike it rich at the position, with projected franchise quarterbacks often carrying messianic expectations into the league.
That seemed acceptable when teams were able to use the draft to find a John Elway, Troy Aikman or Peyton Manning and then hold onto them for a decade more. However, the more teams swung and missed when spending a high draft pick on a quarterback, the more debilitating it became to employ a bust that cost millions as soon as he joined a franchise. The league finally addressed this issue when it changed the rookie wage scale in 2011. Sam Bradford was the last player to cash in on the old system -- he received $50 million in guaranteed money from the Rams as the first overall pick in the 2010 draft -- and teams eventually had more resources to build up a roster while a quarterback was still operating on a cost-effective rookie deal.
Teams like the Chiefs, Eagles and Seahawks all have won Super Bowls within the last decade with signal-callers playing on rookie contracts. On the other hand, more franchises have been willing to give up on quarterbacks quickly once problems set in. Of the 16 quarterbacks selected within the top 10 picks of the draft between 2011 and 2018, only three are still with the teams that drafted them (Mahomes, Mayfield and Josh Allen). Once you eliminate Newton (who won an MVP in Carolina) and Andrew Luck (who abruptly retired from Indianapolis in 2019), the numbers become even more staggering.
Tannehill is the only other player in that group to log at least six seasons with his first team. Eight of those quarterbacks were selected within the top three picks, and two received massive four-year extensions before being traded (Goff's deal was worth a total of $134 million while Wentz's came in at $128 million).
When asked how many current quarterbacks could carry a team regardless of the system or supporting cast, the AFC executive said, "You're basically talking about Patrick Mahomes, Russell Wilson, (Houston's) Deshaun Watson and (Green Bay's) Aaron Rodgers. I don't even know if I'd put Tom Brady in that class at this stage of his career. But you're also seeing a lot of (offseason) movement with quarterbacks lately because there is a 'him-or-me' mentality. If you're someone like (Rams head coach) Sean McVay, and you don't have a second pitch after getting to the Super Bowl with Jared Goff, who is a really good system quarterback but not somebody who can create when things break down, you worry about it."
Added another AFC scout: "A lot of quarterbacks do get drafted to be saviors. And there is so much pressure to win now that unless you really believe a guy is a franchise quarterback, that movement in the offseason will continue to happen. Teams will keep playing musical chairs with (the position) until they find somebody they can believe in."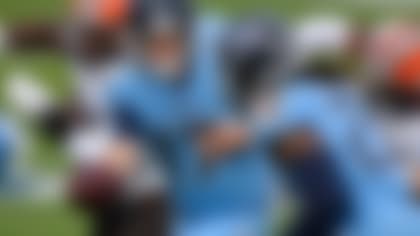 Often, disappointing players bear the blame publicly for failing when the franchise may not have delivered as well. When Alex Smith was fighting to find himself with the San Francisco 49ers, a team that made him the top overall pick in the 2005 draft, he spent years adjusting to different systems and constantly changing coordinators. Smith's career moved in a better direction when Jim Harbaugh became the team's head coach in 2011 and installed a run-heavy system that played to a fierce defense. Smith later became a Pro Bowl quarterback in Kansas City under Reid, who reviewed tapes of Smith in college and added plays to make the player more comfortable.
The same offensive coordinator who worked with Smith in his final years in San Francisco, Greg Roman, was the man who met with Lamar Jackson after Jackson's rookie season in Baltimore. Roman and Jackson talked openly about the new concepts Roman wanted to bring to the Ravens offense prior to that 2019 season. The major change involved a shift from a pro-style system to a spread offense that relied heavily on Jackson's athleticism. Jackson ultimately wound up winning the league's MVP that year.
Mahomes didn't experience as massive a change in offensive philosophies during his first season as a starter in Kansas City, when he won the MVP following a 5,000-yard, 50-touchdown season. However, the Chiefs gave him an invaluable year to sit behind Smith in 2017, surrounded him with Pro Bowl-caliber skill players and also adjusted the offense of head coach Andy Reid to include more of the college concepts Mahomes thrived with at Texas Tech.
"You have to be flexible," Chiefs offensive coordinator Eric Bieniemy said during a 2019 interview. "If you're drafting a kid, you want to make sure he can be at his best doing what he does best. Obviously, there are some things that we will want [Mahomes] to do but we don't have to force-feed him everything. You want to make sure guys can excel and do things that they've done for a long time. You want to let them shine."
Tannehill sensed he had landed in a promising situation as soon as he landed in Tennessee. Even though he was backing up Mariota, Tannehill spent the spring learning the system and figuring out what he could do. He knew he liked the system, the concepts and the presence of a 6-foot-3, 240-pound back like Henry. As Tannehill said, "It was really just the idea of going out and playing and not overthinking things."
Tannehill also acknowledged that he felt some innate pressure that came along with entering the league as a high draft pick that no longer exists today. "You have nothing to compare it to when you're a younger player," Tannehill said. "That's all you know. You're trying to do the best you can do. Now that I've been in different programs, I see the difference that (team fit) can make. I've absolutely learned that the hard way."
There are plenty of young quarterbacks who can relate to what Tannehill has endured. Mayfield was the top pick in the 2018 draft and he's already had three head coaches in three years. He showed great promise as a rookie, threw 21 interceptions in his second season and then rebounded with 26 touchdowns and only eight interceptions in 2020, when the Browns returned to the playoffs for the first time since 2002. The key change for Mayfield: the hiring of general manager Andrew Berry and head coach Kevin Stefanski to lead an organization that had started 29 different quarterbacks under center between 1999 and Mayfield's first appearance in a game as a rookie.
The Browns designed an offense that gave Mayfield more chance to operate in rollouts, with simpler reads and the opportunity for more chunk plays. They bolstered their offensive line and, like Tennessee, reminded their quarterback that they had a strong running attack to take the pressure off of him.
"I watched him a lot the previous year and nothing was easy for him," said the AFC executive. "He's not an elite player but if you're asking him to be elite on 40 percent of his snaps, you're going to be underwhelmed. They didn't need him to be Superman. They needed more Clark Kent from him. The key for him is the number of plays when he has to be special for you. That happens with a lot of quarterbacks. People expect them to be special more often than they actually can be."
Arizona has been bolder in its approach to handling Murray. The Cardinals gave up on Josh Rosen, a player they selected 10th overall in the 2018 draft one year, and hired Kliff Kingsbury, a head coach who won just 46.7 percent of his games at Texas Tech, to lead the team. The Cardinals then drafted Murray first overall in the 2019 draft and set him loose in a spread offense similar to the one that helped him become a Heisman Trophy winner at Oklahoma. Even though nobody would argue that Murray isn't talented, the combination of coaching, scheme and support (the Cardinals also traded for Pro Bowl wide receiver DeAndre Hopkins prior to Murray's second year) have resulted in immediate stardom for the young signal-caller.
Next week's draft will offer more questions about whether teams are willing to make similar moves with their own signal-callers. Lawrence and Wilson appear to be locked in as the top two selections but the other first-round prospects -- Fields, Lance and Jones -- all have a mix of tantalizing skills and varying questions about how to maximize their potential.
The San Francisco 49ers have made it clear that they're taking a quarterback after trading up to acquire the third overall pick, even as they claim Jimmy Garoppolo is still their starter this coming year. Coach Kyle Shanahan said he'd like a scenario similar to the one the Chiefs enjoyed when they sat Mahomes for a year behind Alex Smith.
"We're in a situation where when you bring in a rookie quarterback, to me it's always better, especially … if you've got a veteran starter there already who you like and you're comfortable winning with, that's usually the direction you want to go," Shanahan said.
The feeling around San Francisco is that Shanahan and general manager John Lynch could take a more athletically gifted prospect like Lance or Fields or a true pocket passer such as Jones, whose intelligence and accuracy make him a great fit even though he lacks the improvisational ability of his peers. Regardless, one team source said Shanahan's approach to the position is the key to success.
"They didn't build around Jimmy," said the source. "They built around Kyle's offense. If you can understand the verbiage of his system, he makes things very easy on the quarterback, especially when it comes to decision-making."
The 49ers realize their window to win a championship remains wide open. They reached the Super Bowl just two years ago, and a slew of injuries derailed their chances of qualifying for the postseason in 2020. The 49ers still have many of the pieces that made them championship-caliber, including a strong offensive line and a formidable defense. If they nail the quarterback position in this draft, they could be set up for years to come.
That doesn't just mean finding an elite talent. It means dealing with the same issues most teams face, whether that's New Orleans trying to fix Jameis Winston, Indianapolis hoping to resurrect Wentz's career or Philadelphia turning to a new staff to develop Jalen Hurts.
"The tough part about this league is you usually don't have a say in where you end up," Tannehill said. "(As a quarterback) you have to figure out what you do well and then hope you have a team that can magnify those things. There aren't a lot of chances for a player to make that happen on his own. But when you find that right fit, it really can be special."