No HBCU quarterback has been drafted in 16 years. But Alabama A&M's Aqeel Glass is used to fighting for recognition -- and he's determined to make a name for himself in the NFL.
By Jim Trotter | April 13, 2022
Draft pundits aren't talking much about Aqeel Glass, so please let the St. Louis native re-introduce himself.
"I feel like I'm the best quarterback in the draft, and I'll stand by that," the former Alabama A&M star said by phone recently after a morning training session in his hometown. "I feel like my numbers show that, my film shows that, and wherever I go, my future will show that."
His words were not coated with brashness; they were wrapped in history.
Glass threw for 12,136 yards, 109 touchdowns and 41 interceptions with the Bulldogs, for whom he was the full-time starter from 2018 through 2021. He had the height (6-foot-5) to see over the pass rush and the football intellect to smoothly advance through his read progressions, which was most notable last season, when he threw for 36 touchdowns and nearly 3,600 yards before being named the Black College Football Player of the Year.
"Some people doubt me because of the school I'm at, or say I didn't face any competition, or our offense wasn't that complex," Glass said. "But we ran the same plays that everyone else does, and we did the same things everyone else does. We just played different teams."
A two-time Southwestern Athletic Conference Offensive Player of the Year, Glass is battling history as well as perception. Because he played at a lower-division school (Alabama A&M is a Division I FCS program), some choose to automatically devalue his accomplishments. But the issue runs much deeper than that.
Alabama A&M is among the country's historically Black colleges and universities, and over the last decade, the number of players drafted from those schools has been vanishingly small. In the past 10 drafts, just 23 of the 2,549 players selected (0.9%) have come out of HBCUs, despite HBCUs producing both the NFL's highest-paid linebacker (Darius Leonard, a second-round pick out of South Carolina State in 2018) and one of this offseason's most highly visible free agents (Terron Armstead, a third-rounder out of Arkansas-Pine Bluff in 2013). In fact, no HBCU prospect was drafted last year, the first time that happened since 1967, and just one was drafted in 2020 (Lachavious Simmons, a seventh-round pick out of Tennessee State). Meanwhile, 2006 was the last time a quarterback from an HBCU was drafted, with the Vikings selecting the late Tarvaris Jackson (Alabama State) in the second round.
"You know he does. Now, if he gets a true shot at it, that's a different question." -- Rod Woodson, on whether Aqeel Glass has the ability to play in the NFL
"I finished school in 1978, and during that time, the Black athlete started going to Power 5 schools and predominantly white institutions instead of HBCUs," said Doug Williams, whom the Tampa Bay Buccaneers drafted in the first round out of Grambling State University. Williams played five seasons with the Bucs, then moved on to Washington, where he became the first Black quarterback to win a Lombardi Trophy, earning MVP honors in Super Bowl XXII. "The mentality of NFL scouts changed at that point to, All the good players are going to these schools, so we don't have to go to Black colleges. There was truth in that, but you cannot tell me that of all the Black colleges playing football, you cannot find 45 guys, let alone a single guy, worthy of a spot on a practice squad or 53-man roster."
Said Glass: "At the end of the day, football is football. If you can play, you can play. I've always been a guy who has been under-appreciated, under-recruited, kind of unknown in a way. But I've always made sure people know my name at the end of the day. That's what I do."
Glass took a step in that direction in January with a strong showing in the NFL Players Association Collegiate Bowl, which featured draft-eligible players from every division. Glass went 3-for-3 on his opening series, threw a touchdown pass in the second quarter, had a 47-yard completion to set up a field goal in the third quarter and drove his team into position for a potential game-winning 46-yard field-goal try, only to see the kick sail off-target.
Overall, he finished 9-of-11 for 141 yards with one touchdown and no turnovers, impressing players and coaches alike -- notably, Hall of Fame defensive back Rod Woodson, the opposing defensive coordinator that afternoon. Teams were allowed to run just three coverages: man, single-high safety and Cover 2. Glass exploited each.
"I thought he was their best athlete, and I thought he had a really quick delivery," Woodson said. "I knew he was going to throw some bullets and some slants, and all of his [run/pass option] throws were on the money. The balls were down and inside or on the back hip, which is where you want them to be."
Woodson laughed when asked if Glass has the goods to make it at the NFL level.
"You know he does," he said. "Now, if he gets a true shot at it, that's a different question. I think he has all the ability. If you look at all these backup quarterbacks in the National Football League, most of them come in and cannot play a lick of football. Can he be there? Yes. Can he play in the National Football League? I think he can. But you've got to hope that wherever he goes, he has a really good coach. It really matters.
"The NFL has gone really young with not only players, but also coaches. And a lot of these coaches don't know what they don't know yet. You've got to hope that he gets to a place where there's a veteran coach for the QB position that can really teach him the game. If he gets to a place like that, then he's really got a shot.
"But if he goes to a place where they're just teaching a system like they did in college, then hopefully he'll make it. Athletically, he's good enough to make it. But (if he goes to a situation without veteran coaches,) his personal growth would have to come from his self-study and his peers, not from his coach. From my past experience as a player, I learned everything that I know from older coaches."
Seneca Wallace, who spent a decade in the NFL and appeared in 64 games (primarily as a backup QB), was Glass' position coach for the NFLPA Collegiate Bowl. He was unfamiliar with Glass and HBCU football coming into the game, so he made a point of researching the quarterback and other players beforehand, so he had a good feel for their skill sets.
"I tell myself every day, when they let me in the door, it's going to be hard to get me out." -- Aqeel Glass
"Right away, what jumped out at me was his physical stature," Wallace said. "He was 6-5 and had all the measurables that you look for at the position. When I got him in person, his footwork was really good -- better than what I thought. Ninety percent of the throws in the National Football League are going to be unconventional throws, so when you're evaluating someone, you want to see if they have the fast-twitch muscles, do they have the hip flexibility and everything else, to make all the throws. When I saw him in person, I was very impressed by the skill level he brought to the field in our first practice."
Glass, who was not invited to the NFL Scouting Combine, was hoping to follow that game with a strong performance in the Legacy Bowl, an inaugural all-star game matching top HBCU talents against each other. Unfortunately, he finished just 4-of-15 for 51 yards, which disappointed some scouts and raised the question of whether NFL teams would allow one game to overshadow his collegiate body of work.
"He didn't have a chance in that game," said Williams, one of its founders. "He had no time to throw. The defensive line was on him the entire time. But I'm telling you, he should be drafted. He's good enough to be drafted."
But will he be? One motivation behind the Legacy Bowl was to give HBCU prospects a chance to be seen by pro scouts. Williams said the tendency of NFL teams has been to scout the school and not the player, meaning if a school had a poor record, some scouts would not visit the campus. The Legacy Bowl provided a chance to grade the player and not the school, though not every team appears to have bought into that concept yet.
Jackson State coach Deion Sanders, a Hall of Fame cornerback who has made waves by attracting high-profile recruits Travis Hunter and Kevin Coleman to his program, chastised 10 teams for failing to attend the school's pro day, which brought together players from across Mississippi.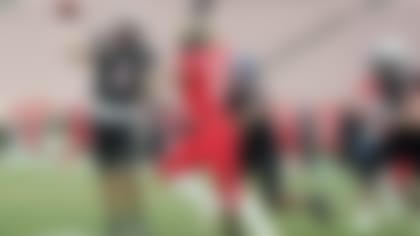 In a video posted on Twitter, Sanders said he appreciated the NFL organizations that showed up. "But there's 32 teams in this Crayola box," he continued. "Therefore, the Dolphins, the Broncos, the Texans, the Bills, the Buccaneers, the Ravens, the Panthers, the Browns, the Vikings and the Eagles, where art thou? You could have sent somebody, man; you could have shown up just a little bit. But I guarantee you that you're gonna go to Mississippi State and Ole Miss. I guarantee you you're gonna show up there. I understand (when) you say they have more talent. I understand. But guess what? We're comin'."
Glass said scouts have told him there are no glaring flaws in his game. He said they have told him to continue to work on the mental aspects, as well as his footwork. There is no way to know whether that will that be enough for him to realize his childhood dream of hearing his name called during the draft, but Glass will not be deterred even if he goes unselected.
"I just want an opportunity," he said. "I tell myself every day, when they let me in the door, it's going to be hard to get me out. Once I get my foot in the door, I feel like it's a wrap from there. I'll be able to learn from guys that I've looked up to and idolized my entire life. Once I make that adjustment, the league is going to be in trouble."
Editors: Ali Bhanpuri, Tom Blair, Gennaro Filice
Illustration by: Chris Ramirez
Illustration photo courtesy of: Associated Press