The third of three uber-athletic trilingual sons of a former Mr. Universe, USC's Amon-Ra St. Brown is most like his father, which bodes well for NFL success.
By Chase Goodbread | April 19, 2021
When Amon-Ra St. Brown made his commitment to USC on national television during the broadcast of the U.S. Army All-American Bowl in 2018, it wasn't your typical speech. He thanked his mother, Miriam, with a few words in German and French, a nod to her determination to raise three trilingual sons. With hats from Notre Dame, Stanford and USC on the table in front of him, he grabbed the correct one first, eschewing the tired hat switch routine. And when he thanked his dad, something else was a little unique.
It was a curious twist on a common phrase, but Amon-Ra St. Brown's path has been anything but Point-B linear. There's an entire alphabet between John Brown's style of parenthood and its bold, accomplished outcome: three sons who all played major college football, Amon-Ra being the youngest and now on the cusp of being selected in the 2021 NFL Draft.
Point B doesn't begin to tell the story.
So, what does Point Z mean to Amon-Ra?
"Point A is when I was born, but Point Z, for me, is never-ending," he said in a recent Zoom interview from Southern California. "Point Z is my whole lifetime. As long as he's around, he's pushing me. Point Z is until I die, or until he dies."
Forgive St. Brown if he can't envision an end to his father's influence. Why would he? John Brown was a bodybuilding superstar by any measure -- a two-time winner of the Mr. Universe competition in the early 1980s -- but reaching the pinnacle in that sport was never his end game. For John Brown, there had to be something else to dive into with his whole self; something else to be the best at. And after his physique peaked like no other on the planet, the mountaintop he later chose was parenthood.
Brown instilled a ferocious appetite for working out in his three boys at a pre-pubescent age, building them into star high school wide receivers who were coveted by top colleges, and drawing more than his share of criticism for his tactics along the way. Miriam, a native of Leverkusen, Germany, kept her sons' minds as sharp as John kept their bodies with a relentless emphasis on academics.
Their first born, Equanimeous Tristan Imhotep J. St. Brown, starred at Notre Dame and now plays wide receiver for the Green Bay Packers. The middle child, Osiris Adrian Amon-Ra J. St. Brown, attended Stanford on a football scholarship, though his career has been derailed by injuries. The youngest, Amon-Ra Julian Heru J. St. Brown, excelled as a USC wide receiver for three years before declaring early for the draft a few months ago.
Brown wanted to give each of his sons an extravagant name -- mission accomplished -- because he thought his own was too common. They all carried GPAs of 4.0 or better in school, spoke fluently in English, German and French from childhood, and struck fear in the hearts of high school defensive backs all over Southern California.
But it's the youngest who is most like his father.
All the boys share his determination and work ethic, but Amon-Ra does it with a little harder edge. He is powerfully built and competes with a hotter fire. He's got an all-business reputation that's well-earned. Yet, he still shows signs of his father's colorful flair and originality. Amon-Ra, with slightly different spelling, is named for the Egyptian sun god.
"It's a strong name. It translates to energy, and it fits him to the T. It just sounds strong coming off your tongue -- Amon-Ra … Ra!!!," John exclaims. "Oh, man, he's a guy who can change the culture of a team."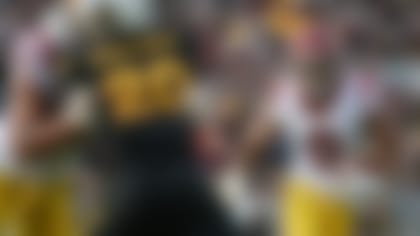 The Sound Mind Sound Body camp in Detroit served well enough notice that if Amon-Ra St. Brown's football career could be defined in a single word, the word would be intensity. Some of college football's top coaches – LSU's Les Miles and Ohio State's Urban Meyer among them – were on hand to watch elite high school prospects, including the two older St. Brown brothers. Amon-Ra hadn't even entered high school yet, but competing against athletes older than him was nothing new.
He belonged, and he knew it.
In a one-on-one rep against a recruit who'd already drawn some major scholarship offers, St. Brown beat press coverage with a clean release, but the older defensive back forced him out of bounds on the route. He then jumped in St. Brown's face and flexed with a victory yell.
"What?" Amon-Ra yelled back. "I will (expletive) break you!"
Meyer and Michigan coach Brady Hoke ran across the field to separate the two, and Hoke walked St. Brown away.
That was one of the first lasting impressions Amon-Ra made on Jeff Johnson, a private coach who taught the position to all the St. Brown brothers. Johnson has trained some of the elites in the wide receiving business, and counts Antonio Brown, Larry Fitzgerald, and Odell Beckham Jr. among his former clients. Johnson considers Amon-Ra's athleticism NFL-ready, as evidenced by his USC pro day performance last month: 4.51 40-yard dash, 38.5-inch vertical jump, 10-foot-7 broad jump, 4.27 short shuttle, 6.81 three-cone drill and 20 bench press reps of 225 pounds.
After three impressive seasons with the Trojans, NFL draft analyst Lance Zierlein believes St. Brown can play inside or outside at the next level and shows exceptional route-running and ball skills.
"He's real smooth and has good body control. He's not the fastest guy out there, but he plays to his top speed when he's trying to track the ball. He doesn't gear down," said Zierlein, who projects St. Brown as a third-round selection. "He's like a Cooper Kupp type. Kupp plays faster than his timed speed because of his route-running, and he's so smart -- a high football IQ -- and that's what St. Brown has."
But there's a mental edge to Amon-Ra that transcends his skill set, one that separates him ever so slightly from even his own brothers.
"They're all hungry, but I think he might be the hungriest," Johnson said of the St. Browns. "He really aspires to be great. I think he's really trying to do everything his father's instilled in him. But if he's a 10.5, the other two are a 9.8."
At Mater Dei in Santa Ana, California, one of the top high school football programs in the country, that St. Brown intensity burned brightly. And on Friday nights, nobody played harder.
"When it came down to crunch time in games, Amon-Ra would be glaring at me like, 'Really? Just get the ball to me and I'll put an end to this thing right now,' " said Bruce Rollinson, the head coach at Mater Dei for the last 30 years. "And we would. And he did."
At USC, St. Brown was an immediate starter as a five-star recruit, overtaking veterans on the depth chart with a team-high 60 catches his freshman season. He punctuated his three-year college career with four touchdowns in a single quarter against Washington State last December -- on a slant, a deep ball, a jet sweep and, finally, a fade.
"He's a serious cat," said USC wide receivers coach Keary Colbert, who played seven seasons in the NFL. "He came in with that mindset to play early and often. He was disciplined and detailed about everything that was set in front of him. Freshmen usually go through more of a maturity process. Amon-Ra had a businessman-like approach; a purpose to get his degree and dominate in football, period."
John Brown's relentless work ethic as a world-class bodybuilder came with an air of showmanship. He revolutionized the sport in the 1980s by incorporating dance moves into his posing routine, flexing in rhythm with musical selections that also bucked the norm. Classical music was the expected standard; John began posing to James Brown. It was a risky departure from conventional competition that was loved by audiences but, initially, despised by judges.
Amon-Ra, true to form, has become more outgoing over time. And while his intensity never wavers in two places -- the weight room and the football field -- he's begun offering flashes of his personality off the field in a very public way: on his new YouTube channel.
"I'll never get a tattoo in my life," he says in a recent upload. "Let me ask you this: Would you put a bumper sticker on a Lamborghini?"
John Brown was watching his sons climb trees and hop fences when the notion first occurred to him that weight training for his boys -- ages 8, 6 and 5 at the time -- wouldn't be as outrageous as it sounded.
"Climbing a tree is a form of resistance training, when you really think about it," he said.
He started them with a practically weightless PVC pipe until they understood various lifting movements, proper form and technique. They were never left alone -- dad supervised every rep. Two-and-a-half-pound weights were added. Then more. All three of the boys had dreams of playing in the NFL, but John convinced them at a very young age that greatness in sport must begin not on the field but in the weight room. They began developing muscle definition long before their classmates. Brown has a library of videos that documented their progress -- in one glimpse of Amon-Ra's development, he's recorded bench-pressing 95 pounds at age 9.
"Lifting with my dad at a young age, you felt like you were stronger than every kid on the field. You mentally felt like you had an advantage over all the other kids," Amon-Ra said. "If you know you're stronger than the guy you're competing against, it breeds confidence."
Brown sought to pair the workouts -- right from Amon-Ra's age-5 start -- with steady protein, but retail options weren't good enough for his boys.
"He thought the store-bought protein powders were crap," said Clif Smith, a longtime family friend who switched from bodybuilding to personal training. "So he made his own."
With contacts in the bodybuilding industry that were global in scope, the former Mr. Universe had no trouble developing his own proprietary mix -- Cane Protein -- but until three years ago, it was available only to his sons and their friends and teammates. Amon-Ra, in fact, initially objected to his father's decision to market it for public sale because he didn't want to lose it as an exclusive advantage.
USC wide receiver John Jackson III only half-jokingly recalls the first time he ever worked out with Amon-Ra and his father -- in the Brown family garage -- as the worst mistake of his life. On Friday nights, Jackson used to sleep over at Amon-Ra's home after the Mater Dei teammates finished their game, and Amon-Ra's Saturday-morning routine stunned him. It would start with catching 150 passes from the family JUGS machine before it moved into the garage, where all the iron was stored. A biceps circuit St. Brown referred to as "21's" -- seven quick reps of three different lifts each -- wore Jackson out like never before. Seconds, not minutes, separated sets.
"It was more weight than I could really handle, but when you work out at someone else's house, you don't want to slow them down by pulling weight off for yourself," Jackson said. "By the time we got done, I could not even straighten my arm. Mr. Brown is handing me a Cane Protein shake in the house, and I couldn't even reach for it or lift it off the counter."
Former USC strength coach Aaron Ausmus, who worked with St. Brown for two of the player's three years at USC, recalls inheriting a machine of an athlete with highly polished training habits.
"You could tell he'd been at it from his youth. The physical development and structural leanness and muscle mass was at a high, high level. You knew he had to have a pretty dedicated lifestyle," Ausmus said. "He was into feeding himself, he knew the importance of breakfast, of healthy snacks before training, always hydrating and carrying water everywhere. He had a post-lift routine. He took all those things outside of the actual lift very seriously."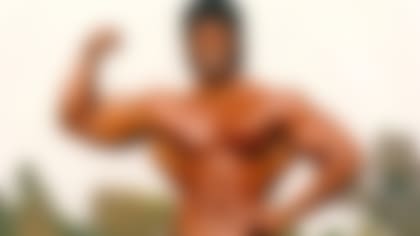 To grasp Amon-Ra St. Brown's level of resolve in life, a baseline understanding of his father's is required.
John Brown grew up in Compton, California, with two loving parents but little support for his goals and nobody pushing him toward excellence. Though he readily cites key influences in the sport, including French bodybuilder Serge Nubret, he attributes the source of his motivation to become the world's greatest bodybuilder to himself alone; along with a divine influence, he says.
He dropped high school football because he decided team sports weren't for him; an individual sport would be more self-determinant. And to Brown, outworking his competition was always the easy part. The willingness he had, and the countless hours required in the weight room, were a simple sacrifice; the trickier quest was more about knowledge and know-how.
He traveled to California bodybuilding competitions to meet the best in the business, toting a screwdriver that helped him re-start his dying 1971 Pontiac Firebird when it would give out on the way. In time, he began winning local competitions, then regional and national ones, before reaching the top of his sport internationally.
And when it all ended and his life evolved into parenthood, he wholly threw himself into the task, with much the same fervor as he competed on stage. His golf buddies noticed quickly.
"When Equanimeous was born, he stopped doing a lot of things with us as guys and just became 100 percent committed to fatherhood," said Smith. "He wouldn't play golf anymore, wouldn't hang out anymore. You could say, 'Give the kids a break and come play golf with us,' but no, that wasn't going to happen. … If we had a tee time and something came open where he could be with them, he was out."
Brown wouldn't miss a chance to spend time with his sons, and in turn, the boys wouldn't miss a workout. At Mater Dei, Amon-Ra had a post-practice workout routine that never wavered. Mondays, he'd work on his release at the line of scrimmage; Tuesdays, it was route-running; and Wednesdays, extra conditioning. Others were welcome to join if they could keep up.
After his first day of practice at USC in 2018, Amon-Ra stayed afterward to do additional catching drills. By the time he was done, no other receivers were on the field. On the second day of practice when he did the same, a few members of his signing class turned and noticed on their way to the locker room. On the third day, a few began to join him.
"I would say I'm most like my dad because of how focused we are," Amon-Ra said. "Whatever my dad puts his mind to, successful or not, he's going to give it everything. He doesn't stop until he gets what he wants."
The name Marinovich still resonates in Southern California football circles, enough that John Brown's critics were never afraid to make the comparison. Quarterback Todd Marinovich attended USC and was pushed into football greatness at a young age by the domineering presence of his father, Marv. The two families lived just a few miles, and a couple decades, apart; both in Orange County, California. Todd rebelled, had an all-too-brief NFL career, and fell into substance abuse.
But don't make the mistake of confusing the two, says Johnson, who was a ball boy at USC during Todd Marinovich's playing days there.
"John might've pushed it, but I don't think he went overboard … it's just that his way of teaching is strict and different," Johnson said. "He knows his kids, his genes, his wife's genes, and he pushed those guys. I grew up watching Marv Marinovich. He went overboard -- he was stretching his kid in his crib."
John had a distinct, loud whistle that could be heard far and wide at parks and ball fields, and when it sounded, the St. Brown brothers, even if they were in three different places, would rush to his side. That, among other things, added to the perception that he was overly controlling. As the youngest, Amon-Ra was often at the center of the objections. When people who thought Equanimeous' training was too much too soon learned Amon-Ra was doing the same at three years younger, the criticism kicked up a notch.
"There was so much venom and hate," John Brown said. "If you look at my back, you'll see a lot of arrows I've gotten from covering my cubs."
But this was also a dad who traveled across Europe with his sons, would occasionally pick them up in the middle of a school day if the weather was too nice to be indoors, and let them sleep in late some mornings because "kids grow in their sleep."
Fast food in the Brown house? No problem. Among several misconceptions that fueled criticism of Brown's parenting style is that he dictated a strict nutritional regimen. Not true.
"I had McDonald's, ice cream, you name it," Amon-Ra said.
John Brown didn't worry so much about fat and sugar in his sons' diets because he knew that dedicated, high-intensity workouts would burn all of that off. His only insistence was that they get plenty of protein, so along with John's proprietary homemade shakes, there was plenty of red meat served.
Another misconception: College coaches used to quiz Rollinson incessantly about whether Brown might meddle as a parent, exercising control over his sons in a way that would interfere with the program, particularly with strength training. After all, a former Mr. Universe would know more about lifting than any college strength coach, and with the training regimen for his sons well known, it was easy to understand, at least, why the question was asked. Brown admits it wasn't easy turning his boys over to three different college strength programs, but he didn't exactly interfere.
He did insist that the brothers train extra on their own if they felt a team workout didn't properly balance training on opposing muscles. For instance, following a squat-heavy workout, they might do hamstring curls and calf raises on their own for a more balanced leg workout.
"It was very difficult to give them over [to college strength staffs]," Brown said. "I told them, 'You've got to do what they tell you because you're part of the team. You can't go against them.' I told them, 'What they're doing with you can't hurt you, but what will hurt you is if you stop doing what I'm telling you.' "
Devoting extra time to his training has never bothered Amon-Ra, just as it never bothered his father. He never needed much prodding to do so, in part because competing with his older brothers in training was enough motivation.
"I remember watching a Twitter video of Marlon Humphrey, when he got his second contract, he started crying and thanked his dad for all he did. You can look at the Tiger Woods documentary. I think there's a borderline of how much the father does," Amon-Ra said. "Some fathers can go overboard, but I don't think my dad was overboard. He was tough when it came to sports and he taught us a lot of things. Some days, I was like, Man, I wish I had the easy way out like some of my friends, but looking back, I wouldn't change it for the world."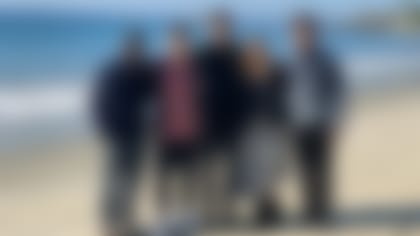 Miriam was never certain athletics would carry her boys for a lifetime, but she knew a top-shelf education would. This was especially true with her oldest, Equanimeous, because his success in football didn't follow an older brother's model, as that of Osiris and Amon-Ra did. As such, she added a heavy emphasis on academics to her sons' daily life on top of her husband's athletic training. John knew the importance, as well, and the boys responded with A averages in school, but it was Miriam who made certain of it. She only speaks to her sons in German, and they only speak to her in German. She sent them to a French school until the sixth grade to learn a third language, and at one point, to assess their progress, she took them to Paris and enrolled them at a school in France for a semester.
Study time was never cut short. If their cellphone data consumption reached a certain point, the boys could find themselves without them for a while. If too much time was being spent gaming, they'd find their Xbox console disabled by a hidden power cord.
Time playing with friends? Learn 10 new words.
Weekend plans? Learn 10 new words.
"She had these vocab cards in the house with the word on one side, the definition on the other. Some days she'd give us the word and we'd have to get the definition," Amon-Ra said. "Some days she'd show us the definition and we had to know the word. It was all in English, but if we didn't know them, we didn't go out."
The boys took their college entrance exams in all three languages. She sent Equanimeous to SAT prep classes after he'd already been accepted to two elite academic institutions -- Stanford and Notre Dame.
"She just wanted me to do better," Equanimeous said.
It all provided one hell of a fallback plan in case athletics didn't work out. And in the case of Osiris, it could pay the fastest dividends. The middle son was a fabulous wide receiver at Mater Dei, rated a four-star recruit, and drew scholarship offers from across the country. He chose Stanford, but injuries hampered his career. He's currently completing his degree, however, and his post-football life could be upon him.
"He might stop playing and start a business, or he might grad transfer, we'll see," Amon-Ra said. "But I think he's leaning more toward starting a business."