Facing an uphill battle to the NFL with a cancelled college season, an incomplete D-III resume and a ballooning belly, Quinn Meinerz was at a crossroads. Then fate, hard work and a little luck intervened.
By Chase Goodbread | March 9, 2019
FRISCO, TEXAS -- The gut had gone too far. Quinn Meinerz first came to that realization in December 2019, as he sat in the Wisconsin-Whitewater football facility reviewing tape of the 41-14 thrashing his team had just absorbed from North Central (Ill.) days earlier. Up until then, he'd always felt his girth had served him, not saddled him. It was easy enough to be jovial about his belly, as long as he could impose his will on defensive linemen. But this was too much. He'd lost something beyond the scoreboard in the 2019 NCAA Division III national title game, known as the Stagg Bowl.
He'd lost his way. He weighed 335 pounds, and he was no longer carrying it well.
"I looked disgusting out there, that's the way I put it," Meinerz said. "I wasn't moving very well, and I looked gross. I'd started hearing my name mentioned (as a draft prospect), and I couldn't be looking like that. It's not professional."
Meinerz had always had a solid relationship with his belly; indeed, it's carried something of its own persona for the last seven years. He was nicknamed The Gut at Union High School in Hartford, Wisconsin, and would proudly tuck his jersey under his shoulder pads and show off his girth with a smile, convinced there was also a practical purpose of helping him stay cooler during hot practices. As a heavyweight wrestler, he'd write "The Gut" on a piece of tape affixed to his headgear before destroying the biggest opponents rival high schools had to offer.
Meinerz gave birth to The Gut as a means to an end. In 2013, as a ninth-grade offensive lineman, he was promoted from the freshman team to junior varsity for a couple of weeks, only to be sent back down after being told he wasn't big enough to contribute.
At the time, he was 5-foot-9 and just 180 pounds.
Meinerz privately vowed that if he wasn't good enough to play for Union High's varsity offensive line the next year, it wouldn't be because he was too small. Over the offseason, a commitment to the weight room conspired with a remarkable growth spurt and a voracious appetite marked by gallon-a-day milk consumption, six-egg omelets and two of everything in the school lunch line. That confluence made Meinerz all but unrecognizable to the Union coaching staff when he reported for preseason practice as a sophomore. In less than a calendar year, he'd grown five inches and put on 80 pounds -- from 5-9, 180 to 6-2, 260.
It served him well, and with a determined commitment to exercise, he kept it in decent check -- big, but not so big as to be a detriment to his play -- until it got away from him in his junior year of college. The timing could not have been worse. The COVID-19 pandemic struck just as Meinerz had begun re-shaping his body for what was supposed to have been a triumphant senior season in 2020.
It shut down spring practice. It shut down Division-III football in the fall. And it shut down any hope Meinerz had of putting pads on to show NFL scouts his newfound fitness before the 2021 NFL Draft, until a phone call from Senior Bowl executive director Jim Nagy changed his trajectory as a draft prospect in a way nobody -- not even Meinerz himself -- could have possibly imagined.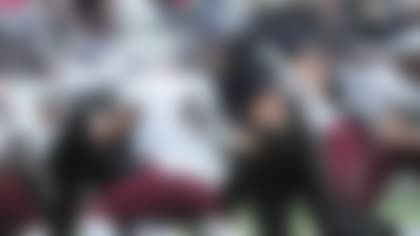 There are plenty of places to run at the EXOS training facility in Frisco, but few places to hide. The complex, at 145,000 square feet is, in a word, cavernous. So when Meinerz got the call on Jan. 14 that he'd been invited to the Senior Bowl, just 10 days before reporting to the all-star event in Mobile, Alabama, the best he could do with his attempt to cry in private was to start walking across multiple basketball courts, conjoined without walls, away from anyone who could see him.
He points to the spot where his emotions got the best of him, on an empty basketball court several hundred feet away -- the farthest he could get -- from any prying eyes.
He thanked Nagy profusely, ended the call, and immediately called his father, Aaron, and shared Cry No. 2. Just days earlier, he'd told Aaron Meinerz that he'd all but given up on being invited -- the Senior Bowl, after all, was just a couple of weeks away, and rosters were full. He knew he was somewhere on Nagy's waiting list -- a handful of reserves who could get a late call to replace a withdrawal -- but didn't know if his name was at the top or the bottom. He moved up a notch when Alabama center Landon Dickerson had to withdraw due to a knee injury suffered in the SEC Championship Game, but it took yet another injury among accepted invitations along the interior offensive line -- a toe injury to Ohio State center Josh Myers -- to trigger the call to Meinerz. However it came about, 12 months of hard work without playing a single game of football had finally put Meinerz exactly where he'd hoped.
"I felt so much weight off my shoulders. Not just mentally, I mean I physically felt lighter, less tense," Meinerz said. "Getting into the Senior Bowl was that important to me."
He'd had a full blood panel examination to help him dial in the right diet -- chicken, rice and vegetables has been the staple meal ever since his January reckoning with his weight.
With some help from Whitewater head coach Kevin Bullis, he talked his way into training at NX Level Sports Performance in Waukesha, Wisconsin, operated by former Whitewater star Brad Arnett and the offseason training home of NFL stars J.J. and T.J. Watt.
A left guard at Whitewater, he knew he needed more versatility for an NFL career, so he trained himself for center by snapping footballs into a garbage can laying on its side, directly behind him. For shotgun snaps, he stood the garbage can upright and attached a metal pizza peel to the rim; he'd know the snap was accurate if he heard the football strike the metal.
Until last summer, however, Meinerz thought these efforts were preparing him for Whitewater's 2020 season. Crushed to hear on a Zoom call from Bullis that there would be no Division III football in 2020, two realities occurred to him: 1) The most recent Whitewater tape NFL scouts would see of him was from 2019, when The Gut was out of control; and 2) an all-star game would be his only realistic chance to show them a better version of himself before the draft.
One of the earliest online scouting reports on Meinerz described him as having "a sloppy midsection." Being nicknamed The Gut had never bothered him, but this was offensive.
"When you think sloppy, you think lazy, and that's not who I am at all," Meinerz said. "The adjective bothered me."
Meinerz had already lost a lot of weight when the damning scouting report first came to his attention. But it was an unnerving reminder that, absent an all-star-game invitation, he might not get a chance to make a different impression. Whitewater conducted a few practices in October, but NFL scouts weren't allowed to visit college practices due to COVID-19. Knowing this, Meinerz wasn't even sure it was smart for him to participate. Ultimately, the chance to resume full contact drove his decision to log a couple weeks of practice with no games to prepare for.
"If you get contact-traced, you lose two weeks of training, which I couldn't afford," he said. "When I found out they were practicing in helmets, I passed. I only changed my mind when they went into full pads."
Fall began giving way to winter, with no all-star opportunity in sight.
On Oct. 27, the East-West Shrine Bowl was canceled. On Nov. 13, the NFLPA Collegiate Bowl followed suit.
"When I started seeing the dominos fall, I got a little nervous," Meinerz said. "I understood why things were canceled, but it was making my chance of getting seen a lot harder."
Only the Senior Bowl, the most prestigious of the three all-star games, remained. Invitations to it are rarely extended to Division III players, as more highly regarded prospects typically fill out even the very bottom of the roster.
"As a scout, (if) you put even a seventh-round grade on a D-III guy, you're putting your reputation on the table," Nagy said. "In 18 years (as an NFL scout), the only D-III guy I ever put a draftable grade on was (Mount Union and longtime NFL wide receiver) Pierre Garcon."
With his hopes of an all-star invitation dwindling by the day, Meinerz continued training in case of a Senior Bowl miracle. He traveled to Dallas to spend three weeks at Michael Johnson Performance with private offensive line coach Duke Manyweather, who works regularly with both NFL veterans and draft prospects. Soon after, it was off to EXOS with a mindset that a pro day workout, not the Senior Bowl, was probably the only thing left for him to prepare for.
The reality was this: Had Meinerz not gone through 12 months of conditioning to regain control of The Gut, the Senior Bowl call would never have come. Nagy had seen a dominating Division III player but also an out-of-shape one when he evaluated Meinerz's tape from 2019. However, Meinerz's agent, Dallas-based Ron Slavin, had made sure Nagy was aware of his client's conditioning efforts. That culminated with a workout video Nagy received from Meinerz's November training sessions with Manyweather.
"I saw him flat-foot dunking (a basketball) and there were clips of him repping side by side with (Northwestern tackle) Rashawn Slater, so you could evaluate them together. You could see how much fitter and quicker he looked," Nagy said. "That made a difference for us. He wouldn't have received an invite based strictly off his tape. It was a dice roll because you want to invite guys based on tape. But with Quinn, we invited him based more on his workouts."