Things weren't always this easy for Mac Jones, who sat three years at Alabama waiting his turn. But the draft's fastest-rising prospect who models his game and style after Tom Brady is about to get the last laugh. A fitting finish for the quarterback nicknamed the Joker.
By Chase Goodbread | April 7, 2021
TUSCALOOSA, Ala. -- Richie Petitbon hadn't even been born yet when Jack Nicholson kickstarted the modern cinematic depiction of the Joker as the formidable antagonist to Michael Keaton's Batman in 1989. And when the grandson of the former NFL coach by the same name was 12 -- the perfect demographic target for Heath Ledger's reprisal of the frightening supervillain in The Dark Knight -- it didn't quite stick with Petitbon like the old-school Joker he knew from cartoons and comic books. In those mediums, the character could be more to Batman what Wile E. Coyote was to the Roadrunner – a determined but harmless foil. And it was that Joker, more clown than criminal, who Petitbon had in mind when he first coined Mac Jones' enduring nickname.
It was the summer of 2017, and Jones, one of Alabama's least-heralded recruits, didn't seem to care one bit upon his arrival that he was buried on the quarterback depth chart behind incumbent starter Jalen Hurts and even the presumptive gem of his own signing class, five-star prize Tua Tagovailoa. He laughed a lot, and loudly. He'd sometimes break into spontaneous dance in the locker room.
A goof. A ham. A goofy ham.
"When he first came in, he was just so comfortable in his own skin, even though he didn't really know many guys yet," said Petitbon, an offensive lineman at Alabama during Jones' first two years at Alabama before transferring to Illinois. "And he had this huge smile like the cartoon Joker. So, one day I just called him that, and it took off."
An animated demeanor, both on the field and off, marked Jones' earliest impressions as the Crimson Tide's scout-team quarterback. His enthusiasm was unbridled in a way that entertained teammates on the practice field, yet at the same time could occasionally raise the ire of fiery head coach Nick Saban.
Jones' first iteration of the Joker brought more fun and inspiration to Alabama's scout-team underlings than should ever be possible for a collection of bench players tasked as tackling dummies for the Crimson Tide's vaunted, draft-bound starting defense. But Petitbon and many of Jones' teammates also recognized the seeds of something bigger and more dangerous in the young Mac Jones. Something more cunning.
"The badass Joker was always in there somewhere," said former UA receiver Mac Hereford.
Three years later, Jones' final iteration of the Joker rained chaos on opposing teams. He terrorized defensive backs as the jovial maestro of the most prolific offense in Alabama history, leaving scoreboard destruction in his wake and laughing all the while. He was downright diabolical, if you ask the legions of college football fans who've had their fill of Alabama winning, the same way many NFL fans have tired of the Patriots dynasty. You know, the one led by Jones' favorite quarterback: Tom Brady.
The cackling laugh that comes more from his belly than his throat became a little more sinister sounding. The fun-loving Jones hadn't gone anywhere. But after he slashed through an undefeated season on the way to a national championship, the likes of Georgia, Auburn, Florida, Notre Dame and finally Ohio State were left to ask, "Why so serious?"
Jones never was a fan of superheroes or comic books as a kid, other than a mild fascination with Spiderman, and at first, he wasn't thrilled when the nickname spread from teammates to social media and people he didn't know.
"I saw the most recent (Joker movie), the violent one. I don't want people to think I'm crazy like that," Jones said of Hollywood's latest Joker played by Joaquin Phoenix. "But it's kind of who I am. I'm a guy who likes to laugh."
The NFL took quick notice, and had to, because Jones only started one full season at the college level. They see a fun-loving quarterback who can also rip the heart out of opponents with the game on the line. He's expected to be a first-round draft choice -- maybe even as high as No. 3 overall where the San Francisco 49ers currently sit after their blockbuster trade with Miami two weeks ago -- and there's nothing funny to NFL clubs about that kind of investment.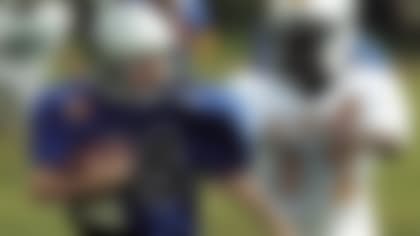 Classic comic book characters carried traits that stood in conflict with one another, allowing their creators to traffic in suspense and mystery, generate unique storylines, and engender a broader consumer appeal. Superman had his Kryptonite, the Incredible Hulk had his softer side, and the Joker's grin belied dastardly plans.
Descriptions of a young Mac Jones depict some contrasts, as well.
How could a kid have so much fun, wholly embracing the notion that sports are, at their core, performative art, and yet still be so deadly serious about winning and excelling?
Start, of course, with a keen sense of humor.
Dawn Collins, his fifth-grade teacher at The Bolles School in Jacksonville, Florida, recalls Jones' ability to see more sophisticated humor than his fellow 10-year-olds could recognize. He'd tilt back his head to project his voice, open his mouth wide and yell, "Ha!" Sometimes the joke would still pass over the heads of his oblivious classmates; other times his laugh would serve as a prompter, and they'd catch onto the humor that Collins might have preferred them to have never noticed.
"He was so much fun, but he could laugh at the wrong time or out of turn," Collins said. "I loved him, but sometimes I would have to give him the big eyes. There was a party going on in his head at all times."
Jones' smile could command attention, such that he got some work as a model as a child, his big grin and blonde hair combining to garner appearances – ever the showman -- in various local commercials and pictorial advertisements.
And on the football field, wins followed his knack for fun and flair.
At 13, he once audibled to a fake spike in the final seconds of a youth game with his team trailing by three and within field goal range. With the defense assuming Jones was stopping the clock for the field goal unit, he instead lofted a deep touchdown pass for the win. The celebration, of course, went unchecked.
"That was Mac," said Melvin Huff, one of his youth coaches in Jacksonville's Mandarin Athletic Association.
Years later upon his arrival at Alabama, Jones' jokester side made its appearances, even if it was just on the practice field. He'd find ways to needle Alabama's starting defense as the scout-team quarterback, and in turn, goad fiery head coach Nick Saban as well. Once on what was supposed to be a Hail Mary drill, he instead threw a short checkdown pass to fellow scout-teamer Derek Kief, then took a lateral from Kief and ran 50 yards to the end zone. With no defender near him, he dove across the goal line with the ball extended – yet another Saban no-no -- and finished with a spike.
The scout team exploded with excitement.
Saban exploded with something else.
"The straw hat flew, and he was so mad, he started running at me," Jones said with a laugh. "For a second I thought he was going to tackle me."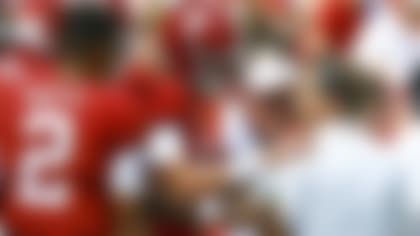 Just a few days removed from his second and final pro day workout, which he finished with the fun of catching a pass from running back Najee Harris, Jones sits in the comfort of a third-floor flat in Tuscaloosa's new Westgate Condominiums. He reflects on some of the funniest moments of his four years – three spent in relative obscurity – on Alabama's campus. With a balcony view of Bryant-Denny Stadium, his scout-team days provide much of the fodder.
The Crimson Tide defense Jones faced as the scout-team quarterback featured draft picks from top to bottom, including first-rounders Daron Payne, Rashaan Evans and Minkah Fitzpatrick. Eventual No. 3 overall pick Quinnen Williams was a backup. The talent advantage over the scout team was beyond unfair, and, of course, they'd been game-planning to recognize and stop the very plays Jones was being asked to run. He wasn't about to give them any more advantage than they already had.
Not even anticipating the snap count.
The Joker would occasionally blow Saban's stack in practice with a hard count to draw the starting defense offsides. A clever means of keeping them honest, perhaps, but to Saban, it was simply a wasted rep and a waste of 30 seconds to reset.
"There are all sorts of little tricks that made (scout team) more fun," Jones said, "but it would piss off the defense at the same time."
If the UA football program had to buy more balls than usual in 2017, the scuffs Jones put on them would've been the reason. Rocketing spirals so far out of bounds in practice that they'd hit the brick façade of the Mal Moore Athletic Complex will do that. Saban would want balls thrown to certain scout-team receivers whether they were open or not, to give the defense a look at the play to expect from an upcoming opponent. Jones, who was redshirting his first year on campus, would have none of it.
"He just refused to throw a ball he wouldn't have thrown in a game," said former Alabama quarterback Kyle Edwards. "When he realized the play was dead, and against our defense that happened a lot, Mac would roll out and chuck the ball 20 yards out of bounds, into the brick wall, into the parking lot. Coach Saban would get furious, but that was Mac being competitive."
Joe Dickinson, a former Oklahoma assistant and Jones' longtime private coach, believes he might be a bit to blame. Dickinson, 64, was on the OU staff when Troy Aikman was a scout-team freshman there early in 1984, prior to his transfer to UCLA. Aikman displayed the same refusal to feed the Sooners' starting defense cheap interceptions, a story Dickinson had imparted to Jones before he ever got to Alabama.
The Joker, however, was largely impervious to Saban's bluster. Much credit for that goes to his high school coach, the late Corky Rogers of The Bolles School. Rogers, who passed away last year, was to Florida high school football what Saban is to the college game. His teams won a Florida-record 10 state championships, never enduring a losing season in 45 years as a head coach. He drove players hard with an old-school style that evolved slowly, tolerated no nonsense, and would chide Jones for his use of social media to enhance his recruitment.
During Jones' senior year, Rogers was so upset by a bad Thursday practice, he reconvened the team Friday morning for a practice on game day. A tongue-lashing from Saban can be a jarring experience for incoming Alabama freshmen, but thanks to his exposure to Rogers' ire, Jones arrived at UA with thick skin.
"I was definitely used to it," Jones said.