The power-throwing, ultra-athletic Anthony Richardson has a chance to be a star in the NFL -- but first he must answer questions about his experience level and game. Inside the process of preparing a singularly promising prospect for his moment.
PONTE VEDRA BEACH, Fla. -- Anthony Richardson downs his second Red Bull of the morning and springs into a handstand. He holds it steady on the turf for 10 seconds, then leaps back to his feet, grabs a football and dances while posing for cameras there to document his workout.
It's a sign that he's at home here. He's two hours into a throwing session just days before Florida's pro day, at which he would later literally hit the roof of the Gators' training facility with his deep ball. He is on the verge of realizing his childhood dream of being a first-round pick in the NFL draft. Though this would be a stressful situation for most, Richardson is at ease.
Surrounded by a team of people he trusts, he can truly be Ant: a big, playful kid who flashes a magnetic, caring energy, yet remains intentionally succinct in conversation. And the chiseled, 6-foot-4, 244-pound quarterback loves to push his body to its limit, particularly by doing backflips.
Richardson hit his first backflip in second grade. His first dunk? That came in seventh grade. By high school, he could dunk from the free-throw line. (He assures me he's a better basketball player than every other QB prospect in this year's draft class.) Richardson said there's something about flipping and jumping that brings him joy.
I watch him casually sling a ball 67 yards off one leg -- his body contorted like Derek Jeter making a web gem -- and nail his receiver in stride. He was graded as the most athletic quarterback tested at the NFL Scouting Combine since at least 1987, per Relative Athletic Score, and he's not afraid to show what he can do.
"As a player, I'm not human. I'm an alien," Richardson tells me in a voice so deep it's startling. "I don't think I can be compared to anybody. As a person, I'm normal -- just a fun-loving guy who likes to make people smile."
It's all smiles today as he continues to prep for his transition to the pros. We're at a football field tucked away deep in the corner of a public park. Thursday's session was a bit of a grind; he was sore after heavy work Wednesday. But now it's Friday, and Richardson is rejuvenated. He alternates pass sets with his fellow QB trainees, the Indianapolis Colts' Gardner Minshew and Georgia Southern draft prospect Kyle Vantrease. A few minutes later, Richardson hits the Griddy after delivering a 20-yard dime on a deep out route.
The scene calls to mind something that Richardson's former high school coach, Cedderick Daniels, told me a few days before the workout: "We have a saying that a happy Ant, a relaxed Ant, is a dangerous Ant. If he's doing backflips, dancing and jumping around, then it's going to be a long day for the defense."
There's no defense on this field, but Richardson is cooking against air. He rockets a 15-yard crossing route to receiver Justin Shorter, hitting him on the money before Shorter reaches the sideline.
Richardson chirps aloud to no one in particular, or to everyone there: "Don't you hear that ball whistle? What does it sound like? A missile."
He's in his zone. His confidence is infectious. His demeanor offers little hint that questions about his accuracy and inexperience have made him perhaps the most polarizing player in this year's class of prospects.
In late March, I talked with those close to Richardson and spent three days with the QB and his pre-draft preparation team as he wrapped up training in the Jacksonville area. My goal was to uncover more about who he is -- and what his new NFL team will be welcoming when he is drafted.
---
---
Richardson is expected by many to be a top-12 pick when the 2023 NFL Draft kicks off Thursday night in Kansas City, but there does not appear to be a consensus about where he fits in relation to the QBs in this class. I asked five personnel people or scouts, each of whom works with a different NFL team, to rank the top QB prospects this year, and one ranked Richardson first, three had him third and one had him fourth. Of the group, two expressed fear in taking him within the first 12 picks, because he still has so much yet to prove.
In 2022, his lone year as a full-time starter at Florida, Richardson was inconsistent as a passer, putting up a 53.8 percent completion rate, and he led the Gators to a pedestrian 6-6 record in his starts. He completed 55 percent of his 393 total attempts overall in college.
"Nobody wants a quarterback with a 53 percent completion percentage. I don't want to be that guy either," said Richardson, who spent nearly every weekday from Dec. 26 through March 30 training for six to eight hours per day. He split his time between on-field workouts and weight-room sessions and throwing, mechanics and film sessions.
"I know I have to get better," Richardson said. "But I promise, I will work relentlessly to improve. And I will improve. All you need to do is watch the tape to know my best is still yet to come."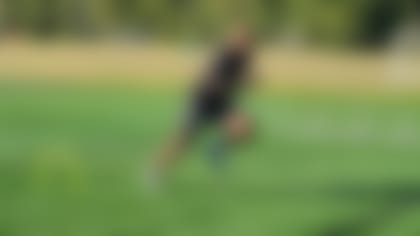 Multiple NFL executives told me Richardson has the highest upside of any QB in the draft. At the combine, he ran a 4.43-second 40-yard dash (fourth-best among QBs since 2003) and recorded a 40.5-inch vertical jump (setting a QB record since '03) and a 10-foot-9 broad jump (tying the QB mark in that span).
Sources with knowledge of his results told me that Richardson scored in the "top-tier NFL starter" range (between the 74th and 99th percentiles) on the S2 sports cognitive and processing test that 15 NFL teams use as a draft-evaluation data point, and that he also scored well on the AIQ, a separate mental analytics assessment. Further, he impressed multiple NFL teams in meeting rooms and on the whiteboard during this process, two team sources said.
In previous years, natural-throwing QBs Josh Allen, Patrick Mahomes and Jalen Hurts overcame pre-draft question marks about accuracy and scheme, proving they belonged among the NFL's best. Richardson is the latest prospect to force teams to weigh potential against past production.
"He's the most intriguing player in the draft," said one personnel person who works for an NFL team picking in the top-15, and who had Richardson ranked third among QBs. "I could see him being the best QB in football within five years. It also wouldn't shock me if he was out of the league if he lands in the wrong spot. He has all the athletic tools. It'll depend on the coaches he gets to develop him and his willingness to work to be great."
Richardson is the youngest QB in this class and one of the draft's youngest players overall: He doesn't turn 21 until May 22.
"Anthony isn't the perfect prospect," said Will Hewlett, one of the private QB coaches who helped him prepare for the draft. "But where is the ceiling? I can't find it. He's got limitless potential. He's the age of a college sophomore. Do I believe there will be at least 6 [points of] growth in his accuracy percentage in the NFL? Absolutely. And there is potential for even more."
'To them, Ant is the one'
Richardson's first favorite toy was a Nerf football gifted to him by his uncle Tanka when Richardson was age 2. He once scratched a kid who tried to take it from him.
His mother, LaShawnda Cleare, told me you can track the beginning of her son's interest in football with that toy. One day, when Anthony was 3 years old, Cleare was throwing the football with him in front of her grandma Mildred Newsome's house. Anthony threw the ball so hard that she ducked to avoid it, the ball smacking a window with a loud bang, nearly breaking it -- and Mildred came out yelling at Cleare. She refused to believe a kid could throw the ball hard enough to make an impact that loud.
Tanka, Cleare's brother, came out of the house and told Anthony to throw the ball again. He did, just as hard. Tanka caught it and smiled.
"His uncle Tanka showed him how to hold his arm and throw. He taught him football," Cleare said. "Tanka was a funny jokester. To know Tanka is to love him. He was the male father figure in Anthony's life."
Cleare was 17 when she had Anthony and began raising him as a single mother in Miami. Tanka handled all things football, while Cleare moved mountains to provide for her boy.
Richardson does have a relationship with his father, Will, that he described as "a work in progress, not a fairy tale father-son bond." Will lives in Miami, and Anthony said, "we've both been through stuff in our lives, but we're working to get that chemistry."
"It was hard. I struggled," Cleare said. "We didn't have much. I had to work several jobs, a lot of hours without much sleep to pay for clothes, food, rent and bills. I hope people don't judge me. I did the best I could. I wanted my kids to be better than me and have a much better life. I didn't see it as a sacrifice."
"He's pretty much my father figure. He's always been there for me -- a big role model. In everything he does, he inspires me." -- Corey, Anthony's brother
When Anthony was 10 and his younger brother, Corey, was 3, Cleare made a blind bet on a better future for her sons, moving her family from Miami -- where she had worried constantly about gun violence -- to Gainesville, Florida. Cleare says she still struggled immensely, but it got easier, and, most importantly, the predominantly Black, low-income community of East Gainesville rallied around her sons to help protect them. Anthony started to show promise -- his teachers recommended he be tested for gifted classes in fourth grade, and he started to generate buzz as a football player around town.
But a little over a year later, Tanka died. It crushed the family, Anthony in particular. He learned a lesson in giving people love when one can, as his communication with Tanka, who stayed in Miami, waned in the time after Anthony and his family moved to Gainesville. The loss also forced him to step up more for himself, his mom and Corey.
"My mom babied me, my dad babied me, my uncle Tanka saw me as a man early. He pushed me, he got the most out of me," Richardson said. "When Tanka died, it put a new fire in me and motivation to ensure nobody can stop me when I'm at my best."
Anthony and Corey went everywhere together, seen in East Gainesville riding a mountain bike, with Anthony pedaling and Corey on the pegs. Anthony took Corey to school, picked him up, got him fed and did everything else in between while his mother worked.
"Corey is like a son to him. Literally. They couldn't be any closer," Cleare said.
Corey, now 13 with a voice that is somehow deeper than Anthony's, told me he wants to be his big brother's NFL bodyguard and eventually follow in his footsteps by playing in the league. He's making a position switch this fall from receiver/cornerback to quarterback, inspired by his brother.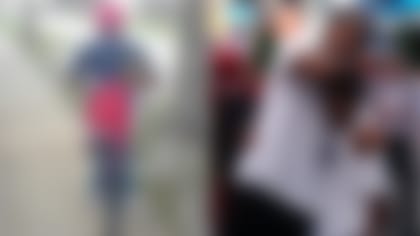 "He's pretty much my father figure," Corey said. "He's always been there for me -- a big role model. In everything he does, he inspires me."
Eventually, the East Gainesville streets began to chirp about this eighth grade QB with a big arm named Anthony Richardson. But unlike many passers with his capabilities, Richardson hadn't attended any 7-on-7 tournaments, participated in any QB camps or, at that point, worked with a private QB coach. Nobody in Richardson's family sniffed an NFL career. This was all raw talent without a set path.
So, though his NFL dream grew after Tanka's death, he focused on becoming a firefighter and starting his own football recruiting site, like Rivals. Richardson enrolled at the Professional Academies Magnet at Loften High School in Gainesville, where he studied in the Academy of Fire and Emergency Medical Services. He was on the honor roll there and graduated early.
But he didn't quit football altogether. Though Loften didn't have a football team, Richardson was permitted to play for his zoned school, Eastside -- and there, he became a star. Despite her work schedule, Richardson's mother never missed a game.
"Anthony was a goofball. But he was also more mature than I expected. He had a plan," Richardson's high school coach, Cedderick Daniels, said. "He would rarely go out in high school. He would play ball and at nights have the fellas come over to play Fortnite. He has zero character flaws. Zero."
Richardson is on track to be the first player drafted in the first three rounds from a Gainesville high school since Clinton Portis (2002, second round). And he will be by far the highest-profile and highest-drafted quarterback to come out of the area in at least the last 30 years.
Richardson's agent, Deiric Jackson, and his manager and mentor, Vernell Brown Jr., are both Gainesville natives who went on to play college football. These are people Richardson trusts from a community that is home to him. Brown has felt the impact the QB has had on a city where the locals already look at Richardson as their legend.
"These kids don't truly know Clinton. But they know Ant. He walked in their shoes, and lived in the same community. To them, Ant is the one," Brown said. "Ant is their hope -- the reason they believe they can make it big out of East Gainesville, too."
'Realizing the power of his voice'
During a Sunday team meeting following Florida's 42-20 loss to Georgia in late October of last year, Gators head coach Billy Napier challenged every player to stand up if they would go all-in on a promise to finish the season strong. While everyone stood, many appeared to be doing so somewhat halfheartedly, according to multiple Gators who were present.
After 6 seconds of silence, Richardson walked up to face everyone -- coaches, players, administrators. Heavy tears poured down his face. His voice -- passionate, conveying pain -- echoed to the furthest corners of the room.
"Why would you lie to the team? If y'all really accept this challenge, you better mean it," Richardson proclaimed, staring at a handful of teammates in particular. "If y'all really don't want to do this, let me know right now, because I will quit this s--- to be a firefighter."
Receiver Jordan Pouncey added when recalling the memory recently: "I've never seen someone so upset before. He was hurt; you can see it in his face. He was heartbroken; you could see that in his tears."
Richardson's speech wasn't pleasant. He didn't sugarcoat anything. It reflected the direct feelings of a man fed up with the effort and results of the Gators' 2022 season.
"Emotions were running high. Our season was disappointing, and I saw guys being selfish on and off the field. Those same guys were standing up," Richardson explained recently. "This is bigger than us. You got people trying to support family, kids; this might be the last time playing football for them. I felt some type of way. I didn't respect how they were moving -- where was this energy at the beginning of the season?"
Gators teammates say Richardson always had the locker room's respect, but after he put the onus on himself to call out selfish, underachieving behavior, that respect rose to the next level.
"I personally felt I was letting him down, and others felt the same," said Pouncey, who caught Richardson's first college touchdown pass, in the Cotton Bowl against Oklahoma in 2020. "Ant walks softly but carries a big stick. He's not a rah-rah guy. But when he talks, you listen. Ant goes hard in everything he does. But that day showed me just how much football and winning means to him."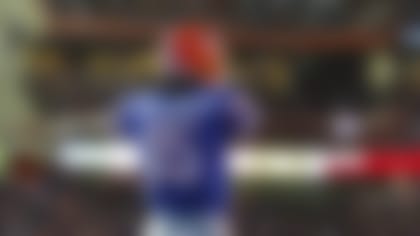 The Gators won their next two games, against Texas A&M and South Carolina, by a combined score of 79-30. And that speech is the moment teammates point to when asked why they believe a 20-year-old with just 13 total collegiate starts to his name can lead an NFL locker room full of men.
Brown worked for the Gators over the past six seasons, most recently as senior director of player development and alumni relations, then left to become Richardson's manager. Watching from inside Florida's walls, Brown saw the most growth last season in Richardson "realizing the power of his voice. Early on, he was content waiting his turn. Now, he realizes the guys need him to be hard on them."
When Richardson arrived at Florida, in 2020, the first year of the COVID-19 pandemic, he sat behind Kyle Trask, who is now with the Tampa Bay Buccaneers. In 2021, Richardson primarily sat behind redshirt junior Emory Jones. The 2022 season -- Richardson's first and only as a full-time starter -- thrust him onto the national radar. He popped up on early lists of the top QB prospects of 2023 in the summer of '22, despite having registered just one start and 66 career passes to that point.
Richardson kicked off the season with arguably the best game of his collegiate career. Against No. 7 Utah, Richardson completed 71 percent of his passes and rushed for 106 yards and three touchdowns. He led a 14-play game-winning drive late in the fourth quarter, primarily using his legs, which he capped with a rushing touchdown.
Then, the following week, Richardson put up the worst game of his career, completing 40 percent of his passes (14 of 35) against Kentucky for 143 yards, zero touchdowns and two interceptions. He also finished with a season-low 4 rushing yards. He apologized to his teammates for his poor play afterward.
"I wanted to top myself," Richardson said recently. "I was playing against (fellow QB prospect) Will Levis. I put too much pressure on myself trying to outperform him and prove I'm a better QB."
"My thought was, I'm going to show them I'm a quarterback this week. I ran the ball a lot the previous week. So, this is a stay-in-the-pocket-and-pass week. But once I start thinking too much, I can't play like myself. I get in my own way. I can't make myself one-dimensional."
Richardson came into Brown's office after the game and told him all was lost -- his chances to be a first-round pick, maybe even his whole NFL future. Brown told him: No, this is just the beginning.
"The biggest thing he had to learn was understanding critics," Brown said. "They are always going to be there. Even now, he hears them. But it shouldn't change who you are."
The rest of the season, Richardson said, he played like himself. His pocket presence shined despite the circumstances around him. He still hit speed bumps and made mistakes, but it was while being a much truer version of himself.
'They say I can't throw it short'
Sitting on the trainer's table eating a bag of sour gummies after a lifting session at Tork Performance Center in Saint Augustine, Florida, Richardson begins to recite a list of they say comments:
"They say I can't throw it short. They say I can't throw with touch. They say I'm more running back or athlete than quarterback."
Many of Richardson's detractors point to his 66.7 percent completion rate on short routes (involving throws of 10 air yards or fewer) in 2022, the second-worst mark among Power Five quarterbacks, as a reason not to take him as a top-10 pick. He was far too inconsistent on "easy" throws.
Upon beginning his draft prep this year, the main focus of those working with him -- Tork trainers Dr. Tom Gormely and AJ Basso, plus private QB coaches Denny Thompson and Will Hewlett -- was to determine the cause of Richardson's accuracy issues on routes of 18 yards or less. Richardson has soaked up the feedback, making multiple adjustments since December -- and his prep team says the biggest early change is that they gave him permission to throw with velocity again.
The process of getting Richardson ready for his transition to the NFL offers a fascinating peek at the nuts and bolts of refining a player's throwing mechanics and footwork.
"When I'm most comfortable, I can just rip it." -- Anthony Richardson
Thompson, who has been serving as a private QB coach for Richardson since Richardson was in 10th grade, pointed out that the three-month period between Dec. 26 and March 30 marked the first time Richardson has been able to focus solely on footwork, mechanics and accuracy after working with several different QB coaches in his Florida tenure.
Gormely said: "Ant had been coached a few times at Florida to not throw the ball so hard because [his receivers] couldn't catch it, which is a terrible cue to give a QB with a big arm. Even out here, he would baby throws sometimes. He would get ready to let loose, and you can see him slow everything down, scoop his elbow, get long and baby that throw. It didn't get to the spot, it faded or it was behind. We told him just let it go -- this is the NFL, they're going to catch it."
Jordan Pouncey, who caught routes for Richardson during his pro day, told me his QB's ability to throw with finesse has dramatically improved.
Hewlett added: "Footwork was a big issue at UF. He would sail balls or throw them too hard. He'd misread defenses and press too hard to make plays. In the heat of such moments, he'd throw flat-footed or off-balance. But the biggest problem was a lack of on-the-job training."
After evaluating Richardson's mechanics, Richardson's team -- the same group that trained San Francisco 49ers QB Brock Purdy -- discovered three main areas to develop:
1) Controlling power: Richardson often over-rotated his pelvis with power and acceleration when throwing, which caused him to lose balance and stability. A big part of improving here was informing Richardson of his inefficiency and making a simple adjustment: keeping his front toe on the ground.
"When he over-rotates, you'll see his front toe lift and his foot roll out every time as his pelvis keeps moving. When his foot stays on the ground, he stays on plane and delivers the ball really well," Gormely said. "Now it's eight or nine times out of 10, he's doing it the right way. Early on, it was 50/50."
2) Using his lower body instead of his arm: The team realized many of Richardson's struggles came when a receiver ran toward him or remained stationary -- he didn't have an in-between throw in his repertoire, leading him to overthink the play. Gormely coached Richardson to use his lower body more, instructing his strong upper body to be the delivery mechanism instead of the engine.
"You want to keep kids' power, never let up on throws, but learn how it feels to throw different types of passes," Thompson said. "Once he learned how to use his body and what he feels, he instantly made an adjustment."
3) Footwork and repeatability: Hewlett said that when a play broke down beyond Richardson's second progression, his mechanics and footwork often became sporadic, leading to inconsistent accuracy.
Hewlett had Richardson take nearly every snap under center so that he could practice the footwork. Gormely and Basso had him train with weighted plyometric and medicine balls, along with footballs, repeating the same throwing patterns in different workouts to make it natural, even in chaos.
"When you try to take the athlete out of the throw, you are neutering the arm talent," Gormely said. "When you look at the combine and pro day, there was a flow to his drops."
Hall of Fame QB and NFL Network analyst Kurt Warner told me Richardson was much better on tape than the criticisms of Richardson's accuracy had led him to expect, though he had too many "all arm" throws on short routes. Warner noted Florida's offense was very simple, often asking Richardson to simply make plays without much rhythm. He also pointed out Richardson's receivers didn't help him with drops, and that the QB was at his best when he could throw to his first read. Warner concluded Richardson's greatest strength is attacking down the field, predicting he'd excel running run-pass options (RPO).
On tape, Richardson manages and operates inside a pocket like a chef at a three-star Michelin restaurant. He'll likely enter the league as one of the better running QBs. But Hewlett says they trained Richardson as a thrower without his athleticism in mind, scrutinizing him the same way they did the 6-1, 212-pound Purdy, who ran a 4.84 40 -- and they see tangible growth that will translate to the NFL.
"When I'm most comfortable, I can just rip it," Richardson said. "You can be efficient and not robotic, and this crew is all about that. I'm working to perfect that."
Back in Ponte Vedra Beach, Richardson's passes are clearly audible from 15 yards away. His delivery is smooth, without hitches. On one throw, he flicks his wrist, and the ball rockets 50 yards in the air. Richardson loves to track the ball with his eyes in flight until it hits his receivers' hands.
But Chris Hess' eyes are fixated on Richardson.
"That's just not normal," Hess says as the ball sails through the air. "It's the ease with which he throws. He's got so many fast-twitch fibers and so much horsepower."
Hess, the owner of motion analysis provider Biometrek, was evaluating Richardson for the third time this offseason in his efforts to help Richardson's team get him ready for the draft -- his previous assessment played into the refinement of Richardson's mechanics. Hess' 3-D motion analysis equipment, including eight specialty cameras, provide a 360-degree view of a quarterback's throwing pattern, captured in a roughly 15-minute-long session in which the player attempts passes to all portions of the field.
Richardson is commonly compared to Allen, since both completed less than 60 percent of their passes in college and carried significant question marks about accuracy as prospects. Hess, who worked with Allen from 2019 to 2021, said Allen "was actually out of sequence" and had to learn "to trust his arm." Richardson, by contrast, has a sequence that "is in order. He's just got to learn not to apply the force and rip it open with just the arm. It's a feel thing for him. … It's learning to shut off the arm and learn how to feel.
"The acceleration and deceleration of the torso actually comes from the left leg -- that's what drives it. How hard you put it in the ground and how much you move toward the ascension dictates how fast the other body parts move. We've already seen some improvement from our first session."
Allen, Cam Newton and Daunte Culpepper are among the most common player comparisons I've been given for Richardson by NFL personnel people. (For his part, Richardson said he grew up modeling his game after Newton and, later, Lamar Jackson.) Here's how some of Richardson's metrics and college stats stack up against those players' figures:
Table inside Article

| Player | Ht. | Wt. | 40 time | Start | Cmp. pct. | TD:INT |
| --- | --- | --- | --- | --- | --- | --- |
| Richardson | 6-4 1/4 | 244 | 4.43 | 13 | 54.7 | 24:12 |
| Culpepper | 6-3 3/4 | 255 | DNP | 44 | 63.9 | 84:24 |
| Newton | 6-5 | 248 | 4.60 | 14 | 65.4 | 30:24 |
| Jackson | 6-2 1/4 | 216 | DNP | 33 | 57.0 | 69:50 |
| Allen | 6-4 7/8 | 237 | 4.75 | 26 | 56.2 | 44:12 |
If Richardson matches or exceeds the pro careers of any of the QBs in the group above, he will be considered a success. It's certainly a big if, though, and a team will have to bet aggressively on the potential suggested by Richardson's unique combination of size, athleticism, pocket presence, work ethic, character and natural ability.
Since 2010, only four QBs selected in Round 1 had a college completion rate under 60 percent (Allen, Jackson, Jake Locker and Daniel Jones). Richardson (54.7 percent) would make five. Since 2000, only three QBs have been selected in Round 1 with fewer than 400 pass attempts playing Division 1 college football: Newton (292), Trey Lance (318) and Michael Vick (343). Richardson (393) would make four.
"Richardson is the furthest away but [has the] highest ceiling among QBs in this class. He's at least a year away. He might be two years away. But his physical ability is dominant," one NFC scout told me. (This scout has Richardson ranked third among QBs in this class, behind Young and Stroud.) "My question would be, why didn't we see Ant elevate Florida more often? Cam did. Vick did. Josh Allen did. You saw flashes with Ant, but not consistency."
An AFC scout, who has Richardson ranked first, said: "He's a franchise-changing QB. He's a pure thrower who just has to clean up his footwork. I don't really see how a QB with his athleticism, size and quarterback instincts fails. He has the it factor. I'd play him in Year 1, too."
One way for teams to learn more about prospects is to invite them on pre-draft "top 30" visits. These are often used by teams to gather medical information, answer lingering questions and better get to know players they may be interested in. Per sources, Richardson visited with the Las Vegas Raiders (who own the No. 7 overall pick), the Carolina Panthers (No. 1 overall), Indianapolis Colts (No. 4 overall), Tennessee Titans (No. 11 overall), Atlanta Falcons (No. 8 overall) and Baltimore Ravens (No. 22 overall), in that order, with the Colts, Titans and Raiders among the teams that have done an extensive amount of homework on him.
In those meetings, and in meetings with teams at the combine, Richardson told his life story when asked about his maturity and leadership. In conversations about his football knowledge, he explained how the freedom he had to make audibles and checks at the line at Florida often led to big plays.
"I pride myself on reading a defense," Richardson said. "A lot of people see me as a big QB with a strong arm who can run fast. They don't understand how smart I am when it comes to football. It's up to me to show you."
This assertion appears to be backed up by his well-above-average scores in cognitive tests like the S2 (though it should be noted that not every team values the S2 as highly as some do). As Brandon Ally, cofounder of S2 Cognition, told me, the 45-minute assessment includes three main categories: field vision, read-react and execution control, each of which are further divided into three subsections. It's not an intelligence test. The aim is to help teams match with players based on their cognitive ability and decision-making in a football-simulated environment. Percentile scores are generated by comparing raw data to a database of 3,600 athletes that have been draft-eligible. Richardson scored particularly high in the instinctive learning and impulse control subsections, per sources with knowledge of his results.
"The scheme early will be a determiner for when he gets on the field. But you see comments about, 'He won't understand NFL defenses,' and I can't view it as anything other than stereotypes [of] a Black QB," Hewlett said. "He's great on the board. There are no decision cognition issues with him at all."
Richardson added: "Everybody tries to put a label on me. I hear, 'He's a running back,' a lot -- that one is the most wrong. When I ran my 40 at a decent time, they said, 'Aren't running backs supposed to be fast?' Like, c'mon, man? But I learned from Coach (Brown), critics are always going to say something. You could throw for 400 yards. Somebody is going to say, 'Why not 500?' It shouldn't change you. So yeah -- I know I can run the ball like a running back."
'Loyalty, respect, relationships and trust'
We're sitting in a downtown Jacksonville tailor shop looking at swatches for draft-day suits when Richardson gets a call from his little brother. Corey reminds him that his own fit is already planned.
"I'm wearing black Gucci shoes and a black Gucci hat," Corey told me a few days later on the phone. "I'm going to match my brother's suit. But I'm going to be the flyest one."
As for what Richardson will be wearing, here are a few previews: He will have pictures of his uncle Tanka and his grandma Mildred -- two important family members who have passed away -- embedded in the inside lining of his jacket. He plans to wear a bow tie and loafers. He says he doesn't mind if Corey walks away with the night's fashion crown.
Discussing the glitz and glamor of Round 1 is one thing. But If you want to see Richardson truly open up, ask him about his family. If you want to know who Richardson is, spend time in Gainesville or talk to the people who were built by the community.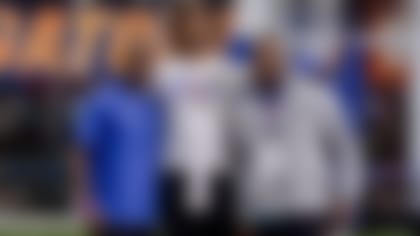 Richardson said he turned down an $800,000 advance offer from a high-profile sports agent to represent him this winter. Instead, he stuck with Deiric Jackson, who represented him on his college NIL deals and has known him since Richardson's high school coach, Cedderick Daniels, introduced them years back.
Cleare pointed to Jackson and his partner, Mel Bratton, two Black agents from a smaller agency who rep Richardson, as well as Vernell Brown Jr. as "people who were loyal to Anthony before anybody knew who Anthony Richardson was."
"Loyalty, respect, relationships and trust are most important to me," Richardson said. "I don't care about money. As long as I have food to eat, clothes to wear and somewhere to sleep, I'm smooth. I care about who I can trust and rely on. Relationships are what I rely on."
Cleare added: "Real people are rare. That's what Anthony values."
Richardson got his latest tattoo last month -- "1 of 1" -- inscribed on his left thigh, a nod to his uniqueness as a player and a person. As he preps for the draft, he's anxious to find out which team falls in love with his potential. He told me he'd love to wear the No. 2 on his jersey.
My last question to Richardson is this: What do you want in your next coach?
His answer couldn't have been more clear.
"I need a coach that's going to push me. I don't want to be babied. Don't be soft on me," Richardson said. "I need a coach that's understanding. Somebody who knows that I'm human and won't be perfect. And finally, I need a coach who sees the greatness in me and won't stop until they push me to get it out.
"I promise they won't regret picking me."
Editors: Ali Bhanpuri, Tom Blair
Illustration by: Albert Lee
Illustration photos courtesy of: The Associated Press