Lightly recruited and widely dismissed, Trey Lance landed at North Dakota State with little fanfare. But now, after just 17 career FCS starts, the quarterback no one wanted has the full attention of the NFL.
By Chase Goodbread | March 11, 2021
An uncomfortable silence filled the car, and the nine-hour drive that wouldn't reach its Marshall, Minnesota, destination until 3 a.m. had barely begun on an early April evening. In the backseat of a white Dodge Durango, Trey Lance stared out the window as the Windy City blew past him on Interstate 90 and continued getting smaller in his father's rearview mirror. Hours earlier, it had rained hard enough on the 2017 Elite 11 regional quarterback camp -- one of a dozen or so Elite 11 regionals in major markets all over the country -- that the event had to be moved to the Chicago Bears' indoor practice field at Halas Hall.
Fitting weather for a grave disappointment.
Rain continued to fall on the drive home as Lance's mother gingerly opened dialogue around the edges of what had just happened.
Did you see anyone you knew?
What was your vertical jump?
Each of Trey's one-word answers invoked the next stretch of silence.
"It was his way of saying, 'Nothing you can say is going to make me feel better,' " Angie Lance said.
Trey, a rising high school senior at the time, had looked forward to the camp since his freshman year, when he quarterbacked an unbeaten JV squad the first time he'd ever run an offense. And why wouldn't he? A year earlier, in 2016, he'd seen a second straight Elite 11 alum, Jared Goff, go No. 1 overall in the NFL draft, following Jameis Winston, a former Elite 11 co-MVP who went No. 1 in 2015.
Lance's goal was to be selected as one of 20 or so Elite 11 national finalists, a designation that brings recognition from around the country and an immeasurable amount of exposure for big-time college scholarships. But at the end of the five-hour camp, his spirit sank. Coaches had gathered roughly 60 campers in attendance to announce that Chicago native Quincy Patterson, now at Virginia Tech, was the only quarterback there who would advance as a finalist. Lance's empty feeling wasn't a result of being criticized or not throwing the football well; to the contrary, he threw just fine.
No, this perhaps was the only thing worse than not throwing well: he threw well, and nobody cared.
"As you get going into it," Lance said, "you sense that nobody is really even watching you."
Elite 11 organizers are transparent about the fact that regional camps aren't really an open competition to advance as a finalist; high school tape evaluation plays a much larger role in the selections. That wasn't altogether clear to the Lance family, however, as they drove the nine hours from Minnesota to Chicago thinking this camp could finally be the springboard for recognition that an unheralded kid from a small Minnesota town of 13,500 had been waiting for.
Instead, he felt more anonymous walking out than he did walking in.
Lance lost reps to quarterbacks who skipped the line for extra throws, but it wouldn't have been like him to do the same. He would later hear that some Elite 11 coaches not only don't mind the skippers, it's one way they identify the alphas in the group. Lance threw around 20-to-30 balls in live reps, more than a few campers but fewer than most.
Looking back, he leads with humility.
"I'm not saying I deserved to be a finalist," Lance said. "There are a ton of quarterbacks there, and I understand how hard it is to narrow it down from the Elite 11's standpoint. But I didn't come out of it feeling like I had a shot going into it."
It wasn't the first time Lance felt snubbed.
A couple months earlier, Lance visited the University of Minnesota for a recruiting event and was all in to be a Golden Gopher. However, Lance said coach P.J. Fleck, then in his first year with the team, saw him as a safety at the college level. Almost immediately, recruiting services changed his position from QB to ATH. Lance can't be sure the change happened as a result of Fleck not offering him as a quarterback, but when his designation changed to "athlete" so fast -- he noticed it on his ride home from the Twin Cities -- how could he not suspect it?
Three years and one magical season at North Dakota State later, the 16-year-old nobody noticed in Chicago now shares top billing with the top quarterback prospects available in the 2021 NFL Draft, including three former Elite 11 picks -- Clemson's Trevor Lawrence, Ohio State's Justin Fields and Alabama's Mac Jones.
On Oct. 3, due to COVID-19, North Dakota State played its only game of the fall against Central Arkansas – just the 17th career start for Lance, only a redshirt sophomore. More than two dozen scouts representing 20 NFL clubs flocked to NDSU for what they correctly expected to be his final college game.
Finally, people are noticing.
---
---
The first time Carlton Lance pulled together the Marshall Middle School Tigers football team in Trey's eighth-grade year, he asked the players who could throw. Kids, after all, don't need a coach to tell them which of their friends can sling the best spiral.
Index fingers popped out, all of them pointing at Jake Hess. All of them fell when the coach asked if anyone else wanted to play the position.
"OK, Jake, you'll be the quarterback," said Lance, who then turned to his son. "Trey, you'll be the backup."
That's where Trey Lance's identity as a quarterback began, seven short years ago; a backup because nobody else wanted the job. Trey had previously been a running back, and by all honest accounts, a somewhat chubby one. With no idea he was already thousands of reps behind the brigade of American youth quarterbacks determined to make a career out of the position, he decided to give it a try.
Indeed, almost nothing about Lance's rearing as a passer resembled what has become the norm for aspiring young quarterbacks. Many of the Elite 11 campers he would later join in Chicago had, from a young age, dutifully bought into the youth quarterback grind: specialization (dropping other sports), traveling for 7-on-7 flag football tournaments, private instruction.
Partly by choice, partly by circumstance, Lance veered from all of that.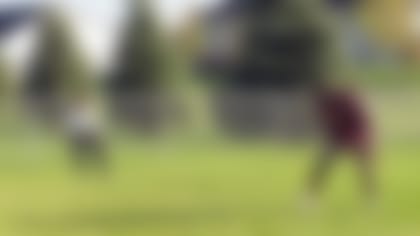 Carlton began throwing with Trey in a spacious family backyard that allowed for tosses of up to 30 yards. He'd been a cornerback at Southwest Minnesota State from 1988 through 1991 and played two years in the CFL, but he was no quarterbacks coach. Asked if it was his dad who first taught him to throw, Trey acknowledges it with a grin.
"I guess you could say that," he said.
While Carlton might not have been a quarterback whisperer when it came to the technique needed for a tight spiral, he knew what frustrated cornerbacks about good passers and how to take advantage of poor ones. As such, Trey's backyard education in quarterbacking had less to do with how to throw and more to do with how to beat a defense.
Private instruction? He never gave it a thought. Giving up basketball? Forget about it.
The robotic grind of year-round training makes quarterbacks out of kids who were never meant to be one. Lance, by contrast, was a natural.
"The ball just started flying out of his hand, and he could put it wherever I asked him to," Carlton said. "He started tearing up my hands. I had to get some gloves after a while."
By the end of his son's sophomore year at Marshall High, Carlton wanted an objective opinion on Trey's throwing arm -- one he could trust, because, as a dad, he wasn't sure he trusted his own. He put in a call to Jeff Loots, a friend who had been the quarterback at Southwest Minnesota State when Carlton played there. Loots was a record-breaking passer at the school, but wasn't selected in the 1993 NFL Draft. He ended up playing for a lengthy string of Arena Football League teams. Carlton sent Loots a link to Trey's highlight video, just a smattering of throws he'd made in the first few games of his prep career. When Loots watched the tape, he saw a 15-year-old whose mechanics were advanced as if he'd been formally trained for years.
"I liked the way his feet stepped to the target, the way he transferred his weight properly," Loots said. "That's something kids that age struggle with. And he could throw on the move, to his right or left. He still had two years of high school left to go, and it was obvious just watching a few minutes of video that he had what it took to go play somewhere."