Women are rising up the ranks throughout professional football, earning positions of power in a space that for too long was ruled almost exclusively by men. We're seeing more and more women breaking barriers in the sport, but what are the stories beyond the headlines? Who are the women shaping and influencing the NFL today? Answering those questions is the aim of the Next Woman Up series. While the conversational Q&As are edited and condensed for clarity, this is a forum for impactful women to share experiences in their own words. Without further ado, we introduce:
Angela Baker, New York Giants
Position: Offensive Assistant
When did you first fall in love with football? And how did you get your start in a career in it?
I started playing flag football when I was 5 years old in a co-ed league at my local Boys & Girls Club. I always liked it, but I was involved in all types of sports growing up. I didn't transition to playing more competitive tackle football until I was in college. When I was a student at Slippery Rock University, I saw an ad for the Pittsburgh Passion, the women's semi-professional tackle football team, and thought it looked interesting. I tried out for the team and ended up playing for eight years (2012-19).
I originally went to school at Slippery Rock for health and physical education, and that transitioned to fitness management with a minor in coaching. I finished my degree during the pandemic, which kind of forced me into retirement as a player because our seasons were canceled. It allowed me to take my focus somewhere else.
I had a good relationship with some people at the University of Redlands in California and asked if they could put me in touch with the head coach. They gave me Coach Jim Good's number and said, "All right, the rest is on you." I reached out, and I had a great interview with him. He told me they had a part-time position open and was intrigued by my story and what I could bring to the table. I started with them as a part-time defensive quality control coach. It was a lot of hours and a Division III school, so it wasn't a lot of bright lights and accolades and involved a lot of work behind the scenes. I learned a lot in that role and still keep in touch with some people on that staff.
Before joining the Redlands staff, I had participated in the NFL Women's Forum, and building relationships there is what set the table for how I got to the Giants. After my first year at Redlands, Giants head coach Brian Daboll was looking to fill the Rosie Brown Minority Coaching Fellowship position, and my name came across his desk, and he called. We connected in that interview and at the end of the day, he called back and asked, "Do you want to be New York Giant?" I was stunned. I had just moved out to California nine months prior and transitioned my whole life, but I couldn't turn this opportunity down.
You were the Giants' offensive quality control last season and are now in your first season as an offensive assistant. How are these roles different and how has your role expanded?
A lot of the responsibilities carry over. It's a lot of work getting information for the position coaches, coordinators and head coach, so they can focus on the game plans. There are several of us who break down film of our opponents, so when they are looking for a specific play or concept, they don't need to go through all of the film to find it. I also keep track of scouting reports and work with our data department and scout team. A lot of my job is about working hand-in-hand with a lot of other departments to get things readily accessible for our coaches.
On top of that, I'm also fortunate enough to be in the tight ends room with coach Andy Bischoff. I help with scripts, call sheets and paperwork to help get the game plan ready for game day. All of these things have helped me learn.
As far as the transition from last year to this year, I have more responsibility. They trust me with a little bit more. I'm just getting more involved in game-planning and working with offensive coordinator Mike Kafka on a daily basis.
What is the biggest challenge of your position?
Learning the depths of the NFL. I don't have the experience some of our coaches do in terms of coaching in college for 8-10 years before coaching in the NFL. Learning the details of NFL game-planning is a challenge, but I'm fortunate with the staff we have, because they love teaching me and others just as much as they do the players. They know I'm a sponge and happy to do the work, and I love sitting in on the meetings and learning the nuances of the game.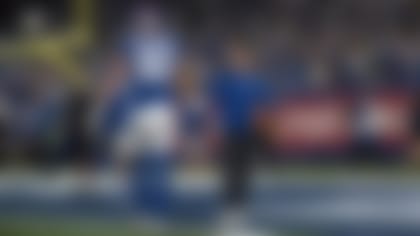 I think a lot of people have their perceptions about what it's like to coach in the NFL. Is there something you wish fans understood about coaching?
One of the things that I don't think everyone realizes is how much time and energy is put into this profession. Coaches work seven days a week, and it's long hours. We have a great family atmosphere here at the Giants. We're around each other more than we're around our families. There's a lot of extra time watching film. I wasn't surprised by it, because people told me ahead of time, but it's time-consuming, for sure.
Let's pivot to your playing career. Can you walk me through your journey and how playing the game helped prepare you for your current role?
I grew up in Pittsburgh, so I was a Steelers fan and liked football. I was in marching band in high school, so I watched football every Friday night. But the second I tried out for the Pittsburgh Passion, it instantly clicked. One of my favorite things about football is that it's continually evolving. It could be one way this year and completely different five years from now. I was on an amazing team, which was co-owned by (late Steelers legend) Franco Harris. Seeing his passion and drive for football made us fall in love with it, too.
Playing football was the first time I felt like my skill set was specifically needed for an important part. I played basketball and softball growing up, but I wasn't the strongest hitter on the softball team, and I was a point guard, not the shooter in basketball. I never fully felt like I fit into those sports, but I did in football. I am small and shifty and perfect for the wide receiver position. I got to be on the field with so many different people will different skill sets, but you all have the same goal. Even as part of the All-America team and two U.S. national teams, it was the same feeling; we are all here to do the same thing and love the sport.
Playing helped me transition to coaching because I had been in those shoes. Not many people at the Giants knew I had played full contact football coming into coaching, but the transition was pretty easy, because Brian Daboll, general manager Joe Schoen and others let people know I had experience. It made the conversations between players and me a lot easier, and though I am a younger coach, they take me seriously because I was just playing with the U.S. national team in Finland last year. I'm still really competitive and have to hold myself back a little bit on the sidelines. I do think the players love that part of me because I'm right in it with them. I do miss competing.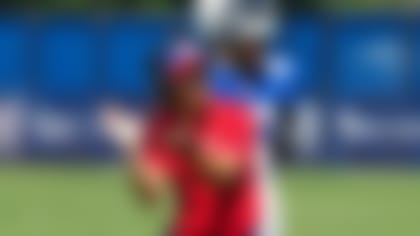 What a great experience to be able to play for so long. Do you have any mentors? What advice have you received from them?
One of my first mentors is Teresa Conn, co-head coach of the Pittsburgh Passion. She taught me a lot when I first joined the team. Her philosophy is teaching life lessons through sports, and that's something I carried on as a player and now as a coach. Implementing that has been really impactful and something I pride myself on, trying to use the platform and leadership role I have right now to do something bigger than just football.
Tony Sparano Jr. was the Giants' assistant offensive line coach last season, and he took me under his wing. The way he leads and teaches is very much like his father, the late Tony Sparano. He was patient and reminded me that it's important to always be a student of the game and continue to grow with the game.
Let's reverse the roles. What advice do you have for women looking to get into a career in football?
Don't be afraid to ask questions, because the worst thing someone can say is "no." I think asking questions, being willing to introduce yourself or start a conversation shows a level of courage, and I think we've seen what doing those simple things can do for women in this sport. Head coaches with women on their staffs didn't know who any of us were until we were introduced and having those conversations. Don't worry about what others think or pay attention to the outside noise. That intrinsic motivation is what all of us need to thrive. Do it for you and those coming after.
What's next in terms of what you want to accomplish?
I love this question, because I don't have a big answer for it. Two years ago, I would have never thought I'd be in the seat I am now. I went from a player to a coach in Division III and then to the NFL. I don't completely know what the ultimate goal is, knowing what this profession demands from position coaches and coordinators. Is that a dream? Absolutely, but right now, I'm basking in my role, learning and trying to make this year's experience better than last year's. I just want to do whatever I can to help this football team. It's a great organization, staff and roster, and there are a lot of people who believe in each other. I want to grow so I can help as much as possible.
And lastly, what are you most proud of?
The ability to battle through adversity. My love for football has carried me through a lot of challenges in the last 10 years, but I would say I'm most proud of the relationships that I've built. Last year, I was shy, hesitant and thinking I was a little bit in over my head, not really knowing the depths of the NFL game. The growth I've had this offseason with asking more questions, understanding the schemes a little bit better, growing my relationships with the coaches, I think that's come out in training camp and the season. I see things faster now. So I'm most proud of the relationships and my growth.