Women are rising up the ranks throughout professional football, earning positions of power in a space that for too long was ruled almost exclusively by men. We're seeing more and more women breaking barriers in the sport, but what are the stories beyond the headlines? Who are the women shaping and influencing the NFL today? Answering those questions is the aim of the Next Woman Up series. While the conversational Q&As are edited and condensed for clarity, this is a forum for impactful women to share experiences in their own words. Without further ado, we introduce:
Emily Griffin, Detroit Lions
Position: Senior Vice President, Marketing and Brand
The programming is centered around celebrating the countless ways women impact the game of football and are driving the game forward, and there will be programming during the pregame, at halftime and throughout the game that shows the team's commitment to elevating women in football.
We are having a panel discussion before the game with Sam Rapoport, NFL Senior Director of Diversity, Equity and Inclusion; Odessa "OJ" Jenkins, founder and CEO of the Women's National Football Conference; Elly Finch, Royal Oak High School (Mich.) offensive lineman; Taryn Hutt, NFL Vice President, Club Marketing; and moderator MJ Acosta-Ruiz, of NFL Network. I think I'm most looking forward to this, listening to the discussion amongst the panelists about why it's important to get girls and women involved in football and how they can continue to trailblaze and feel supported by organizations like the Detroit Lions and National Football League. I think that will be an inspiring conversation.
We are also hosting countless special guests who have been trailblazers in the game. Detroit native Antoinette Harris, who is the first woman to receive a full football scholarship as a skill position player, is an honorary captain and will help co-host a pregame show because she has some serious broadcasting chops. We are excited to give her that opportunity. A number of the league representatives will be here giving their support.
We're excited to be hosting 11 members of the Atlanta Falcons Flag Football program on the field during the national anthem, during which they will stand in front of the Falcons players on the sideline. We'll also have about 100 participants from the Detroit Lions High School Flag Football pilot program who will stand in front of the Lions sideline. This is something I'm really excited about because it symbolically represents our passion for this cause, creating awareness for girls flag football. This celebration is bigger than competition, and we're joining forces with our opponent to amplify that message.
Can you provide some background on how the "Women in Football" game came together?
At the Detroit Lions, 80 percent of our ownership is female, and we have a number of women in key roles within our organization who have really moved the needle. That's something to celebrate. Our culture revolves around creating a workplace where everyone feels they can be their true, authentic self. We have an employee resource group for women, and there was some discussion about putting our flag in the ground that this organization supports women in football. That's really what the genesis of it was.
Then it was about what we wanted to do, the message we wanted to send and how we wanted to celebrate this. We didn't want to miss any component. Women are present across the board: girls are playing flag football, women are playing tackle football, women are in executive leadership roles, women are officiating and coaching, women own teams. We wanted to create awareness for and together strive for a future where women in all of those roles aren't the exception but the norm.
Why do you think raising awareness through this type of event is important?
It's important because we have a fan base that needs to know what we are and what we truly stand for. I think you've seen that in the last several years in the causes we support and our players support as we've rallied across a wide range of issues. Girls flag football has become a huge initiative for the Detroit Lions, and participation is the greatest driver of fandom. A big component of what we'll talk about and drive Sunday is getting girls involved in the game as participants, whether that's flag or tackle. Fandom is what drives the longevity of the sport and fosters a love of football forever. It's important to us, because we love this sport.
To quantify the impact, the Lions will distribute over $50,000 in scholarships, grants and donations on Sunday. In addition to doing this for awareness, we are really putting our money where our mouth is. These donations will help these organizations continue down the paths they're on, to get more girls participating in flag football, to grow women's tackle and to grow women in officiating and other roles in football.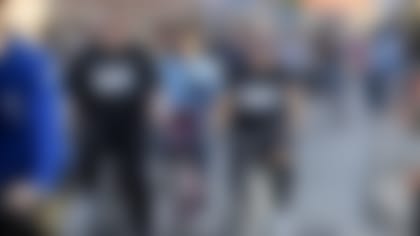 You're starting your ninth season with the Lions, but how did you get your start in a career football?
I started my career in sports with the Detroit Pistons activating corporate sponsorships for three seasons. I then transitioned over to a digital marketing agency where I helped sports properties and their sponsors activate their relationships in the digital space through social and mobile platforms, emerging technology promotions and programming.
In 2014, I joined the Lions as digital media and corporate partnership strategist and was tasked with aligning our digital, social and mobile platforms, streamlining corporate partner activations and growing our relationships and revenue. I did that for about a year, and I felt we saw a tremendous amount of success in driving our presence and the quality of our content. I was eager to take on more and transitioned into the role of vice president of marketing in 2016. Since then, I have overseen a variety of different functions. My role is really being the hub of the wheel. I oversee our creative team, all of our game presentation and entertainment, football education/youth football and all of our digital, social and mobile content.
I was promoted to senior vice president of marketing and brand in May of 2022, and I work very closely with our corporate partnership team and community team. Events like "Women in Football" start here in this incubator of marketing and require support from the rest of the organization, which is why I refer to this as the hub of the wheel for a lot of things we do.
That makes a lot of sense. What would you say is the most challenging part of your job?
The most challenging part is also the best part of my job, and it's that the constituents we serve are unbelievably passionate, loyal and pay extremely close attention to everything we do. The Ford family owns the team, but it belongs to the fans. What I feel like I do is make people love the Lions more, whether that's from an incredible game-day experience, longform content piece or an event like we're doing Sunday that makes them proud to be Lions fans. That's really the mission. We want to keep the fans happy and do everything we can, of course, to bring them closer to the team, and that sometimes is a challenge.
I can see that. Do you have a favorite moment or project that you've had a hand in during your time with the Lions?
We're fresh off the heels of it. Planning for and unveiling the statue of Hall of Fame running back Barry Sanders was an incredibly fulfilling moment personally and professionally. I would say that was certainly a highlight, without a doubt. Thanksgiving is always really, really special. I'm born and raised in southeastern Michigan, and there's no place I'd rather be on Thanksgiving Day than the city of Detroit. The parade, Lions game and the energy of gratitude, family and friendship is so palpable that there's honestly no better feeling than being here on Thanksgiving.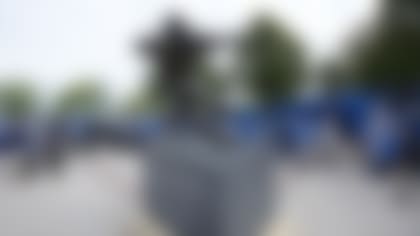 What are you most proud of in your career?
I'm most proud of the team I've built here. It's grown tremendously in size over the last nine years, and together we have accomplished some really incredible things both on and off the field. I'm very proud of the team I've built, the people they are and the work they do. The different accolades we have received from other teams in the league or the industry, whether that's an Emmy award or just compliments about things we have done, it's really a credit to an amazing team.
Most recently, it's the dedication and unveiling of the Barry Sanders statue and the launch of our alternate helmet. Looking ahead, we are all very excited and proud to be hosting the 2024 NFL Draft in Detroit. I think if you asked me this question nine months from now, the draft would probably be my answer.
Pivoting back to women in the league, during your near decade in the NFL, how have you seen the industry change for women?
I've seen it change drastically. I'm no longer asked, "What's it like to be the Senior Vice President of Marketing for an NFL team?" or, "What's it like working in a male-dominated industry?" It's less of a thing. Candidly, there were discussions when we embarked on doing the "Women in Football" game about, are we perpetuating the idea that it's different to be a woman in a role like this or that. The reality is, it is, even if we don't want it to be. That's why programs like this are important.
Do you have any mentors, and what advice have you received that you've held onto throughout your career?
I have received a lot of good advice and mentorship throughout my career. One of the anecdotes that has certainly stuck with me is: Don't take credit without giving credit. Another that maybe wasn't shared directly with me -- and was seen more by example -- is to not be afraid to lead with the heart and to lead with love. That's something I try to do, along with trying not to be afraid to make mistakes and to try new things. Lastly, and most importantly, is to be yourself. I think that's the most important lesson I have learned, and it's something I truly value about the organization I'm with. I can come to work every day as my complete and authentic self and do my job and lead my team as I am.
And lastly, what advice do you have for women looking to get into a career in football?
First and foremost, don't see your gender as any disadvantage. You're just as capable, and the world is ready for you in this space. The opportunities are more expansive than they have ever been. I'd also say be prepared for sacrifice. That knows no gender. This is a demanding industry. There are long hours, ups and downs and ebbs and flows. That comes with the territory. But with great sacrifice comes a lot of fulfilling and rewarding opportunities and the chance to do something special that people really care about.