Women are rising up the ranks throughout professional football, earning positions of power in a space that for too long was ruled almost exclusively by men. We're seeing more and more women breaking barriers in the sport, but what are the stories beyond the headlines? Who are the women shaping and influencing the NFL today? Answering those questions is the aim of the Next Woman Up series. While the conversational Q&As are edited and condensed for clarity, this is a forum for impactful women to share experiences in their own words. Without further ado, we introduce:
Ciara Burgi, Houston Texans
Position: Return to Performance Lead
---
---
How did you get your start in a career in football?
I graduated physical therapy school knowing I wanted to work with an athletic population, but I didn't know what that looked like. I worked in an outpatient setting for three years before working for a little over a year at Duke University, where I went to physical therapy school. I worked in the athletic setting and really loved the higher-level athletics environment. I was so happy at Duke and loved it there working primarily with Olympic sports, which is a fancy term for everything that isn't football or basketball. I worked in that setting for three years and was able to live out the purpose of my position there. The Texans then ended up reaching out to me about an open position, performance assessment coordinator, that involved rehab and sports science.
I interviewed with the Texans, met so many people, understood what the opportunity was and decided that this was my next step. So, I unintentionally ended up in a career in football due to the opportunity for growth that existed with this organization. It's given me a chance to do what I do at the next level even though working in the NFL wasn't necessarily a dream for me.
What do you like about working with high-level athletes?
The team aspect of care. At higher levels of athletics, everyone around the athlete is the best at what they do -- the dietitians, strength and conditioning coaches, sports scientists, medical team -- so you get to work in such a collaborative environment. When you work in lower-level athletics or with the general population, there isn't necessarily a big team of excellence surrounding a single person. It isn't necessarily a bad thing; it's just different. It's also so challenging working in this team and really cool at the same time because you get to collaborate with a bunch of different entities to create a phenomenal environment for athletes to perform. That kind of environment just elevates everyone.
That makes sense. What does your role as Return to Performance Lead entail?
We're the only team in the NFL that has a Return to Performance department, and my role essentially is to take care of our athletes who are missing time. If a player has an ankle sprain but is playing through it, he wouldn't fall under this umbrella because he's not missing practice or games. The return to performance team works with players who miss time and are working to get back to the sport, whether that's two weeks or an entire year. That could be a player who has a hamstring injury and is out four to six weeks, a high ankle sprain and is out two weeks, an ACL tear and will miss the rest of the season or a concussion and will miss time. Things of that nature.
I specifically run the day-to-day operations and logistics of this department. It's a small department that also includes Sue Falsone, Director of Movement and Return to Performance, Jon Vaden, Return to Performance Assessment Coordinator and Joe Distor, Associate Head Strength and Conditioning Coach. Jon and I are in charge of the day-to-day, making sure things don't fall through the cracks and that we have a wholistic program that communicates with other entities who work with the injured athletes.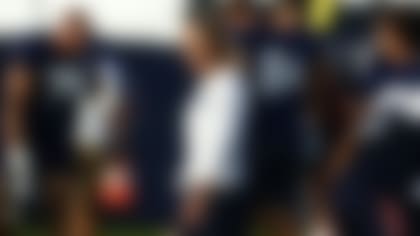 For example, an athlete has an injury, gets a diagnosis and prognosis. Once we know he is out for, say, four weeks, we come up with a plan. We know, to meet that goal, the athlete must be 100 percent at certain things like sprinting, cutting, moving laterally, etc. The plan is made of realistic steps and goals that are met each week. Before we start working with the athlete, we reverse-engineer a plan starting with the end in mind and work our way backward to step one. If the player isn't jogging by the end of the first week, reaching that four-week return goal might not be realistic.
It's purposeful for a number of reasons. The first is for the athlete. It's important that they are prepared and know what those four weeks look like, laying out how they can be successful week to week with their rehab. Athletes love goals, and this approach allows them to be confident in achieving them. Injuries can be scary and there is a lot on the line for these players, so also making sure they are calm and secure in the plan we have in place for them is important. Second, this approach also helps the front office with roster decisions.
That's super interesting. So, we're talking the week of Texans minicamp. What does this week look like for you?
We are rehabbing athletes during that time. General manager Nick Caserio and head coach DeMeco Ryans want our athletes to get and be well, especially those who aren't able to participate. During practice, I am taking the injured athletes through on-field workouts, lifts and other things that will help them get back on the field as quickly and safely as possible.
What would you say is the most challenging part of your position?
Working in professional sports is a very intense. That doesn't mean it's intense for me all the time, but for someone in the building, it's an intense time of year. It's very intense for the athletes and coaches during the season, but the most intense time for me is when the offseason first rolls around. We might have athletes who are getting surgeries and that becomes very busy. You have to empathetically match the emotions you're around, but find a balance for yourself. You have to navigate how to be around intensity all the time without constantly taking on the intensity of the environment.
Do you have a favorite moment or experience from your time with the Texans?
There are so many interactions with the athletes that are so meaningful to me. I can't pick just one. My favorite part of my job is no doubt working with the players. I didn't expect that coming into this situation. As an outsider, I thought I was going to be working with a bunch of cocky, hyper-masculine guys, and it's not that at all. These are the kindest people with vast interests. Honestly, this is my favorite athlete population I've ever worked with. I've learned so much from them professionally and personally. It's the best part of my job and why I love being here. It's always unfortunate when players get injured, and of course, we don't want to see that happen. But if it does, I'm able to create great, meaningful relationships with these players because I spend five to seven days per week with them.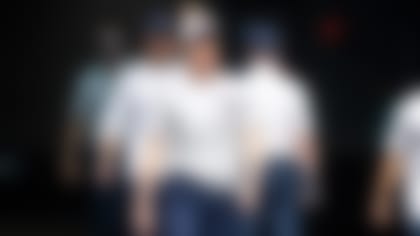 Do you have any mentors who've helped you along the way?
To be honest, my closest friends and family are the best mentors that I have. They know me very well and know my heart, so they will always hold me accountable. I have professional mentors, and they have helped me so much, but I've learned the most from those I'm closest to, helping me to be more fully me and the best I can be in my personal and professional life.
I also think the athletes I've worked with have been incredible mentors, as well. I take what I know about the human body and they take what they know about their own bodies, and we work together to make recovery plans work. I've learned an extraordinary amount from them, and they've made me so much better. They are massive mentors to me, along with many others within the building.
What advice do you have for other women who aspire to have a career in football?
Reach out to people who are in the space most similar to where you want to be. The worst that can happen is they don't respond to you. The best that can happen is you get a lot of information and expand your network. Also, be sure to ask honest, wholistic questions. Don't just ask questions to confirm your own perceptions of the job. Really understanding the wholistic picture of what your desired position looks like -- rather than the idealistic picture -- is very important to helping you discover if this is a career you want.
What's next in terms of what you want to accomplish?
I don't necessarily have a "what's next." I am really enjoying my time here because I get to live out my purpose and care for players in a challenging environment that can be very cutthroat at times, especially for the athletes. It is really cool to be able to provide a caring and loving space for these athletes.
Lastly, what are you most proud of in your career?
The relationships I've built along the way and how I've allowed myself to be impacted. I've gathered so many great relationships and had phenomenal interactions, whether they be small or large, that have impacted me as a human being. They are invaluable, and I'm, for sure, proudest of that.