Women are rising up the ranks throughout professional football, earning positions of power in a space that for too long was ruled almost exclusively by men. We're seeing more and more women breaking barriers in the sport, but what are the stories beyond the headlines? Who are the women shaping and influencing the NFL today? Answering those questions is the aim of the Next Woman Up series. While the conversational Q&As are edited and condensed for clarity, this is a forum for impactful women to share experiences in their own words. Without further ado, we introduce:
Sarah Hogan, Atlanta Falcons
Position: Assistant Director of Coaching Operations
How did you get your start in a career in football?
My start is a little unique. My dad, Greg Gigantino, is a college football coach, so right off the bat, I had a natural way of interacting with players and coaches because I grew up around them. My true start was in college at James Madison University. I started working in the football office, volunteering for four years, and it felt natural for me to be around the team and help them. Then I was fortunate that the college where my dad coached at the time, Hofstra, is where the New York Jets had training camp. I interned with the Jets for a few summers.
I worked for the scouting department, and I actually came away from that internship wanting to work in community relations. I went to school to get my masters in campus recreation before realizing I wanted to work in athletics. I went to the University of Maryland and that was where I actually discovered the position of director of football operations. After that, I had the opportunity to get my foot in the door at Northeastern with my first full-time position.
What did your first full-time job in football operations entail and how did you work your way to the Falcons?
That initial position was the administrative assistant for the football team at Northeastern. At the time, they had the defensive coordinator doing team travel and another guy doing road meals. The things they had coaches doing were ridiculous, so it made sense for me to do all of the background stuff so they could focus on coaching and recruiting. My first year I really learned how to do everything. Then it was all on me. I scheduled recruiting weekends and trips and even some marketing. I wanted to get familiarized with everything in the athletic department.
Northeastern cut the football program in 2009 and then I got the DFO job at Georgia State University. Then I came to the Falcons after five years through a family connection, then head coach Dan Quinn. I started in the scouting department in Atlanta, so a lot of the stuff I had done in college transferred over because I was doing a ton of the travel for the scouts, assistant general manager, setting up pro day visits and working with the schools. It was a great first job in the NFL because I learned a ton about how the organization worked.
In January 2016, Coach Quinn asked me if I wanted to help with head coach operations because his assistant left. So I directly supported him and my role expanded. I helped wherever I could. That role is way different than it is now because I really wanted to take a lot of things off the coaches' plate so they could focus on football.
So, essentially, you built your role to what it is in the Falcons organization today?
I did. The person who was here before me worked a more standard 9-5 job Monday through Friday. When I came in, I was like, "What's my role on game day because I'm not not working?" I created the coordinator of head coach operations title because I wanted it to be more than the executive assistant to the head coach. I wanted to do that job, of course, but not just that job.
What was the transition from Dan Quinn to Arthur Smith like?
It was super interesting because the entire staff was brand new, even the director of coaching operations, Brian Griffin. It was a really big learning curve. With Coach Smith being a first-time head coach, I was able to help a lot because I had been through that situation with Coach Quinn for six years. There was so much I could bring to the table, and I was able to step up to help him and the staff navigate everything.
What do you like most about your job?
I love being able to talk in coaches' terms and work with them on a regular basis. Since I grew up around the game, it's just so easy for me to work with them. Then at the same time, I like being a liaison with other departments in our building and organization. Bridging that gap between the coaches and players and the rest of the crew in the building is so fun. It's a great teamwork environment.
What would you say you are most proud of?
I think I've grown a lot over the last couple of years as the organization has gone through changes. I'm most proud of being able to stay the course while continuing to learn and improve.
I'll also add I took over the Bill Walsh Minority Coaching Fellowship with Marquice Williams after Scott Pioli left the Falcons. We have kept it organized and part of our process. It's something I'm very proud to be a part of. We had a great crew last year during training camp, and we are going to continue to create a pipeline for women and all minorities to get full-time jobs in the NFL.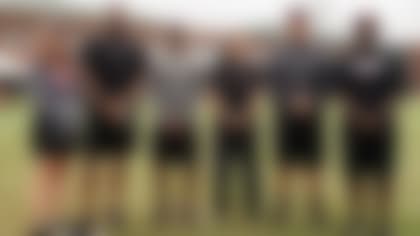 That is great to hear. What's the most challenging part about your position?
I always say challenges are more like opportunities. For me, I really need to get better at on-field stuff -- like the X's and O's of the game and the film aspect. In the past, I had tunnel vision to my role off the field. Now, I'm trying to evolve and it's important that I keep doing that.
I feel like I was pretty young when I started and now rising through the ranks, I have learned to see the big picture. Realizing how important your role is to, and within, the organization is big. It's not always easy to do.
Finally, it's always a challenge to earn the trust of the new coaches and players. They get hit up by so many people, and I want them to know I am just here to help and guide them so they can focus on their jobs and solve problems should they come up.
Do you have any mentors who have influenced your career?
One of my mentors is Steve Scarnecchia, who's now chief of staff for the Jets. He taught me so much in his six years in Atlanta. He's a rock star and I am really trying to model myself after him because he is so knowledgeable. I strive to be where he is as far as a director role. Then I would say all of the coaches I've been with at every level during my career. They've all supported and trusted me.
Obviously, my parents as well. My mom, Cathy, is a driven person who has always pushed me to get involved and work hard. My dad was the one who never pushed me but was supportive when I wanted to do something. My husband, JP, has also been extremely supportive. There is absolutely no way I could focus on my career without him and his constant unwavering encouragement.
Another is my godfather, Bob "Bo" Guarini, who was a longtime scout for the Indianapolis Colts and unfortunately passed away last year. He was the first person I knew in the NFL, so he really guided me as my career in football took off. When I was at Northeastern and Georgia State, if a scout would come through, he'd always let them know to look for me. I gained a lot of respect that way because of Bo. He taught me so much about how to run a pro day, which was one of my favorite parts of working in college, and how to conduct myself. He made me feel so empowered; I was excited to meet and work with NFL coaches and scouts because of him. I wasn't scared or intimidated.
Two others are Laura Okmin and Dawn Aponte. Dawn was at the New York Jets when I was there, and she was the first woman I saw in a big-time football role. Seeing her in that role really had an impact on me because I thought women were only athletic trainers or cheerleaders or worked in marketing.
What advice to do you have for women who want to work in football?
My advice would be to always keep your résumé fresh and ready to show at any time. That background information is important. Involve yourself in other departments, make connections and stay in touch with people you work with. For example, when I was at JMU, I worked with Eddie Davis, another mentor of mine. And because I had kept in touch with him after I left, he knew I was in the market for a DFO job. He had his ear open and contacted me, so I applied and got an interview. Making connections and keeping them is so valuable in this industry.
Lastly, what is next in line of things you want to accomplish?
I didn't know the answer to that for a while because I didn't even know if I could do this job when the new regime came in. Now getting into this role a little bit more, I would love to stay on this path and become a director one day.