Women are rising up the ranks throughout professional football, earning positions of power in a space that for too long was ruled almost exclusively by men. We're seeing more and more women breaking barriers in the sport, but what are the stories beyond the headlines? Who are the women shaping and influencing the NFL today? Answering those questions is the aim of the Next Woman Up series. While the conversational Q&As are edited and condensed for clarity, this is a forum for impactful women to share experiences in their own words. Without further ado, we introduce:
Marissa Figueroa, Buffalo Bills
Position: Assistant Athletic Trainer
How did you get your start in a career in football?
I went to Cal Poly Humboldt University for my undergrad degree and had always wanted to go into physical therapy or athletic training. Once I started getting into the physical therapy realm, I realized that it wasn't as fast-paced as I wanted, so I went to our school's athletic trainer to see if I could help with football. I loved it. Once I started doing athletic training, I knew I wanted to be an athletic trainer in the National Football League.
I was drawn to football because of how fast-paced it is. There's always something new going on, people to connect with and things to learn. I realized I liked being in this environment.
After my undergrad, I went to University of California, Davis to get my master's degree in athletic training. During that time, I did a fellowship with the school and had an internship with the Los Angeles Chargers. Then I had two seasonal internships with the Buffalo Bills in 2021 and 2022 before being hired full-time.
What does your job all entail?
So much goes into it. Prevention, making sure the players are healthy going into the season and making sure they are strong and can last the length of the season. It starts there. Second, we are making sure that if they get hurt, we are getting them the proper treatment and rehabilitation. We help keep them from getting sore and that they recover properly. The day-to-day is mostly prevention, rehab, practice and recovery.
During training camp, our hours are very early to very late. We work with players for morning treatments before they go to meetings or weightlifting, during which we are preparing to go to practice. Then the players come in for pre-practice treatments. That's when we help with anything they need to get on the field. In practice, we are focused on hydrating the players. That's what people think when they think athletic training, but it's the only part they are really allowed to see. But it's so much more than that. After practice is recovery and more rehab.
Those days are probably 14-plus-hour days. In-season days are about 12 hours.
What would you say is the most challenging part of your position?
The most challenging part is having work-life balance. You see the amount of hours we put in, so you want to make sure you're getting rest, alone time and anything else you like to do outside of work. Fortunately, for me -- and I think for most of us in this building -- I really enjoy what I do. I actually love what I do, so being in the facility as much as I am isn't something that bothers me. Beyond that, if you have people who love and support you and understand what this job requires, it's not so bad.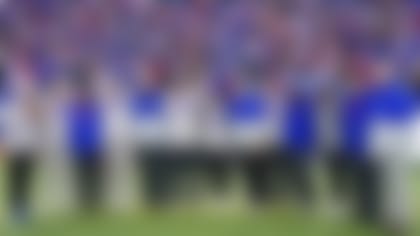 That makes sense. At the 2023 ESPYs, Bills safety Damar Hamlin presented the Pat Tillman Award for Service to the Bills training staff, a group that helped save his life after he went into cardiac arrest during a game in January. What did it mean for the staff to be honored and receive that award?
I am delighted that we were awarded the Pat Tillman Award for Service, because it is a testament to the profession of athletic training, an often-misunderstood profession. Like an iceberg, there is more to what we do than meets the eye. On Sundays, you see about 5 percent of our job; the other 95 percent is behind the scenes, but is essential to the physical, spiritual, mental and emotional well-being of the team. Receiving this award not only affirms the critical role of athletic trainers as healthcare professionals committed to the individuals we serve, but also the importance of AEDs, CPR training and successfully collaborating as a team.
Let's pivot to mentorship. Do you have any mentors who've helped you along the way? And what advice have you received from them?
I love to pay homage to the many women who have come before me. There are a lot more female athletic trainers in the league right now than when I started, which is really cool. I wouldn't call them mentors but more representation, showing me that this was possible and serving as inspiration.
Going back to my days with the Chargers, assistant athletic trainer/physical therapist Allison Miner and assistant athletic trainer Alvin Cabrera were huge mentors for me. Allison specifically because she's a woman. Spending time with her, learning from her, seeing how she operates during the workday and getting advice from her was really cool. She's always helped me and still does. She helped a lot with my confidence, showing me that I can do this.
What advice do you have for other women who'd like to pursue a career in the NFL?
Put your head down and do the work. We are in our current jobs because we're great at what we do, and we found people who believe in us and support us. That goes for everyone, not just for women. Do your job well, and it will take you far.
And lastly, what are you most proud of?
I'm most proud that I didn't give up on my dream. I've worked really hard and it felt like it took a long time to get here, but I have a support system in my family and I found people who believe in me -- my work family that we've built at the Bills. I could've given up because I had to take a couple different routes from what I originally thought my career path would be, but I'm here.