Women are rising up the ranks throughout professional football, earning positions of power in a space that for too long was ruled almost exclusively by men. We're seeing more and more women breaking barriers in the sport, but what are the stories beyond the headlines? Who are the women shaping and influencing the NFL today? Answering those questions is the aim of the Next Woman Up series. While the conversational Q&As are edited and condensed for clarity, this is a forum for impactful women to share experiences in their own words. Without further ado, we introduce:
Gayle Benson, New Orleans Saints
Position: Owner and Chairman
How did you get your start in a career in football?
It started when I married my husband, Tom, in 2004, but prior to that, I ran my own successful interior design business in New Orleans. I was actually in that business for 30 years, and after we were married, Tom asked me to put all of my energy into learning the business of football so I would be prepared to lead the team if he couldn't. He was so passionate about football; he just loved the business, and he was chairman of the (NFL's) finance committee for 25 years. The love he had for the NFL was infectious, and because I loved him so much, I wanted to do what he wanted to do and became just as excited about it.
As a side note, he owned an arena football team at that time, and going to a game was our first real date. Once I saw that and got involved in it, I just thought it was the best thing I had ever seen. I just became a real football person ever since.
As the owner of the New Orleans Saints, can you explain what your job entails?
My primary job is to provide the resources and support to our team and staff to give us the best chance to win. I believe, as Tom did, that the first rule of leadership is to show up and be accountable. I'm in the office every day, which I love, and I enjoy mingling with the coaches, players and staff, and [addressing] any challenges or needs that they have to help them prepare to win our games.
As an organization, it's also important that we embrace the responsibility we have to lead, inspire and unite our community, and I try to do that leading by example.
What is the most challenging part of your position?
The most difficult thing for me is when challenges are presented that are totally out of my control. When something happens on the field or in the community that I have no control over, I feel totally frustrated and I want to jump in and solve the problem. But sometimes that just isn't possible, so I need to provide reassurance to the organization and community that we will overcome the current difficulty and be stronger for it in the end. You know this recent hurricane, which really did incredible damage to South Louisiana. We can't control the weather, but we know we can overcome the devastation and build back stronger like we have so many times before. Our team was forced to relocate for a small time, but we were able to improvise and provide an environment for our team to still successfully prepare to play our games. In fact, some people in our office, our IT department in particular, actually slept at the facility overnight so they could take care of the building and make sure everything was running. It was a big challenge for everybody, because they had problems of their own and also wanted to be here to help. It was humbling for me to know that.
Do you have a mentor or any other influential people who have helped you along your path?
I've been blessed with some great mentors in my life, but I must say my husband really inspired me with his work ethic, his leadership and passion for football. He believed, as I do, in hiring good people, giving them the resources they need and letting them do their jobs. He also was incredibly proud of New Orleans and wanted to showcase and promote the city and region every time he could, which, as a lifelong New Orleanian, is very near and dear to my heart, because he was also from New Orleans. And I'm very fortunate to be able to continue that legacy of commitment to our city.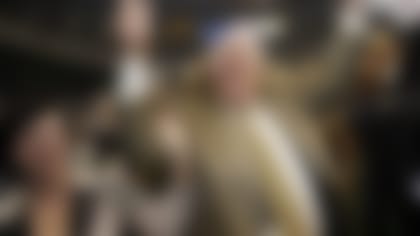 Now, looking back over the years, how have you seen the NFL change since joining the league?
Well you know, my husband and I were married for a little over 10 years when he died (in 2018), so it's been about 15 years now that I've been involved with the league. I have found it has changed significantly over the past 10-15 years, both on and off the field. On the field, the emphasis on player safety has been really important, both for the NFL and the impact it has on football at all levels. Obviously, we want our players to be as safe as possible, but it's also important we help teach youth football coaches and players the importance of safe technique through Heads Up Football and other initiatives. We have worked closely with the high school athletic associations in Louisiana, Mississippi and Alabama, to provide training and resources for their coaches and staff to teach kids the correct way to play football, and that has had a real impact on safety.
Off the field, players and teams have really embraced the opportunity to inspire positive outcomes in our communities. We've always had great leaders in New Orleans who've always given so much back to the city. We are very fortunate to have a team culture where there is no divide between players, coaches and the entire organization. We are also well-aligned in how we can most effectively serve our region and people. We never need to ask our players to participate. They are so eager and want to do it hand-in-hand with the rest of the organization. It truly is very humbling and inspiring to me to see these young men step up the way they do.
What's next in line of things you want to accomplish?
Well, absolutely winning another Super Bowl is first on the list. But we have a lot of work to do to help South Louisiana recover from Hurricane Ida, and our organization will continue to focus on how we can best help lead that recovery. You know, I would really encourage everyone who is able to make a contribution to our Gulf Coast Renewal Fund, which is providing resources where it is most needed right now. No amount is too small. It is going to take some time, and we greatly appreciate the support of football fans across the country in aiding our recovery.
What would you say to a woman considering a career in football?
I would say it's an incredible career, but one that requires total commitment and willingness to put the team before any individual achievement or award. There is a lot of competition for jobs on both the football and business sides, and those who have the most success are people who won't be outworked and are laser-focused on doing their job to the best of their ability.
What are you most proud of?
I'm most proud of the resilience, toughness and spirit of New Orleans, our state and region. We have overcome so much over the years and have done so with a great spirit and sense of humor. Nobody celebrates life, helps and protects each other and fights back like we do. And I'm so proud of our team, that we have the opportunity to represent this community every single Sunday.